'If you look at household hospitalisation compensation, then you will find only one-third is hospitalisation. Two-thirds is outpatient.'
'Even if you provide Rs 5 lakh coverage, people will still have a tough time.'

IMAGE: Other than 'ModiCare', in the Budget, the government spoke of expanding and upgrading district hospitals into medical colleges, which will add to the supply of doctors and health workers. Photograph: Adnan Abidi/Reuters
Whatever one may think of this year's Budget, one cannot ignore the fact that with the announcement of the National Health Protection Scheme, public health has become a focal point again.
The scheme, dubbed 'ModiCare' (along the lines of then United States president Barack Obama's Obamacare), is intended to offer 100 million poor families an annual cover of Rs 5 lakh each, but details on its implementation are unclear.
"Without a strong public health system, 'ModiCare' will be difficult to be run and to sustain," Mita Choudhury, associate professor, National Institute of Public Finance and Policy, New Delhi, tells Rediff.com's Syed Firdaus Ashraf.
India has over 1 billion people, but we have only 1 million doctors. Given this abysmal ratio, is it possible to solve India's health issues?
If you look at the recent Budget, the government speaks of expanding and upgrading the number of district hospitals into medical colleges. I feel this is a positive step as it will add to the supply of health workers and good doctors.
Right now, most medical colleges are concentrated in major cities. Once you have district hospitals converted into medical colleges, then you will have a supply of doctors in every district.
I think these are positive steps which the government has taken.
In addition, they are opening AIIMS (All India Institutes of Medical Sciences)-like institutions at different places. Obviously, there is a question of quality of these AIIMS as they may not have the quality and faculty of (the AIIMS in) New Delhi, but still these are good steps being taken.
State governments have their own health insurance schemes. Now the central government has come up with 'ModiCare'. Do you think it is possible to merge the state government health schemes with 'ModiCare'?
One has to see how 'ModiCare' works out. I don't see why state governments will give up their health schemes as it is very popular in Andhra Pradesh and other southern states.
I am not sure whether the state governments and central government will come on board to pull funds out of state health schemes.
In South India, for instance, the health conditions are better than in Bihar and Uttar Pradesh.
Maharashtra has the successful Mahatma Jyotiba Phule Jan Arogya Yojana.
Maharashtra too has state (health) insurance, therefore I do not see any incentive for these states to give up their scheme to adopt the central scheme ('ModiCare'), but obviously there will be pressure to revise the coverage upwards after the central government's announcement.
The concern is greater for states which do have their own health schemes such as Uttar Pradesh as they have not even rolled out the earlier scheme, the Rashtriya Swasthya Bima Yojana.
We have 10 years of experience with the RSBY as it started in 2007 and given the experience with it, the concern is more with states like Bihar, UP and MP.
How will this ('ModiCare') be implemented in those states?
They will need adequate facilities to implement this scheme. They can have mediclaim for Rs 5 lakh, but you will have to wait and see how it is implemented.
Where will the money for 'Modicare' come from?
NITI Aayog expects a premium of Rs 1,000 to Rs 1,200 per family so that tallies up to Rs 12,000 crore (Rs 120 billion).
If it is at the rate NITI Aayog has announced, we will have to wait and see how it works out.
Even if you take the RSBY, you will see there is a variation in premium rates from district to district.
In the RSBY, till date, we are hardly spending Rs 1,000 crore (Rs 10 billion) and the insurance coverage is far too less -- at Rs 30,000.
Why are we spending lesser amounts under the RSBY?
Firstly, as of now, only 15 states are implementing the scheme and (secondly) there are some issues, like how many they wanted to enrol in the scheme and how many they could actually enrol.
There are still issues with it. I think it will be good to look at how this scheme (RSBY) did.
Is there a lack of information among the poor about government health schemes?
Yes, it is partly responsible why the poor do not get access to hospitals. This less awareness in people also relates to states like Karnataka and Maharashtra which are better in the health sector.
Has any country implemented a scheme as large as 'ModiCare'? Is it really the biggest health scheme ever launched?
We are already spending Rs 30,000 crore (Rs 300 billion) and in terms of money it may not be the biggest, but even in the US model -- which is an insurance-based model -- the insurance scheme is a much more expensive way of providing healthcare for the government, particularly when you do it through the private sector, as the moral hazard problem comes in.
In India, in states like Bihar, you don't know what kind of quality of health you will get in the private sector even if you have insurance.
In general, across the world, the US-based model -- which is insurance-based -- is expensive compared to other countries.
I traveled to Cuba 10 years ago and was impressed by its healthcare system. The State took care of the poor for free. Can 'ModiCare' be designed on the same lines?
In Cuba, they follow the public health model. Our problem is that we are undecided between the public health model and insurance model.
What you are doing right now is dividing a small pool of resources into two parts -- one partially through the public health system and another through the insurance health system.
Without a strong primary healthcare public health system, the cost of hospitalisation will be very high for the government.
The problem is once you start the insurance scheme, it is difficult to pull back.
This is a popular scheme and if you pull out, then you will have to pay a huge political price.
And once you initiate and move forward in that way, then it will be difficult to pull back ('ModiCare') and get a different kind of financial health scheme.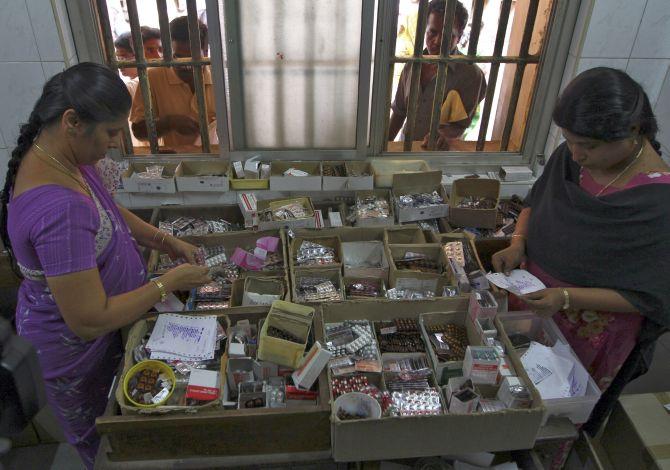 IMAGE: Spending on primary care and a public health system is indispensable in India. Photograph: Babu/Reuters
So you think it will be difficult to withdraw 'ModiCare' once it is launched?
If 'ModiCare' is launched and it works, no one will be able to pull out.
In Andhra Pradesh, for instance, if they (the government) withdraw their state health scheme (the Dr N T R Vaidya Seva Scheme), the government will lose the elections.
Once the public gets used to such schemes, politically it will not be possible to pull out from such schemes.
What should be the exact strategy for India? That needs to be decided.
People fear the misuse of 'ModiCare'. Have there been any scams involving government health insurance schemes in the southern states?
If you look at any of the southern states, then you will find that every year a lot of hospitals are de-empanelled (hospitals removed from the health insurance scheme) for various reasons.
I would not call it a scam, but say they are not adhering to the set ways.
It is a fact that many hospitals are de-empanelled in Andhra and other states. These are private hospitals.
There are obviously incentives for private hospitals to do more and they also take unnecessary care.
There are cases where you do not need a hysterectomy (surgery to remove a woman's uterus), still you go and do a hysterectomy because it is covered under insurance.
So these are cases where there is overuse of medical care which drives up the cost for the government.
Monitoring and regulating such cases is also a big challenge for the government.
Like farm insurance benefited the insurance companies more than farmers, do you think health insurance companies will benefit more than poor Indians who need the cover?
As of now, if you look at state-level schemes, the claims to premium ratio is 1.
It means the insurance companies do not seem to be making a lot of money.
The government could actually have a contract with them in a manner that if your claim to premium ratio is (above) a certain amount, then you might have to share the profit (with the government) or something of that kind.
As of now, if you see state government records, then you do not see in any official record that the claims to premium ratio is very low. It is quite high.
If they were making a profit then the claim to premium ratio is much lower than 1, which does not seem to be the case.
Do you think it would have been better had the government spent the money improving the public health system rather than opt for something like 'ModiCare'?
People are desperate given the state of the public health system.
Without a strong public health system, 'ModiCare' will be difficult to be run and to sustain.
Spending on primary care and the public health system is indispensable.
Rs 5 lakh is a good mediclaim amount...
If you look at household hospitalisation compensation, then you will find only one-third is hospitalisation. Two-thirds is outpatient.
Even if you provide Rs 5 lakh coverage, people will still have a tough time.
So strengthening the public health system will be the core.