'MUDRA bank, Jan Dhan Yojna or gold or insurance schemes, nothing have been approved by foreign experts'
'Modi has recovered from minus and gone into plus. It is unthinkable in one year'
'Oil price reduction is not the sole reason for all the positives of the Modi government'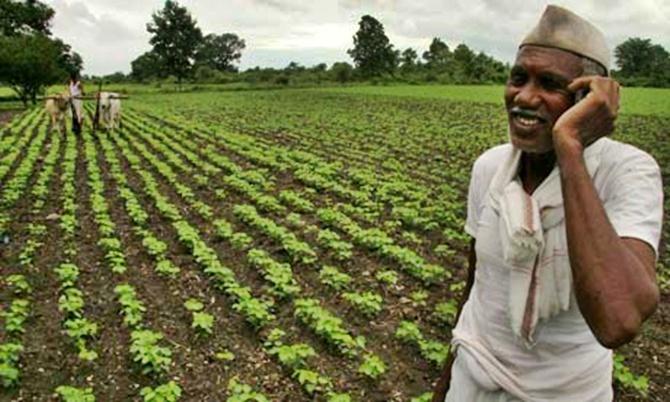 In the first part of the interview with Shobha Warrier/Rediff.com, Swadeshi economist, columnist and chartered accountant S Gurumurthy said what Prime Minister Narendra Modi has achieved in 365 days in terms of India's strategic relationship and economic benefits from abroad is unbelievable.
In the second and concluding part of his interview, Gurumurthy, image, below, outlines the two areas he believes the government should focus on.
Read: 'Modi has set right his and India's image abroad'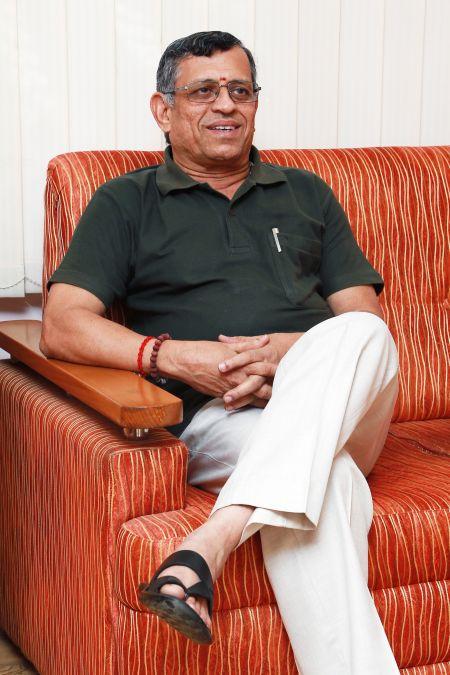 Why is it that none of the economists are talking about all these issues you mentioned?
Most of the modern economists evangelised in the Western paradigm do not know about India because they have studied economic theories which worked in the West and most of them have ceased working even in the West now -- whether it is Raghuram Rajan or Arvind Panagariya or Arvind Subramaniam.
Why then did Modi appoint them?
He needs them to deal with foreigners and various countries. The West-centric economics has nothing to do with India. There was a time when economic theories were regarded as universal. From 2005 and definitely after 2008, the West itself has distanced itself from this view. But Modi has everything to do with India. None of this -- whether it is MUDRA bank or Jan Dhan Yojna or gold or insurance schemes -- would have been approved by these foreign experts.
But what made headlines was Arun Shourie's comments on Modi's economic policies. He said it was directionless…
Shourie is my friend. I don't want to comment on him.
But are the government's economic policies directionless?
What do you decipher from what I have said so far? With all my respects for him, I do not agree with the comments, but I do not want to comment on him.
But what he said became big news.
That is because the media wants it. If he had completely endorsed Modi in his interview, it wouldn't have got that publicity. Had the media not been anti-Modi, Shourie's comments would not have got such publicity. Assume he had spoken against Sonia Gandhi, it would not have been published at all.
Back to Narendra Modi's one year. Would you say he has done a good job?
He has recovered from minus and gone into plus. It is unthinkable in one year. I thought he would take two years to reverse the opinion of other countries about himself, but he has achieved it in one year. The man who denied a visa to Narendra Modi (US President Barack Obama) came and attended the Republic Day function! It is not a small gesture.
Image apart, do you agree with him saying it is 'achche din' now?
When you say good days are coming, does it mean it will come in the first year itself? But there is absolutely no doubt that the economy is in a much better shape now. You just take the coal auction. They got Rs 4,50,000 crores. From 2G auction, another one lakh crore! There is no ministerial corruption. Lobbyists have been retrenched from Delhi. A leading anti-Modi newspaper itself said so. From where have we reached here? From a completely corrupt UPA ministerial regime to a corruption-free Modi ministerial regime.
I may have serious differences with some of their approaches and there are plus points and minus points, but the entire plus points have been ignored by the media. They only say what he not done. Have they written about what he has done?
Tell me the five big things which Modi said he would do in the first year but did not do.
Some of the economists I spoke to said inflation is down, budget deficit has come down and the GDP growth is there but that's not due to Modi's policies but because of the fall in global oil prices. What do you have to say about this argument?
That is not correct. Oil prices have contributed only to one half of inflation reduction. GDP going up has nothing to do with oil price reduction because it became effective only by 2014 end and early 2015. That benefit is likely to be seen only in the current year because we go on forward for oil. So oil price reduction is not the sole reason for all the positives of the Modi government. Of course, it was one of the favourable factors.
Since the manufacturing sector has not seen any positive growth and in general industrial growth is also not happening, one view is that the government, with the money got from auctions, should invest in infrastructure projects so there will be buoyancy in the economy. Once the economy becomes buoyant, the promised money from other countries will also start pouring in. Do you agree?
There are two areas which the government has to focus on. One is, how to handle the stalled projects in which Rs 8 lakh crores is locked. These are power projects, steel projects, manufacturing projects but they are stalled because of environmental clearance, cost overrun, etc. There are also criminal investigations against these investments. Unless those projects are restarted, the investment cycle cannot open. Unless the investment cycle reopens, manufacturing will not start.
The money is with the bank and they are not able to lend anymore. This is a catch-22 situation. This is not the problem of this government but it is a problem created by the previous government. This is the biggest challenge for the Modi government. How soon, how effectively and how boldly he overcomes this will decide how fast we will move. Unfortunately, all the big and medium groups are caught in this. They will not start any fresh investment unless this issue is resolved.
The second thing is the land bill. Unfortunately, the government has been caught in an 'industrialists vs agriculturists' situation. It is not anti-agriculture at all because the government is not going to acquire agricultural land for industrialists. There is a huge wasteland of 47 million hectares and also government lands and only these lands will be used for our infrastructure and other projects. This is what they have said. But they have not been able to communicate this effectively to the people.
Why is there a communication gap?
One, because the media is not reporting truthfully, and also (due to) the inability of the BJP to communicate effectively as many of its spokespersons lack experience and also skill to vault over a biased media.
Is that the reason why Modi is asking his MPs, MLAs and party members to go and talk to the people directly?
Naturally. The media will not allow a debate on this. Rahul Gandhi does not know what the bill is but what he says makes headlines.
When the bill came with amendments, even the Swadeshi Jagran Manch opposed it. Dr Ashwani Mahajan told Rediff.com that the SJM was against the amendments.
The Swadeshi Jagran Manch has a genuine concern, that the government cannot promote industries at the cost of agriculture. I think there is little interface between the government and SJM. The projects are rural roads and national highways, railways and power projects that have as much to do with agriculture as with industry. Yet the government has allowed the detractors to turn the entire bill into a farmer vs industrialist issue -- which it is not because the government has clearly said that it would not acquire farm lands for private business. Now, the SJM seem to be discussing the bill with the government though I am not part of the discussions. Hope the government will be able to convince the SJM.
Do you feel the fringe elements have done more harm to Modi's image than anyone else?
When there are aggressive Muslims and Christians, there will be aggressive Hindus too. They will always be there. It is foolish to ask Modi to answer when some aggressive Hindu talks.
But it's not just any aggressive Hindu, some of his ministers also…
You can't expect Modi to answer when a minister expresses his views in private -- in a private or party meeting. In my view a minister is also entitled to his private view. He cannot express his private view in an official meeting.
What do you think the Narendra Modi government must do in the next year?
He is addressing an area not addressed by any government, like the MUDRA Bank addressing the credit needs of six crore micro and small businesses. This he can do in the next two-three years. Since the banks are not reaching them, he has created a new mechanism to give credit to them. Once he does it, the face of the Indian economy will change. They are now borrowing by paying 60 to 120 per cent interest and if you give them funds at 12-13% interest, many of the six crore micro entrepreneurs will open two more shops and employ four more persons. Once they lend at 12 pc, the others also have to cut the rates. This was what happened at the transport finance sector. Similarly, intervention by MUDRA Bank will be very effective.
These people are also perpetually in debt due to illness and accidents and when the insurance scheme takes care of these things, their quality of life will improve. They are getting the benefits directly from the government.
These are fundamental things happening at the bottom level.
You mean to say the change will happen from the bottom up and not trickle down from the top like the economists say?
Everything is bottom upwards; even MUDRA. That is why you don't see economic newspapers writing about this. For them, the only news is Sensex rise and FDI inflow; nothing else matters.
This way, do you expect a transformation to happen in the rural area and not in urban India?
Yes. Once you put people in touch with the financial system, change will happen. In 54 pc of the new bank accounts, money is there in the bank. That means nil balance account is coming down.
Image, below: S Gurumurthy. Photograph: Sreeram Selvaraj.