'There is a vision in the Budget, and the vision is to take India from a largely agrarian, rural economy into a fast-track digitalised economy.'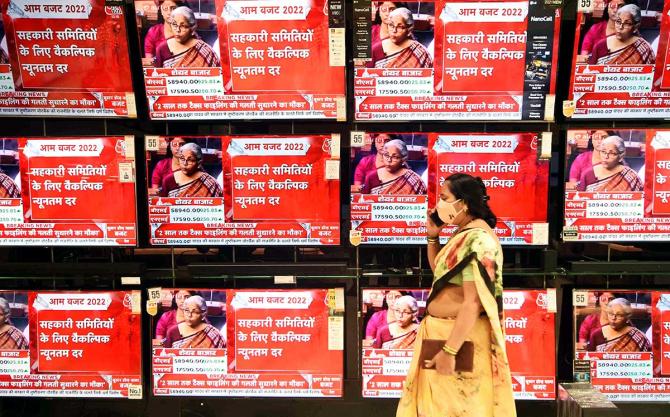 Finance Minister Nirmala Seetharaman presented her fourth Budget on February 1, and there were not many surprises in it.
Did the Budget disappoint anybody? Yes, the middle class felt ignored as she did not offer any concessions in personal income tax.
Did the Budget make anyone happy and satisfied?
M R Venkatesh, chartered accountant turned lawyer and a well-known political commentator, says he is "more or less impressed" with the Budget.
"You may or may not agree with the focus, but unlike the earlier Budgets of which I was very critical, I see that there is a remarkable concentration on many aspects they needed to concentrate," Venkatesh tells Shobha Warrier/Rediff.com.
The Economic Survey and the beginning of the Budget speech presented a very rosy picture of the economy. But the truth is, with high inflation, rising unemployment and also the pandemic, people don't feel that great at all...
Unlike the number suggests, all may not be that rosy, but all is not that bad either as some in the Opposition suggest.
Between February 1, 2021 and February 1, 2022, in these 365 days, we have recovered in good measure.
Who would have thought that 75% of our adult population would get fully vaccinated? I did not expect this to happen, but it did.
The government also did play a bit of a gambler in the Budget, and it has to gamble on positivity. It cannot be always desperate, it cannot be breast-beating, it cannot be in rudali mode; it has to see that there is positive energy in the budget.
Everybody including the prime minister know that all is not well. But all is not bad either.
Like the prime minister said, is this a 'people's friendly and progressive Budget', especially because they seem to have abandoned the middle class?
It all depends on what is the definition of the middle class. There are 1.5 crore (15 million) direct taxpayers in this country, and most of them claim to be middle class, and surely 2% of the uppermost population cannot be middle class.
This Budget talks about rolling out 5G which will have a huge impact on the way we conduct ourselves in our businesses. Similarly, the digitisation programme.
All these will have enormous impact on society.
Till last year, the Budget of the Modi government was like the Budget of the 1970s and the 1980s, talking about kisan yojna, building toilets, grant for some research, etc. These programmes were not taking the country forward.
But this Budget has concentrated only on growth, using futuristic technologies along with building infrastructure.
You may or may not agree with the focus, but unlike the earlier Budgets of which I was very critical, I see that there is a remarkable concentration on many aspects they needed to concentrate.
Is it going to be a 'shakti Budget' as there was drone shakti, gati shakti, naari shakti, mission shakti, etc...?
Finally, it all depends on what the joint secretary writes on the left hand side of the note using green ink!
These are all what the prime minister intends as policies. To that extent, I will say that yes, there is a focus on these policies.
They are talking about capex of around Rs 7.5 lakh crores which is one of the biggest announcements in recent times. It is 30% more compared to last year's Budget.
You look at all these plus points. On the upside I see there is a vision in the Budget, and the vision is to take India from a largely agrarian, rural economy into a fast-track digitalised economy.
The down side is that we are skipping not only manufacturing, but we are skipping services too. And we are moving into a digital economy now. It is like a child getting double promotion from 1st standard to 4th standard.
We don't know whether it will succeed or not but vision-wise, it cannot be doubted.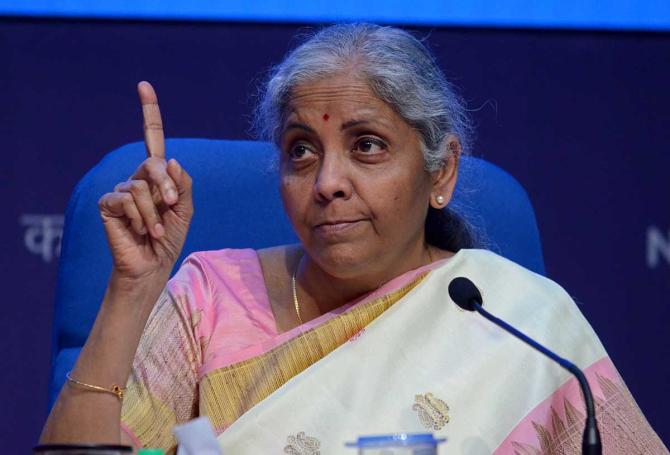 Can they skip manufacturing when unemployment is rising, when 53 million people lost their jobs in the last month alone, when manufacturing is the largest employment generator?
The Economic Survey makes a very important point, that manufacturing has rebounded by 11% this year. Of course, last year it was negative.
Yes, manufacturing is important as it will determine whether you will employ people, whether it will make people skilled, whether it will provide services the opportunities to grow, whether it will even provide impetus for even agriculture. Yes, it will help in the overall growth. So, manufacturing is the yardstick for all-round growth.
Unfortunately, our share of manufacturing to GDP has been stagnating at 15% for more than 15-20 years.
Even Manmohan Singh in 2012 made a grand plan that we must increase it to 25% by 2022. But even in 2022, it is less than 15%.
Now, let me give you some statistics.
In 2021, our trade deficit with China was $70 billion. We imported $97 billion worth of goods and exported $27 billion worth of materials.
The trade deficit of $70 billion is 2% of India's GDP.
So much of employment and so many opportunities are generated in China for the Indian market.
Mind you, China is not giving you any high-tech equipment or technology. Even the powder for Holi and Ganapati for Vinayaka Chaturthi comes from China. Everybody is aware of this reality.
This is going to be the test for the Budget because there is a PLI (Production Linked Incentive) programme, but it will take care of the large industries.
The Budget has failed to address the MSMEs which are yielding space to Chinese imports. My feeling is the government feels there is nothing much to be done for the MSMEs; they have to be competitive all by themselves.
When we spoke after the last Budget, I had asked you this question, that whether we missed the bus in manufacturing. Let me ask this again..
My answer is, we have missed the bus 30-40 years back.
Nobody is going to yield the space they have captured in manufacturing.
We are in the lower end in the world of manufacturing.
Manufacturing is the ultimate test in governance as you have to ensure that labour laws are in place, you have to ensure that environment laws are in place, you have to have the judiciary, you have to have skilled labour, market, logistics, etc.
All these will be tested only when you have manufacturing.
But we are languishing at 15% which is a very sorry state of affairs. We need to improve on that.
But the Budget doesn't look at smaller issues; it looks at macro issues which is what it should do ideally.
The Budget has a long-term vision, and it has laid down a roadmap.
If you are capable, you achieve it. If you are not, you have to wait in the queue and get your ration or doles!
With the number of billionaires increasing from 102 to 142 last year, do you think the government should have re-introduced wealth tax?
We tried this way of taxation like wealth tax, inheritance tax, estate duty, etc from the 1950s to the 1980s. Not only India, but people world over tried, and every country failed.
This is not the way to bring in equality. Equality will come only when you create job opportunities, and equal opportunities to grow.
Do you think this Budget will create opportunities for jobs?
Yes. The capital expenditure of Rs 7.5 lakh crores can create those opportunities. By and large there is some amount of capital expenditure thrust, and this is the best way of spending for all people. This will drive growth automatically, and general consensus amongst economists is that it will generate employment.
So, do you see achche din coming? Nobody is talking about achche din these days...
The jury is still out. We do not know whether there is achche din, but I have a strong feeling that the Narendra Modi government has finally come to terms with what they have to do for the country.
There is a remarkable shift in the Budget, from micro-managing to macro ruling. They are talking about things that are futuristic, and that's what governments should be doing.
Are you impressed with this Budget?
After a very long time, I am more or less impressed with a Budget subject to, of course, the usual questions on implementation and expected pinpricks on taxation.
What will this Budget give to the economy: A booster dose or a precaution dose?
It is definitely a booster dose, but could also turn into a precaution dose!
Feature Presentation: Ashish Narsale/Rediff.com