'We know that if the IT industry goes on strike even for a day or two, the repercussions will be international, and we will suffer as a country.'
'We don't want that to happen.'
Illustration: Dominic Xavier/Rediff.com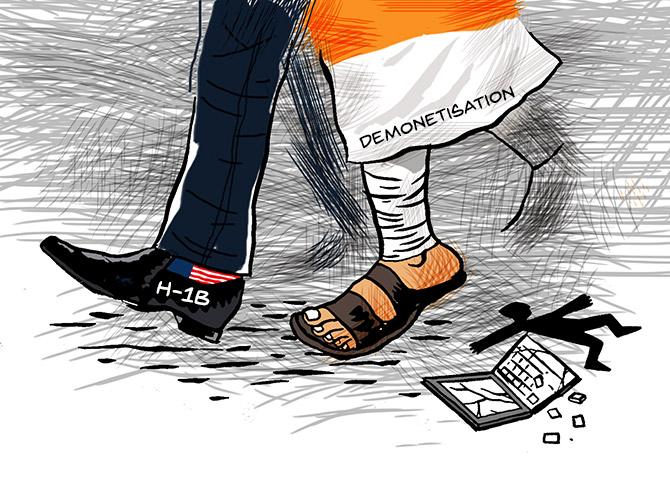 India's information technology sector is going through an existential crisis, a consequence of several factors including reportedly demonetisation and US President Donald Trump's campaign against H1-B visas.
The number of techies who have lost their jobs is reportedly so high that had it been any other sector there would have been strikes and court cases.
But the techie is known to go gently into the night.
Not any more!
A group of IT professionals have come together to form the Forum for IT employees, a trade union that is so far independent of any political party and does not believe in strikes.
After the Tamil Nadu government clarified that IT company employees were free to form unions, Vasumathi, below, left, president of FITE's Chennai chapter, spoke to Rediff.com's A Ganesh Nadar.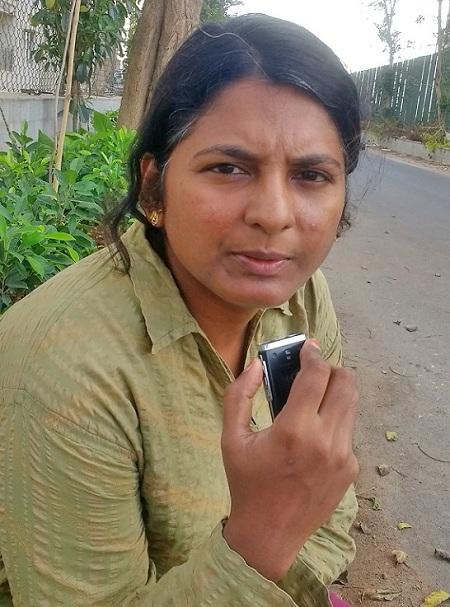 When did you start this forum?
In 2014, if you remember, there was a massive retrenchment in TCS. They were going to lay off 50,000 workers.
At that time, we had started the 'We are against TCS' campaign.
First, they said we are removing only under performers. Ultimately, they did not fire anyone.
The COO of TCS at that time gave an interview where he said they should not have done this, that they should have planned it in a better way.
Our campaign was a success.
After that, we decided that doing campaigns alone was not enough. We needed a forum to fight for all issues relating to the IT industry.
Then, we gradually formed a union.
How many members are in your union?
We have 3,000 members and supporters throughout the country.
In Chennai, we have about 400 members.
How are the company bosses and management reacting to you?
They have not come down to talk to us. They are reacting to us through press releases.
TCS has recently circulated a note to its employees saying they are not sacking anyone, but only doing a performance appraisal.
What happens when a company is operating at a loss? You can't expect it to pay salaries when it is losing money?
In that case, we will not oppose the firing, but they have to first fire the newcomers and keep the old staff.
Also, they must give a good severance package to tide over the difficult times till the employees find other jobs.
And they cannot call the employees under-performers, as that tells on the morale of the work force.
TCS is running at a profit according to their latest balancesheet, thus, we opposed their idea of sacking staff.
When a company discovers that an employee is a member of your union, is it hostile?
I am from the IT industry. Everyone knows I am involved.
I have been giving interviews regularly. No one has said anything.
They are not hostile because they think we are too small.
If they become hostile, then that means we've grown (laughs).
Has any company told its employees that if they join a union they would have to leave?
No! That has never happened.
Have you ever gone on strike?
We have never done that and in future we will never take that approach.
We know that if the IT industry goes on strike even for a day or two the repercussions will be international, and we will suffer as a country.
We don't want that to happen.
All we want is the industry to be employee focused and employee friendly. We are not against the employer.
When you ask people to become members, are they scared?
So far! There has been a little fear. This is now going away.
The Tamil Nadu government has passed a bill saying that IT people can have a union.
When they see us speaking for them publicly they become motivated and come and join us.
Apart from layoffs, what other problems have your members come to you about?
In our industry, late night work is inevitable.
We get a lot of complaints that companies are not giving cab fares even to workers who are leaving or coming late in the night.
We take up these issues as the safety of the employee is very important.
We have also taken up the case of Illayaraja who was murdered inside the Infosys campus.
What other issues have come to you?
We have received complaints that companies are deducting PF from their salary, but not depositing that in their PF account.
Also, some companies are deducting TDS and not depositing that with the government.
Thus, the employee is taxed twice for no fault of his.
How do you solve these issues?
We write to the companies involved. If they don't respond positively, we take it up legally.