'We can become masters of technology, instead of trying to compete with it'.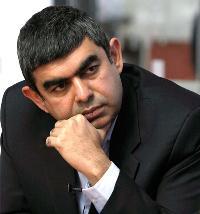 Infosys chief executive officer Vishal Sikka has set a target for holding face-to-face meetings with employees at the company's delivery centres across the world.
These are important for him, especially given the changes he is trying to bring to India's second-biggest information technology services company.
During an interview with Business Standard, Sikka's excitement can be gauged from the fact that he does not forget to show a world map outlining the centres where these meetings are to be held.
He speaks about his journey at Infosys so far, the transformation happening within, and why it is important to find problems while providing solutions.
Edited excerpts:
How have your first five months at Infosys been?
It has been more than five months; 168 days.
I have just come back after a visit to all Infosys delivery centres in the world, except Manila.
I am amazed at the positive energy; it is difficult to describe.
Also, the physical infrastructure of the company is astonishing -- beyond what is visible, the way they operate, and the cleanliness, especially the innovation that has gone into making those environmentally sustainable!
Operationally, how has the business been in the first five months?
There is a lot of work to be done.
The company has become very big in the past 10 years -- it has grown almost 10 times; that is an unbelievable pace of growth.
There, though, was a set of challenges that showed up, primarily around operational excellence.
The internal processes are a company's skeleton; these need to grow at a faster rate than the company.
We are focusing on simplifying processes, and renovating and improving those. And then there is the area of work.
When outsourcing was beginning 10-12 years ago, there was a tremendous amount of business.
You were only required to go and talk to the client for getting businesses.
That is not so anymore.
Sales operations have to improve.
These are not bad but need to be a lot more cost-competitive.
Talking of improvement, is it from your past experience or from the perspective of what rivals are doing?
From my own experience; having seen how operations can be made state-of-the-art. I don't know what rivals are like, but I imagine they are more or less the same.
Another area that we need to focus on is proactivity -- speaking up and bringing innovation to clients proactively.
There is a structural issue in this area, primarily because of the way companies have worked in the past -- we (the industry) follow the instructions given.
Services have been thriving on staff augmentation.
That has to shift towards delivering innovations.
A mind shift needs to take place, and that involves some degree of cultural change.
We are trained to use our knowledge to solve the existing problems.
We are not trained to find problems.
This has to change, because while problem-solving will become more automated, problem-finding is something where we can deliver a lot of value.
Lately, there has been a lot of concern over IT services companies laying off in large numbers? Do you see a likely decine in hiring?
I think there still is tremendous growth that can be achieved. We are not thinking about layoffs at all.
Revenue per employee can be improved over time but we will still need to hire a lot.
In India, we also have the additional responsibility to make sure there is employability.
It is a collective responsibility.
I don't see any need for layoffs.
Do you think lack of problem-finding ability is primarily due to the nature of our education system?
Typically, our education infrastructure does not make us good at learning.
We learn many things that we feel we have to for a grade.
But we are not taught how to frame and nurture our curiosity, how to become better builders.
We don't talk about finding problems.
My younger son is seven years old.
Whenever I sit with him, he usually drives me crazy with complicated questions.
Once he asked what was the biggest number; I had to explain the concept of infinity.
On another occasion, he woke up and asked 'is there something bigger than infinity'. . . There is curiosity till we are 7-9 years old.
After that, we get so bogged down by the educational system that we somehow abandon that curiosity.
When you moved to the US for higher studies, how different did you find the education system there?
I learnt the hard way when I went to Stanford.
I asked my PhD advisor what he wanted me to work on?
He said: "I have no idea; you are supposed to find your own problems and decide what you want to work on." This was a bit of a shock for me.
As a part of a new strategy, you have been talking about 'renew' and 'new'. Which are the businesses that you have already renewed?
We are automating the business-enabling functions to improve productivity.
We are bringing this to the top 25 accounts in each segment.
So, the renewal has to be done in every project and every team. . . We have been training everybody on design thinking.
There are more than 9,000 people who have gone through the design-thinking training. Last week, I rolled out a plan to bring design thinking to every Infosys employee over the next 12 months.
Even as the 'new' things that you talk about have excited several observers, there are concerns because of their difference from the past. . .
I never thought that way.
To me, the alternative direction, in which a large part of the industry seems to be heading, is becoming more cost-competitive, hiring people faster and in large numbers -- even at the cost of quality.
I think that is the wrong direction.
We can become masters of technology, instead of trying to compete with it.
Steve Jobs used to say: "An important thing in life is to understand that everything we see was built by people who were no superior to us."
So, we can either do the same or improve upon that. If we do not renew ourselves, and simultaneously augment with new things, we (the industry) will die.
There, of course, are risks, like in any bold initiative. But it is better to go for a high-risk thing that makes us thrive than a low-risk one that makes us die.
In the past few months, you have had several interactions with the government on 'Digital India' and 'smart city' initiatives. Do you think the country and people are mature enough for these technological changes?
The willingness is there; the intent of the government, especially the prime minister, is also very clear.
He (the PM) is a man of action and wants to get things done.
As for people's maturity and willingness, we do not know for sure.
But in the absence of a huge legacy, it's easier to employ efficient technology.
For example, two-thirds of the physical buildings and infra that will be there in India in 2030 have not yet been built.
Why can we not build those with the best knowledge and know-how.
This is why the 'smart city' initiative is so important. We are constructing our Mysore campus as a model smart city.
You recently announced expansion of the Innovation Fund to $500 million. . .
We are working with dozens of start-ups.
You will hear about investments in a few shortly.
We will announce about the plan in the first week of February.
At present, we are figuring out how to manage it.
It remains to be decided how much of that we will manage ourselves, or we will work with other investors.
We are evaluating all options.
Image: Infosys CEO Vishal Sikka. Photograph: Reuters