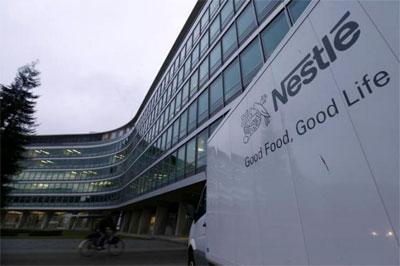 'When time is not in your favour, you tend to take more risk and change things in place for years.'
'Nestle is not scared of doing business in India.'
'Bringing back Maggi was the top priority that my team and I had.'
Nestle is a global leader in many categories like packaged water, milk and ice-creams, with Rs 6,50,000 crore ($93 billion) of annual sales.
The Indian subsidiary of the world's largest food company had been doing business for the past 104 years and had strengthened its position here in 1967 when its first plant became operational in Moga, Punjab.
Food safety regulator Food Safety and Standards Authority of India had banned Maggi noodles nationwide in June 2015 after test results allegedly showed packets exceeded legal limits of lead.
Suresh Narayanan, below, left, chairman and managing director, Nestle India, talks to Arnab Dutta on his experience with the company's biggest crisis here in past months, involving its Maggi noodles' recall, changes in its attitude here and plans.
Excerpts:
Is the Maggi crisis a wake-up call for Nestle in India?
Certainly not a wake-up call.
This definitely gave us room for introspection.
After being here for more than 100 years, we suddenly found ourselves vulnerable.
When time is not in your favour, you tend to take more risk and change things in place for years.
I've learnt one can face an existential threat even in areas where one has been in a comfortable position.
A lesson we have learnt as a company and we are now determined to stay prepared.
But, Nestle is not scared of doing business in India.
On the contrary, the entire episode will help us come back stronger and all new projects are aimed at that.
A crisis of that sort could have worked both ways.
There are very few companies which have been tested, shaken, twisted or turned the way Nestle has been (in the past one year).
We gained strength and confidence from that and Nestle will grow further.
We are now more focused on being a fast and flexible company, which can take such challenges head-on.
Our decision-making takes less time and we can launch products faster.
None of your three categories of dairy and infant nutrition, chocolate & confectionery, and beverages have registered volume growth since FY15. What are you doing to bring these back in the growth trajectory?
We are currently working on almost 20 new products, which will be in the market in the coming months.
We are trying to expand our portfolio under chocolate & confectionery and beverages.
Products like Greco yogurt and Sunrise Insta-Filter are slightly premium in offering.
The latter is based on a South Indian flavour and India is the first country where we are currently selling the product.
In the past two quarters, Nestle launched four new products in these categories and managed to gain traction.
Of course, prepared dishes (Maggi) is an important business for us but there are a lot of opportunities in other categories which we have identified.
So, does Nestle plan to be more aggressive in India, in terms of promotion and marketing?
I would like to be more aggressive.
The level of hope and energy now is certainly higher.
This will translate into sales and profit.
In the past few years, Nestle has moved away from mass market products and focused on slightly premium ones. Is Nestle focusing on premium consumers?
We are an urban-centric company, with 90 per cent of sales, coming from non-rural areas.
Thus, adding urban consumers is our primary focus.
But, our consumers are changing very quickly in terms of lifestyle, attitude, income level and expectations, and more willing to experiment.
Nestle is focused on selective premiumisation in categories like chocolate & confectionery and beverages, apart from value-for-money mass market products in our strongholds.
We do not cater to rural markets directly.
We are not, for instance, going to launch packaged milk to challenge, say, Amul -- the biggest milk cooperative in the country.
Today, we are focused on strengthening our position in fewer categories but with higher penetration and sales.
This is a conscious call that has been taken, which could limit our growth but will help us build stronger brands. Our strategy is three-fold.
First, re-energising of existing brands.
Second, look at new brands and come up with innovative offerings.
Third, getting into new categories. We are working on all of these.
How do you plan to cope with the current situation where consumer sentiment is subdued and demand growth is absent?
My expectation of overall demand growth continues to be modest.
But, as my rural dependence is lower (than other major players), we will be less affected.
It is anyway not a favourable situation for us now.
The crisis came as a blessing in disguise for Nestle.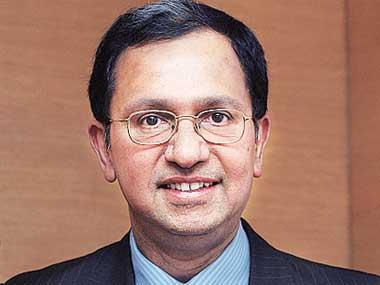 Nestle is a global leader in packaged water, chocolates, ice-creams and others but failed to play a dominant role here. Is it due to lack of interest in the Indian market?
That is not correct.
In chocolates, for example, we are constrained by the environment here. Higher temperatures in India, compared to our bigger markets, restricts us from launching some of our leading brands.
But, we are looking at bringing in some of our global products in wafers and tablets, with selective distribution in India.
We already have a number of products lined up for the next five years and packaged water or ice-cream are not among them. We could reconsider, if the situation demands.
You were sent here in late July to steer Nestle out of a rut. Today, six months after Maggi was relaunched, where does the brand stand?
During the crisis, I was personally very concerned about the future of Nestle here.
Bringing back Maggi was the top priority that my team and I had.
We have successfully done that.
We could relaunch Maggi within days after the green signal, a testimony to how serious our people were about the brand.
For us, the entire project was a tribute to the kind of equity Maggi has in the minds and hearts of consumers.
Evident in that within four months, Maggi regained its leadership position in the market, with 51 per cent share in March.
Now, we are working on to relaunch some of the existing variants like the Cuppa noodle, after due-diligence.
We want to move beyond the masala variant and cater to other sets of consumers, who look for different tastes.
So, we will be shortly introducing original Maggi variants.
Meanwhile, the category has shrunk and competition intensified.
But, it will help the instant noodle category mature.
Is it to hedge the risk of depending on any specific business?
Yes, in categories other than Maggi, we have not grown by volume in the recent past but the renewed focus is not a hedging strategy.
Since Maggi was doing well, it drove our volume growth but this was not a conscious strategy.