'First, I will think about converting these contracts into revenue.
'Second, I need to make sure that projects are sufficiently staffed.
'Third, I have to execute projects in the most efficient way, be it manual, automated, or agile.'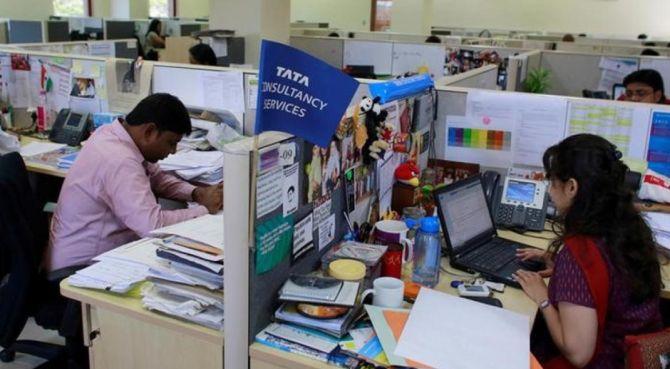 Tata Consultancy Services (TCS), India's largest IT services company, continues to demonstrate its ability in delivering financial growth on a sustained basis, backed by the strong engine it has built over the years.
N Ganapathy Subramaniam, bottom, left, chief operating officer (COO), discusses the strategy to concert digital opportunities to larger deals, focus on reskilling own people instead of acquiring a company to get access to skillsets and demand from newer verticals in an interview with Romita Majumdar. Edited excerpts:
TCS has seen another quarter of phenomenal growth in digital deals with around 24 per cent digital revenues. Are these deals driving higher margins as well?
Pricing is a function of value addition as well as demand and supply.
There is a clear demand-supply mismatch for digital competencies.
So, digital services come at a higher price point and consequently margins are better than other services.
The margin realisation also depends on the deal structure as digital projects have smaller scope.
We have won almost 250 digital deals this quarter (Q4 FY18) worth around $1 billon, which need to be delivered over the next two quarters.
We continue to look for opportunities within these deals to convert them into larger deals.'
Smaller deals can be converted into larger ones if you have the leverage to expand it across traditional and digital services ecosystem.
You have witnessed double-digit dollar growth after 12 quarters, though you saw some benefits of depreciating USD. Part of it was cross-currency headwinds. How do you plan to sustain this growth despite political uncertainty?
Currency has an important role to play in whatever we do.
But it is just one element of the business such as visas, trade policies or Brexit.
We have to keep our eyes open on external factors as without knowing for sure we cannot take decisions on these factors.
Ultimately, you have to play to laws of the land.
Within my business, I have a certain deal pipeline that needs to be executed and converted into revenues.
First, I will think about converting these contracts into revenue.
Second, I need to make sure that projects are sufficiently staffed.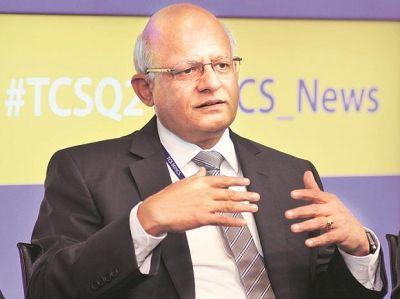 Third, I have to execute projects in the most efficient way, be it manual, automated, or agile.
Irrespective of what happens outside, I have to balance these main requirements.
Once again, insurance grew but rest of banking and financial services (BFS) did not see the same light. But you seem to be optimistic of BSF growth and spending on the ongoing quarter? What drives this optimism?
BFSI is a self-balancing system. If one segment is not going well, the other segment always catches up. I believe that in North America, in the past 18 months or so, banks were focused on other things.
They were not investing in traditional areas but rather on internal areas such as workplace and workforce transformation.
This transformation is largely complete now.
Everything is about agile and they are now opening up to new projects.
These projects will be digitally motivated and driven by customer experience on the front-end.
The types of engagements we are seeing now are called 'Wave 2' of digital wherein clients are changing the back-end systems as well.
We are looking at delivering these combined solutions for the front-end and back-end in 3-6 months in an incremental basis using agile methodology.
Analysts continue to question TCS's inorganic growth strategy, which is not aggressive enough like some of its peers. Will it always be an organic growth-led focus for you?
We have a very stated strategy that we cannot ignore our own people and they can always be upskilled to new technology with their client business knowledge.
It is better than acquiring people who know the technology but do not have client context.
We have decided that with upskilling programmes as well as business 4.0 framework, we will be in a position to help our customers.
We are not against acquisitions, maybe not digital, but we have always said we will acquire intellectual property (IP) in areas where we do not have competency, rather than people.
Acquisitions have to come with IP value or competency that we cannot create.
The CEO said despite your late entry in some of the verticals such as energy & utility, or travel & hospitality, you have seen phenomenal growth there. What is driving client interest?
Most verticals witnessed system upgrades by clients who may want to move from SAP to S4HANA, or across Oracle and Salesforce.
It is part of their movement towards cloud and digital processes.
In the energy and utility sector, metering is the biggest concern.
This is something picking up in North America and Australia.
Similarly, in insurance, clients want multiple distributed systems to be converted into a single large platform that reduces cost and improves efficiency.
We are also working with clients in areas like autonomous cars.
We are helping them in their electric vehicle journey with services such as testing of autonomous and semi-autonomous cars, including infotainment, and semi-automatic car parking solutions.
TCS is not discussing Indian projects. Why the lull?
We have been part of many nation-building projects right from the National Stock Exchange, goods and services tax system, Passport Seva Kendra programme and others.
India will continue to play an important role as we continue to work with most banks here.
We are doing enough in India but there is more opportunity.
Like banks in the past, government and industries need to open up while we are already working with them.
Photograph: Danish Siddiqui/Reuters