'It is early to decide on a CEO contender because I am not going anywhere right now.'
'We have lost $100 million on energy, which takes away 1.5 per cent of the growth.'
'We have remained very disciplined in our acquisition approach.'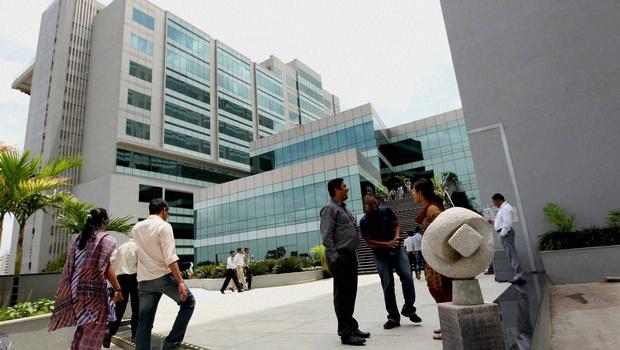 Image: Wipro headquarters in Bangalore. Photograph: PTI
Wipro, the Bengaluru-based information technology services company, reported not-so-impressive growth in the fourth quarter of FY15.
T K Kurien (photographed below), chief executive officer, talks to Business Standard on the areas dragging down the growth and the way forward.
Edited excerpts:
What do the recent changes at Wipro mean for the company? This includes the appointment of a chief operations officer.
The whole (information) technology landscape is going through a fundamental change.
This is being driven by two things -- there is an existing business which we have to run and grow and the second part is about identifying the opportunities and how to tap those.
If I focus on today, I will have to give up the future.
It is as simple as that. I just don't have the bandwidth to do it.
So, if Abid (Abid Ali Neemuchwala, who has taken over as COO) does not focus on growing the current business significantly and consolidate, this business will collapse under its own weight.
At the end of the day, I am still responsible for the whole business and while Abid is there, it is going to be a huge help.
Client mining is also going to be one of his big focus areas, as that is an area where we are lagging.
So, is he a contender for the CEO position when it falls vacant?
It is early to decide on a CEO contender because I am not going anywhere right now.
I think there will be many contenders for my job.
The person who is going to win it has to demonstrate three things -- ability to grow profitably, ability to preserve the positive aspects of Wipro culture and ability to be a people's person.
The person must understand the technology landscape and its implications in the future. If a person can't do one among these, that means he is not ready for the job.
Oil & gas, an area which once used to be the biggest strength of Wipro, has become a pain point. Why? And, is there now some softness in BFSI (banking, financial services & insurance)?
I can't do anything on oil and gas.
The best thing we can do is to gain market share, not to lose it.
That is the advantage for us which we will absolutely do.
I think the challenge in BFSI for us has always been the insurance segment and that to a large extent is dragging us (back).
We don't have a solution for it.
As far as the retail segment is concerned, it has shown a very strong rebound. So, of the seven verticals we have, at least four have to fire.
There used to be a time when you wanted all the engines to fire. How long is that going to take?
You must remember that when you have a 2.4 per cent impact of currency (value change), that's a big impact.
We have lost $100 million on energy, which takes away 1.5 per cent of the growth.
You have given a muted guidance (forecast) for the first quarter of FY16.
It is mostly because of oil & gas and we don't know where it will go.
We were primarily in the upstream part of the business.
There, as people stop oil exploration, $1 trillion of capital expenditure has been cut back, a pretty significant number.
Besides, there is a huge currency impact.
When will Wipro return to the sectoral average growth path?
There are two ways I can do it.
One way is through acquisitions, like many others have done and shown growth.
That's the easy part and we have cash for it.
I believe that is a short-term measure.
We have remained very disciplined in our acquisition approach.
I will not do crazy acquisitions that do not make sense.
Are you going to activate your acquisition engine aggressively?
Very clearly, we will acquire someone where we find a products gap.
Not for the sake of aggregating revenues.
You have the team and engine in place. What next?
Now, it is all about execution.
If the oil price comes back a little bit during the year, we will be in a much better place. We are winning deals.
Finally, Rishad (Premji, the chairman and majority owner's son) has joined the Wipro board. What does it mean to the company?
He is really managing shareholders' interest.
That he is in the board gives continuity in the long term whenever Mr (Azim) Premji retires.
But he is not retiring anytime soon.