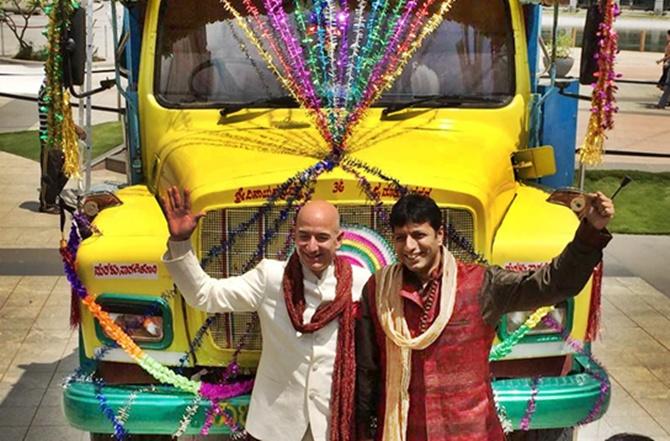 American e-commerce major Amazon will soon compete not just with Flipkart and Snapdeal, but also with rival Alibaba as its Chinese vendors get ready to sell on the Paytm platform in India.
However, Amazon, which has completed two years in the country, wants to look beyond market share and competition.
Amazon country head Amit Agarwal tells Business Standard in an interview that is not what customers care about.
Edited excerpts:
How have the first two years been for Amazon?
We look at it as eight quarters, where every quarter has been a year in some sense.
If I step back, our mission has been building the most customer-centric company and we specifically aspire to transform the way India buys and sells.
Our approach towards this transition is similar to our global approach.
Starting with customer experience, if you can do a good job, it would lead us to traffic and when we get traffic we believe we will get a lot of interest from sellers.
That would again enhance the customer experience.
We are very proud and humble and excited that we have achieved a leadership position on key metrics on what we believe consumers and sellers care about.
What are these metrics?
Based on our global experience, consumers care about selection, low prices, fast and reliable deliveries.
Sellers care about sales, profits and fair and transparent comprehensive platforms.
These are the key metrics.
Also, these are verifiable standard metrics.
Amazon has built the largest store in India with more than 22 million products and we have the largest selection of products that are in stock which can be shipped immediately.
What about attaining leadership in market share? When do you see Amazon at the top in the Indian e-commerce space?
You can run your company in two ways.
First, you can measure your output and influence it in ways that allows you to optimise the output.
Or you can run the company to measure and optimise the inputs.
Amazon focuses on customer inputs and focuses on it ruthlessly.
On a daily basis, it tries to understand whether our experience to the customer was better than yesterday.
We have a long-term focus and we are trying to build a service that stays in the leadership position in metrics that matter to customers.
We take it as an article of faith by doing what we are doing and making sure we are leaders in this. We don't disclose the outputs.
There are no standard definitions. The estimates you hear around are all suspect and that's not what customers care about.
Isn't Amazon looking at being the number one player, ahead of Flipkart and Snapdeal, in sync with its global position?
We are very focused on being a customer-centric company. We want to be the number one company from that perspective.
If you take a long-term outlook, that should translate into other meaningful outputs that you are talking about.
Any timeline for the same?
We are in the 20th year as far as the US goes and it (the focus) hasn't changed. We think in decades when we talk about executing ourselves.
Is Jeff Bezos (Amazon's founder) coming for the second anniversary?
Not that I know of.
Has the $2 billion investment announced last year been infused or are some tranches still due?
You should look at it as signal of the traction we are getting and a strong signal of commitment that investment will not hold us back to attain leadership in customer care metrics.
We will not hold back investments, which would lead us to be leader in customer inputs.
Recently, founders of Flipkart and Snapdeal were locked in a war of words on whether India had enough good engineers. What is your view?
I don't follow such gossip. We have thousands of engineers via a software development centre in India for a long time. We believe in hiring the talent which is best for us.
Alibaba is looking at a bigger role in Indian e-commerce through its tie-up with Paytm.
How do you look at a major rival coming into India with whom you are competing in other countries as well?
We are focused on how sellers are growing, how are we doing a great job of enabling more competitive pricing and a platform with faster reliable delivery.
What are the new moves in terms of categories and delivery innovations the third year onwards?
We are adding selection every day. We also probably have best exclusive mobile phone range. We are also adding unique categories like solar. We will also have more fulfillment space.
We have 11 fulfillment centres in eight cities and will continue to grow.
Foreign direct investment in e-commerce is a long pending issue and is back in focus. If FDI is eventually allowed, would you have a combination of inventory-led and marketplace in India?
The only thing different about India is that we don't have Amazon as seller in India.
I don't understand inventory-led, but we have been very vocal that if FDI is allowed, both the Make in India and Digital India schemes would benefit tremendously.
Will Amazon be a seller in India too if FDI is permitted in e-commerce?
Amazon will look for where there are gaps and address the gap. If FDI is allowed, we will fill the gap that is there.
What is your cash burn rate and how are you looking at being profitable?
We don't disclose that but we are not holding back investment. We are investing with a long-term outlook.
Is the tax issue that Amazon faced in Karnataka and some other states resolved?
In simple terms, it's a case of legacy tax laws not keeping pace with a new-age business model. So it should not come as a surprise. Anytime you do anything new, the incumbent practices will always take time to settle down. It is not resolved yet, and we are working closely with the government.
Any comment on the offline versus online debate?
On our platform, we have sellers from a corner shop of Bengaluru to the largest retailers. So online is removing barriers. I look at this as transforming the entire ecosystem of sellers. Both will exist together for a long rime.
Besides customer experience, what is your goal?
That is the only goal we have.
Is there room for inorganic growth?
We always keep looking at any new investment and acquisitions that fit well with the transition of buyers and sellers in India.
Image: Amazon founder and CEO Jeff Bezos (left) with Amit Agarwal, Country head, India at Bengaluru. Photograph: Kind courtesy, Amazon