"We cannot be emotional about the routes," says the founder.
A few hours after the Marans announced the transfer of SpiceJet's ownership to Ajay Singh (photographed below), the airline's former promoter spoke to Business Standard about the immediate plans to turn around the company.
Edited excerpts:
SpiceJet had to reduce its fleet size drastically. Do you see the need to expand fleet?
We have to expand our fleet size in summer and we are looking at 40-42 planes (current strength is 17).
What are your immediate priorities in turning around SpiceJet?
We have to reduce the number of stations, especially the ones which are not making money.
We have to add more frequencies on profitable routes.
Someone asked me whether we will reduce frequencies in the south and increase in the north.
That is not the case; we cannot be emotional about the routes.
Operations have to be viable.
One reason for the high cost is SpiceJet's two-fleet configuration, which is a strict no-no for a low-cost carriers. Will you review this structure?
Personally, I am in favour of a one-fleet configuration.
However, the Bombardiers are all owned by SpiceJet; so, we have to see what we can do.
What is the kind of investment you'll require to turn around the airline, especially since you are looking at fleet expansion?
An additional infusion of Rs 1,400-1,500 crore (Rs 14-15 billion) should do after paying the overdue.
Investors will be coming at a low value and with the fuel costs going down, we will pare costs and improve revenues.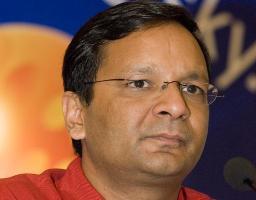 SpiceJet has been involved in many discount offers. Is there a need to reduce them as they have only increased losses?
Ticket sales are an integral part of low-cost carriers strategy.
What you need is to be smart in the way you do it.
It should help in increasing your revenues so that the RASK (revenue per available seat kilometre) is more than the cost.
When do you think you'll be able to turn around the airline?
If oil prices continue as they are and we can cut costs, we'll be able to break even in the next financial quarter.