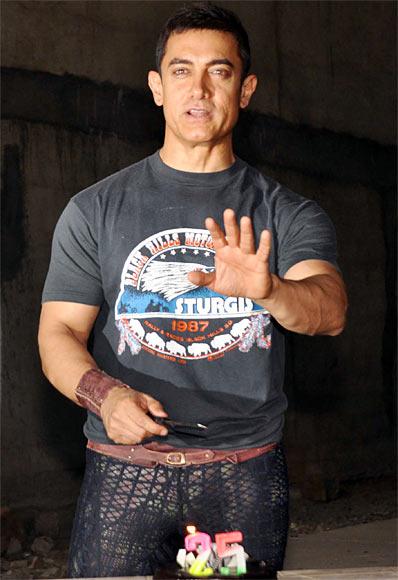 'Now with social media opening up the frontiers of the world, everything good or bad you do or say travels.'
'We don't have any code of conduct for brand ambassadors. . . but overseas, lawyers on both sides would ensure that there is a certain code of conduct that needs to be followed.'
'The problem with all the Incredible India advertising, on which we spend an incredible amount of money, is that we don't have focus.'
Defending the government's decision to replace Aamir Khan as the face of the Incredible India campaign, Amitabh Kant, secretary, department of industrial policy and promotion, recently said that Khan had damaged India's brand identity by describing the country as intolerant.
"The brand diplomat must be the best brand envoy for advancing India; he can't be the destroyer of the brand," Kant said.
Sandeep Goyal (below, left), owner-promoter of the Mogae Group and founder and former chairman of Dentsu India, speaks with Veenu Sandhu on Khan's exit from the campaign and the logic of replacing him with another celebrity.
Excerpts:
Do you think Aamir Khan (left) harmed India's image through his statements and should be replaced?
Replacing him because he has said something that has hurt the image of India is correct from a political standpoint.
He is, after all, the ambassador for India who is standing up and saying this is an intolerant country.
Till yesterday, these things didn't really matter because what you said or did was largely confined to a newspaper or TV.
But now with social media opening up the frontiers of the world, everything good or bad you do or say travels.
The damage has certainly been done because your own brand ambassador is running you down.
If he doesn't stand by the brand he endorses, then he does not have any right to continue.
The problem is that we don't have any code of conduct for brand ambassadors, not that the world over anywhere they have it.
But overseas, lawyers on both sides would ensure that there is a certain code of conduct that needs to be followed.
What thought goes into selecting a country's brand ambassador?
When he (Khan) was selected, they would have gone through some kind of a decision-making process.
Yet, I would say that 99.99 per cent of the people overseas (the target audience of the campaign) wouldn't know who Aamir Khan is.
To a layman overseas, whether it is Aamir Khan or Shah Rukh Khan doesn't really matter.
They wouldn't know whether the guy is a celebrity or has phenomenal brand value.
So, the choice of Khan might have been for reasons other than brand value.
Often, people are selected because they are a convenient solution.
My PhD thesis is on human brands and I can tell you that the decision-making around brand ambassadors is not always scientific or based on any concrete research or empirical feedback.
In that case, would replacing Khan with another celebrity help?
Khan is just one part of the whole discussion and what does it matter if he gets replaced by Amitabh Bachchan (whose name is doing the rounds, along with Priyanka Chopra's).
I frankly don't understand what Bachchan will do.
Maybe I am too irreverent, but that's the way it is.
The simple and credible way to go about it is to have high-quality PR agencies in countries we hope to tap putting out relevant articles.
When it comes to country branding, where we are going wrong?
When you globally promote a brand, you need to focus on the four pillars of building a brand: differentiation, relevance, knowledge and esteem.
What is India's biggest differentiator: it's the Taj Mahal.
Yet, only 23 per cent of the people today who visit India actually go to the Taj.
I went to Machu Picchu in Peru last year.
It's just an abandoned ruin on the top of a mountain. I am being uncharitable, but let's be honest, that's all it is. Yet, Machu Picchu draws probably a hundred times as much money as the Taj does.
An NRI friend who was visiting recently told me that getting into the Taj was the biggest nightmare of his life.
The people tasked with assisting tourists were brusque and unhelpful.
So, the single most important differentiation we have is the Taj and look at the way we treat people who come to see it.
It's pathetic.
Whether you run a campaign or not, at the end of the day it is the experience, feedback and word of mouth that eventually carries.
The problem with all the Incredible India advertising, on which we spend an incredible amount of money, is that we don't have focus.
It's just a lot of money spent without enough strategy on how and why we are doing it.
So, whether you use a brand ambassador or don't, it doesn't matter.
If you want to get the average Joe on the streets of, say, New York to come to your country, you have to look at what his options are and where India stacks up on that -- in terms of differentiation and relevance.