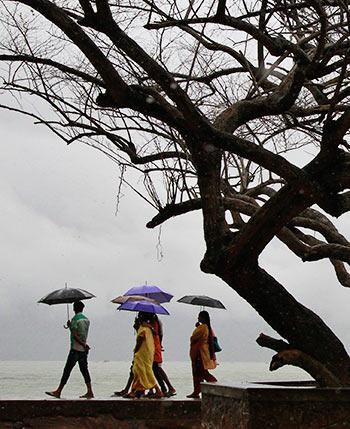 'Onus rests on the government to make the farmers aware of the crisis'

'Speculative reports on monsoon send out a primary shock which affects the economy as a whole'
'Weather man' Angshujyoti Das speaks to Indrani Roy/Rediff.com.

The Indian Meteorological Department recently came out with a dismal prediction that the southwest monsoon this year will be below normal, sending farmers in a tizzy as they are dependent on the Rain God for their livelihood.
If the IMD's prognosis holds true, it could have a disastrous effect on agriculture and in turn the economy.
Kolkata-based businessman Angshujyoti Das (bottom, left), is the owner of Express Weather that sells weather forecasts to farmers, corporate, agri-input-based industries and even film production companies. Das's company caters to about 25,000 farmers at present and he has his hands full sharing important weather information with its clients and also answering numerous questions on the issue.
During a conversation with Indrani Roy/Rediff.com, Das explains India's monsoon situation as also how farmers can be empowered to counter the impending crisis.
The media is agog with reports that the monsoon will be bad this year. Your say?
This year, the IMD has forecast that the monsoon will be below normal.
Last year too, it had made similar predictions.
However, from October to December, we noticed excess monsoon in certain pockets of India and floods were recorded in various parts of the country.
This gives us enough reason to doubt the IMD's prediction.
According to our readings, I think the monsoon might be delayed this year but certainly not deficient.
As someone who deals in weather forecast, I think it is absolutely necessary for a government body like the IMD to make the right estimation and not to indulge in speculation.
Speculative reports on monsoon send out a primary shock which affects the economy as a whole.
I think there should be one comprehensive and credible report on weather for India since a major part of the economy is dependent on it.
I feel IMD should take into its fold predictions sent out by private bodies also.
It should cull all the forecasts and reports and assimilate them into a single, authentic statement.
Let me also clarify one thing here, Express Weather does not specialise in climatology in its totality. Instead, the company provides its clients advance information on weather through its forecasting technology based on numerical models like the Global Forecasting System and Weather Research and Forecast.
The raw feed from satellite data, based on geo-coordinate inputs, is customised.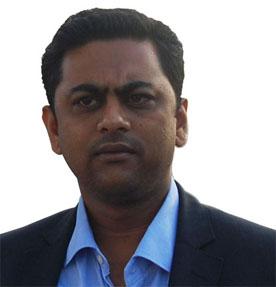 What impact will a 'bad monsoon' have on the agrarian economy?
According to our readings, monsoon this year will be delayed but not deficient.
For late arrival of monsoon, sowing time of crops must be changed.
However, if the IMD prediction turns out to be true and we have a deficit monsoon this year, the impact on the economy will be huge.
Since agriculture is the backbone of our economy, it's time we set up an efficient irrigation system.
We have to methodically revamp our farming sector so that it becomes less dependent on natural resources.
What do you think the government should do?
When it comes to improving the agricultural sector, the government has a huge responsibility.
In India, we have an agriculture development officer in every block. If only 60 per cent of them work and are empowered to actively participate in agricultural planning, India will witness a revolution in farming.
The government should also act as a link between the farmers and various private bodies like ours whose technical support they need.
The government agencies must keenly follow the impact of weather on agriculture and must take the required steps.
Apart from providing financial support to the farmers, the government should come up with innovative ideas to deal with an unpredictable weather.
Suppose the IMD prediction turns out to be true, is there any way the farmers can counter the impending crisis?
The onus rests on the government to make the farmers aware of the crisis.
To those who till the soil, a thought-provoking article in a popular business daily will be of no help. Farmers need a practical interactive session on how to counter the challenges.
It's time the government agencies did a thorough research of the climatic pattern of the country.
It's time they readied a series of plans -- Plan A, B, or C -- which would help the farmers deal with deficient or delayed monsoon, whichever may be the case.
Is there an El Nino alert this time?

Till now, we have not got any such hint.


Image: The Farmfeed application.

Your company has 25,000 farmers as clients. Are they concerned about the monsoon prediction?
Farmers individually, at least a large section of them, are not aware of these media reports, predictions etc.
But they are concerned about the erratic monsoon that baffles them every year.
This is where we step in.
On the basis of the weather data that we collect, we offer tips to the farmers to counter weather-related crisis and obstacles if any.
We show them the way to mitigate the challenges of farming as also to minimise the losses.
Do you carry out outdoor training sessions for farmers?
At times, yes.
Sometimes, we take the help of corporates too in this regard.
For instance, we supported PepsiCo's potato farming in eastern India, mainly in West Bengal and Bihar.
We launched a smartphone application, 'farmneed', for the same.
Using that application, PepsiCo's field staff downloaded various important information like weather forecast, probability of pest infestation, photographs, and also remedies.
They sent that information to PepsiCo's administration which in turn suggested the essential measures.
Afterwards, PepsiCo's staff spread the information that they had culled from farmneed to about 4,700 farmers across Bengal and Bihar through SMS.
How does what you do help farmers?
We sell weather data to users/clients and also a lends support system to farmers and to those organisations or individuals who have a stake on agriculture.
With the data that we provide, our clients have dual benefits: they can protect their crops and can also ascertain proper quantitative usage of inputs.
For instance, our systems can forecast any infestation of weather-triggered pests.
On the basis of the data that we provide, a client of ours can stock the right amount of appropriate pesticides.
How costly are these predictions that you make and sell?
The average cost for basic information that we provide to each farmer client of ours is Rs 100 per month.
However, for bigger projects, the costing varies.
At present, we are handling a Rs 4.5-crore (Rs 45-million) agro meteorological programme under the aegis of the West Bengal government.
For this project, the state government has installed 141 unmanned weather stations in 18 districts.
We are managing these weather stations, handling data and delivering them to the government.
With the help of this, the Bengal government is creating a data depository.
Plenty is written about the ills of climate change. As a 'weather man', what are the necessary preventive steps that need to be taken?
To measure the change, we need enough quantitative data.
There needs to be an effective data repository and a comprehensive system to ensure correct comparative study of climate over the years.
Unless we have a proper infrastructure as mentioned above, it's impossible to formulate remedial strategy. You need to have a proper diagnosis of an aliment that's bothering you to have the doctor prescribe the right medicine.
How can one spread the message of awareness about climate change?
I feel initiatives taken by the governments (more than private bodies) will be effective in sending out climate change awareness signals.
Recently, the Government of India created multiple data sharing programmes on climate change with the US.
US scientists have studied the subject extensively and have done thorough research.
IMD should take guidance from the US government agencies working on climate change.
The government needs to set up a protocol to freely exchange ideas with the US as also to chalk out plans to implement them.
Image: A monsoon scene along the Kochi beach. Photograph: Sivaram/Reuters
Also read: The man who sells weather for a living