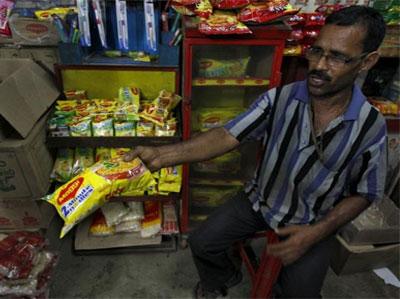 'For me, competition is not just coming from Patanjali, but it is also coming from Yippee, Top Ramen (Nissin Foods) and other brands.'
'I respect each one of my competitors.'
'Ultimately, it is the consumer who will decide who will stay or get overthrown as the leader.'
Nestle India is stepping up its focus on Maggi noodles after relaunching it three months ago.
Company Chairman & Managing Director Suresh Narayanan (below, left) responds to questions posed by Viveat Susan Pinto on whether the first phase has been satisfying or not. Edited excerpts:
The perception in the marketplace is that Maggi's relaunch was low-key. Was it intentional, given that you had set a benchmark of making it memorable?

There were a couple of things on our minds when we were getting into the relaunch.
One was to get Maggi out in the market as quickly as possible once the due-diligence process was completed after the Bombay High Court verdict.
There was a reason for this.
Maggi is linked to the lives of many people; not just the organisation.
There are distributors, suppliers, retailers, farmers, millers. . . In the interest of these people, it was important we get the product out quickly.
The second reason was that we were starting our factories after a span of five months.
There is a ramping up process that is involved since production had come to a grinding halt. Our focus was on this.
The third reason was we were not starting uniformly across the country.
There were some states that allowed production; some that didn't. We were navigating all these issues.
It wasn't like a new product launch at all.
Why is the rollout of Maggi variants taking time? Are you fearing a backlash from the authorities?
There has never been any hesitation in my mind regarding the steps we were taking.
At no stage did we disrespect, disregard or disobey the instructions we had. The relaunch was like a storm where there were multiple things we were doing.
Now that we have seen the response to the first variant (masala), which was good, we have come out with the second variant (chicken), which, prior to the recall, was a popular one.
Once this variant is on shop shelves, we will look at more. We are currently taking a call on whether all nine variants that existed earlier should be out or a few of them.
We are also working on new variants altogether. You will see this unfold in the coming months.

Market dynamics have changed since Maggi's recall and relaunch. Are you prepared for this new level of competition that exists now?
For me, competition is not just coming from Patanjali, but it is also coming from Yippee, Top Ramen (Nissin Foods) and other brands.
Each of us comes with a core characteristic, equity and franchise.
I respect each one of my competitors.
Ultimately, it is the consumer who will decide who will stay or get overthrown as the leader. Competition helps me rev up my game.
It energises me to be as relevant to the consumer as possible.
It expands the market because new players bring in new products. Obviously, as a player I'll have to run faster than the competition not only in noodles, but in every other category I operate in.
That is the mandate I would like to work towards.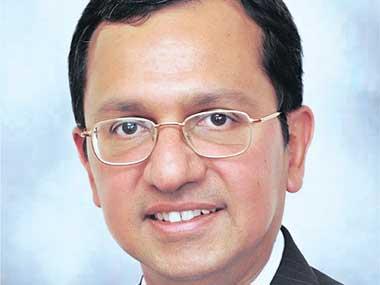 You had articulated in the past you would like to bring down Nestle India's dependence on Maggi. What are the steps you are taking to achieve this?
I will be spending 2016 on expanding the portfolio of the existing categories.
Some of the categories that have not delivered as strongly in the past such as chocolates, confectionery and beverages, I will look at new propositions in those segments.
I will add new brands there and rev the engine up.
The third stage would be to look at new product categories.
Legal issues pertaining to Maggi are not over yet. What is your way forward?
It is not fair for me to comment on a matter which is in court.
I would not like to answer whether I see this matter getting settled or not.
However, I wish to humbly submit that food quality and safety is non-negotiable to us.
You buy my product because you trust my quality and safety.
This has been proved by numerous tests that have been conducted on the product now and earlier.
The Supreme Court has raised certain questions, which I believe will be amicably resolved.
Many believe that you are making a big statement with your presence at 'Make in India' given what happened to you in the past. Did the prime minister acknowledge it?
Yes. He did wave out to us when he came visiting stalls on the inaugural day.
I want to make it clear that I am not the victor nor should anybody think they are vanquished. I am a corporate entity in this country. I will respect the regulator for what it is.
I have no question about the legal strength, competence or the position of the regulator here.
The issues that we had were pertaining to the testing methodology, infrastructure and capability.
Those issues have been dealt with in a certain manner by the Bombay High Court as a result of which we came back.