'The outcome of next year's assembly elections, macroeconomic indicators/corporate earnings growth and global events could keep the markets choppy.'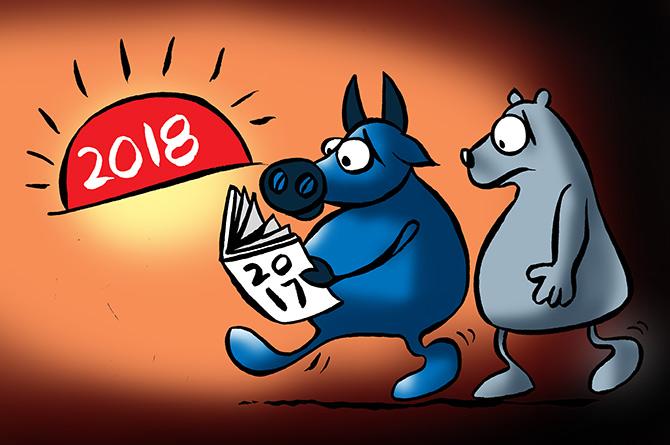 Illustration: Uttam Ghosh/Rediff.com
As the stock markets entered 2018 near all-time highs, Sunil Singhania, global head -- equities, Reliance Capital, tells Puneet Wadhwa that India is in a good position to outperform emerging markets in 2018.
Singhania, bottom, left, also expects the markets to give 12 to 15 per cent return on an annual basis over the next two to three years.
How do you see the Indian markets, compared to emerging market peers, over the next year?
We are optimistic on the road ahead for the markets.
In 2017, they performed in line with most emerging markets. It was also the year when the macros did well; the micros did not keep pace.
To some extent, 2018 will be the reverse.
While the macros will not be as great, micros -- such as corporate earnings growth -- should pick up.
Overall, India is in a good position to outperform emerging markets in 2018.
We expect the markets to give 12 to 15 per cent return on an annual basis over the next two to three years.
How are foreign investors viewing India?
Most remain optimistic.
What was putting them off till recently were the high valuations and sharp surge in equities over the past few years.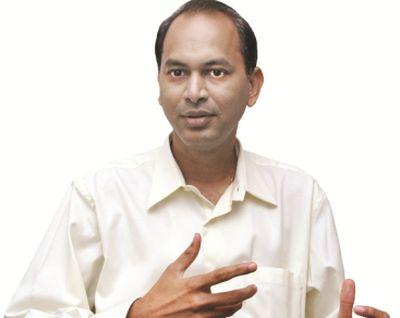 With the markets in a consolidation phase now, investor interest has been rekindled and foreign flows into equities should pick up pace.
It is possible that 2018 starts to see systematic flows back in India as far as foreign investors are concerned.
What about mutual fund flows into the equity segment?
Even those should sustain at a healthy pace. There is no reason for us to believe mutiual funds flows into equities will not continue.
We continue to see good traction on a monthly basis.
A floor of $2 billion on a monthly basis looks achievable.
How comfortable are you with valuations at this stage?
The markets are certainly not cheap at the current levels.
Corporate profitability should improve.
From a one-year perspective, we are looking at 16-16.5 times the price to earnings on the Nifty50, which looks reasonably okay.
That said, a lot of stocks, especially the smaller companies, have run up quite sharply.
Our belief is that they are in a euphoric valuation zone and any small correction in the overall market could lead to a significantly large correction in these stocks.
One needs to tread carefully.
Which segments/sectors will outperform over the next three years?
Chemicals continue to do well.
There are niche financials that have done well and will continue to do so.
A lot of construction-related companies in the roads sub-segment are part of the mid- and small-cap space that should do well.
Then, there are small cement players with capacities around three to six million tonnes per annum available at an attractive valuation.
New consumer discretionary names, too, are getting listed now, which should do well.
What are the top three themes likely to dominate the markets next year?
First, 2018 will be the year where there are a lot of assembly elections scheduled. One needs to be cognisant of this.
There will be some social initiatives undertaken by the government, but we do not expect these to be very large and disruptive.
Second, 2017 was a period where everything was globally very stable.
There could be some negative news flow at the global level that the markets might have to bear.
Investors should be prepared for some volatility in 2018.
Third, one needs to keep a tab on macroeconomic indicators and growth in corporate profitability.
It is high time that both start showing an improvement.
Do you see a pick-up in earnings?
FY18 is almost over.
The March quarter onwards, we should see pick-up in earnings, as the disruption and challenges due to demonetisation and implementation of the goods and services tax are behind us.
We expect FY19 earnings to be at least 16 to 18 per cent higher than that of FY18.
What are your overweight and underweight sectors?
We like cement, construction, sectors related to financial savings such as life insurance companies, asset managers, etc; consumer discretionary is another one we like.
We like corporate banks now, as opposed to retail-focused banks.
Automobiles are becoming very expensive.
Investors should remain selective here.