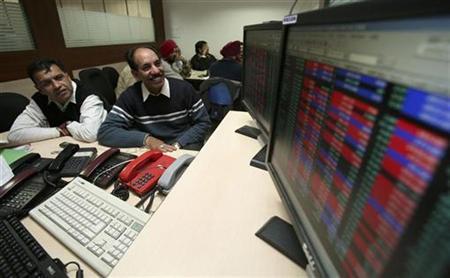 With limited downside risk, the Indian market offers tremendous upside over the next five years, says Raamdeo Agrawal, joint managing director, Motilal Oswal Financial Services.
The brokerage has issued its latest annual report on wealth creation, with a '100-bagger stocks' theme.
Agrawal, its author, shares with Samie Modak some key parameters for If the market is in an extreme cycle, you have to be careful. Excerpts:
The market has rallied almost 50% in the past year. Do you think one can enter it now?
There is no right time to pick stocks. You are not buying the market, you are buying the stock.
Be focused on the stock, not the market.
If the market is in an extreme cycle, you have to be careful. But this is a very benevolent market.
One should definitely venture.
You don't think the market is overpriced?
The market becomes overpriced when people become overconfident.
One sign of the latter is a high number of Initial Public Offers (IPOs).
There have been hardly any IPOs this year.
Too many of these are a sign that the market has got overheated. We haven't reached that stage.
How is the market looking on a valuation basis?
Mid-cap valuations are looking stretched. You should invest in a portfolio of stocks. You might go wrong with one stock but not the entire portfolio.
The market favours themes. There are times when everybody goes after large-caps or mid-caps.
Right now, people are after small-caps. It's a fad. Once a few small-cap stocks correct sharply, everybody will suddenly turn averse and move to large-caps.
You have to be very selective.
Where do you see the market after a year?
I don't know much about the short term but I think the market will at least double in the next five years.
The (Union) Budget will be a big event. Investing is about how much you can lose. I don't see too much downside for this market.
I think 8,000 is a fair value. So, for a limited downside, you are getting 100 per cent upside in five years.
What if turmoil worsens on the global front?
I don't know much about it. I don't focus on things I don't know.
I focus on growth and earnings. Despite global headwinds, there will be a lot of companies which will do well.
What does it take to pick a 100-bagger stock?
Vision to see and courage to buy. These two are easier.
But you need the patience to hold. If it is a 15-year story, you have to wait for that much time. It won't be a straight line through 15 years; there will be twists and turns.
How does one identity a potential 100-bagger?
They will be few. But in the past 30 years, the index itself has been a 100-bagger.
Therefore, you need to catch a stock that will grow 100 times in 15 years to beat the market.
This is a growth economy; it is not difficult to find growth companies. You should look for small business, good management; that's the basic game.
It is 90 per cent about the management, nine per cent about the industry and only one per cent to do with the stock.
The company should be relatively unknown. It should be small — typically, less than Rs 1,000 crore (Rs 10 billion).
So, that is priced well. You should try to get a company within these parameters which is also a market leader.
A classic example is Page Industries. It was only a Rs 500-crore (Rs 50 billion) company, despite being a market leader in its field.
If you get one that fulfills these parameters, a lot of money can be made very quickly.
While you are searching, you might get something which is not appreciated.
You should look for that. Price movement is not in your control but your conviction should be that the company is doing well.
Sooner or later, the market will appreciate the stock.
Do you see a mutli-bagger emerging from a particular sector?
In the past, most multi-baggers have belonged to information technology, consumer goods, pharmaceuticals, automobiles and banks.
Almost 80 per cent of such companies have come from these sectors. I think 60 per cent of the future companies will also come from these sectors.
There could be a new sector like e-commerce. One should look for growth.
Your asset management company (AMC) division focused initially on exchange-traded funds (ETFs) and how now moved to active investing?
We couldn't properly market the ETFs, a passive investment product.
With a management fee of only 75 basis points, it didn't leave much of marketing dollars.
It wasn't making business sense. Then, we came to active investing. As a year-old fund house, our performance has been good.
We are the fastest growing AMC in the equity segment.
We have a lot of skin in the game in the AMC business.
The listed entity, Motilal Oswal FinancialServices, has invested all the free cash in our equity schemes.
Even my personal investments are now being done through our mutual funds.
Photograph: PTI