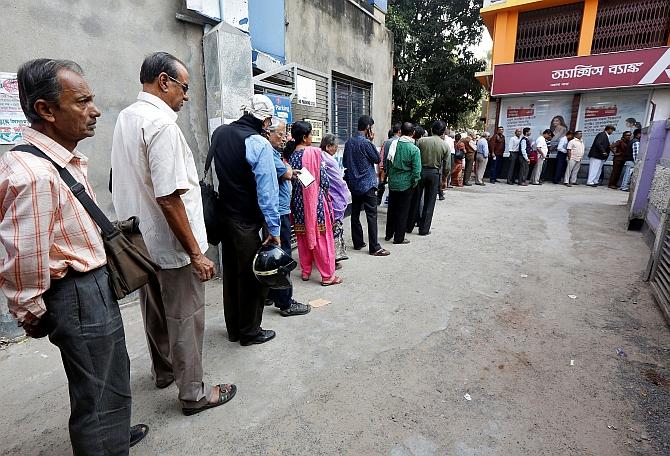 'To attack the cash part of black money, I can't think of anything else but demonetisation.'
'There is a cost to be paid and it is fine if it doesn't extend beyond this quarter.'
Dr Krishnamurthy Subramanian, an associate professor of finance at the Indian School of Business, is a member of the Reserve Bank of India's expert committee on governance of banks.
A member of SEBI's Standing Committee on Alternative Investment Policy headed by Infosys co-founder N R Narayana Murthy, he also serves on the board of Bandhan Bank, the first bank to be licensed after Independence in eastern India.
Dr Subramanian, below, left, spoke to Rediff.com's Shobha Warrier on demonetisation and its aftermath.
The general feeling is that as an idea, demonetisation is good, but in terms of implementation, the government has failed miserably. Do you feel so?
No, I don't feel that way. If demonetisation has to be effective, it has to be a complete surprise.
If it has to be a surprise, only a small number of people have to be taken into confidence.
If you have to plan in advance, you have to inform people in advance and that would have defeated the purpose of an effective demonetisation.
Even the chairmen of various banks had no idea about demonetisation till the prime minister announced it on television.
I feel the finance minister or others in the know of things might not have known that the ATMs had to be recalibrated for Rs 2,000 notes.
But if you wanted a perfectly planned demonetisation move, a lot of people would have to be brought into the loop and the surprise element would have gone.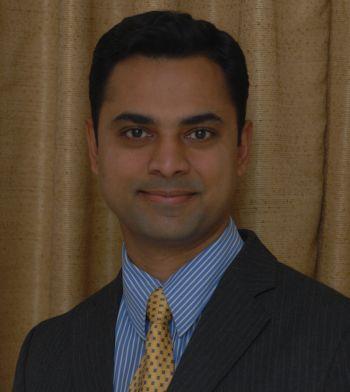 How could they have avoided the inconvenience caused to the public who are forced to stand in queues for hours at ATMs and banks?
I have written about this for the Mint newspaper. I got data from the National Sample Survey and based on that what I have concluded is that a large number of people who are standing in the queue are basically agents trying to convert others' black money into white.
If you look at the earnings of the population in India, the average weekly earnings of 50 per cent of the working population is around Rs 1,100 to Rs 1,200.
People in the bottom half generally have a hand to mouth existence and let's assume that these people have kept a savings of three weeks, these people would not have had more than Rs 4,000 to exchange.
Secondly, after the banks started putting indelible ink, the queues have come down significantly.
If you put together both these evidences, it is highly unlikely that the poor standing in the queues are doing so for themselves.
I am not convinced that these lines consist of only poor people. These lines are comprised of two sets of people -- one set are those who have legitimately earned their money and I don't deny that they are getting troubled. But they belong to the middle crust of the population.
The second set of people are standing in the queue to convert other people's money and they are getting paid for it. They would not have stood in line if they were not adequately paid.
Another point of view is that only 6% of black money exists in cash and that the government should have attacked black money that exists in real estate, gold, participatory notes, stock market etc first before demonetising currency.
I am not disputing that the government should attack all forms of black money. But I don't know from where this information that only 6% of black money is in cash came from.
My estimate is the amount of currency in Rs 500 and Rs 1,000 notes is around Rs 15 lakh crore.
Our GDP is about Rs 150 lakh crore. The World Bank estimate says that around 25 to 30 to 40 per cent of the Indian economy could be in the black economy.
If we assume 25% of our economy is black, it translates into Rs 40 lakh crore and if one quarter of that is in cash, you are talking about Rs 10 lakh crore.
Even if it's 1/8th, it is about Rs 5 lakh crore.
So, out of the Rs 15 lakh crore of banned notes, at least 40 to 50 per cent of that will be black money.
In that case, you are talking about Rs 6 lakh crore of black money in cash!
Those who pay legitimate tax and also the poor do not keep big notes at home. Why I am saying that the cash part is not unimportant.
Our tax revenue last year was Rs 15 lakh crore and if you can bring in Rs 5 lakh crore through this, it amounts one third of last year's tax revenue which is not trivial.
The other areas where black money exists are also as important to attack, and if you see there have been a sequence of events, right from tax treaties signed with various international governments to asking people to disclose information of gold, real estate, etc to the tax amnesty scheme, there was an effort to unearth black money in other areas.
But it is harder to unearth black money in real estate, hawala, etc.
In 1978, when the last demonetisation happened, the black money they were looking at was Rs 80 crore. But after 1978, no government has tried to do anything on the cash part.
I am happy that at least this government is doing something on the cash part of black money.
It has to be a continued effort to unearth black money from other sources.
Yes, the cash part is the lower hanging fruit compared to the other sources which will be harder to attack.
To attack the cash part of black money, I can't think of anything else but demonetisation.
Prime Minister Modi's critics say since the cash part involves so many people, the government should have tackled it last...
I am not denying there is some truth to it. At the same time, when you think from the prime minister's perspective, he may prefer to give short-term pain now rather than later.
The benefits of the action will be visible say after two years, closer to the elections.
According to me, in terms of timing, it is better now than doing much later.
After demonetising the higher currencies, what is the rationale for the Rs 2,000 notes?
A day after demonetisation, the finance minister also ducked that question.
To be honest, I don't have an answer to that question. I don't know why they introduced the Rs 2,000 note.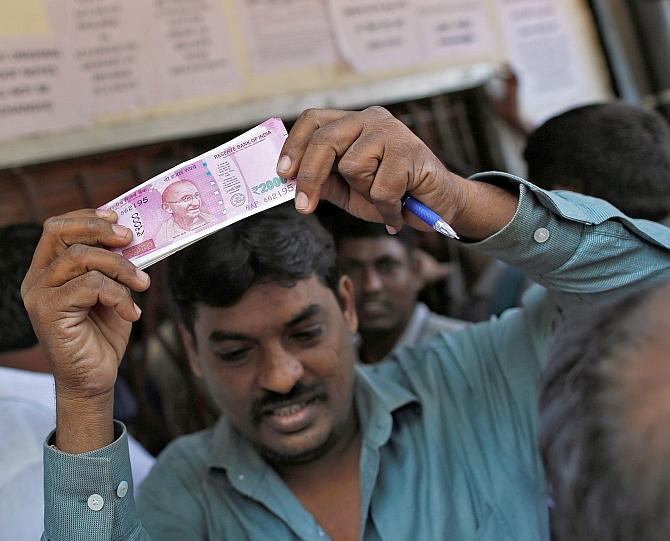 The Rs 2,000 notes are causing a lot of inconvenience to ordinary people...
That is undeniable. My guess is they might have felt that if they introduced the same denomination, it might have caused some confusion.
And it is not easy replacing them (higher currency notes) with small denomination like Rs 100 notes.
One thing I can say is the incentive to store black money reduces significantly now.
By not paying taxes, a person might have saved say, 30%. Suppose he hoards money in Rs 2,000 and it is demonetised, he will lose 100%.
If there is a 30% chance of demonetising Rs 2,000 notes, it does not make sense to convert it into black money now and lose everything. So, it is better to pay 30% tax and save the rest.
There is a 6% chance of him getting harassed by tax officials too.
After the shock, people have become scared to spend money. Will this result in negative growth at least in this quarter?
It is quite possible that there may be negative growth this quarter.
There will be a deceleration of growth this quarter. But it is okay in my opinion.
There is a cost to be paid and it is fine if it doesn't extend beyond this quarter, and there are reasons why it may not.
The deposits that have come in will ease bank lending.
The Reserve Bank surplus will go up significantly and they may pay a dividend to the government which the government may use to capitalise the public sector banks which are under duress right now.
When lending picks up, growth will happen.
A lot of money that was floating in the informal financial system will be forced to come into the formal financial system now.
And the benefits from this in the long run will be high.