Vistara CEO Phee Teik Yeoh discusses the airline's expansion plans and challenges with Alnoor Peermohamed.
Vistara, the full-service carrier of Tata Sons and Singapore Airlines, is looking to expand capacity and attract more fliers, as it plans to fly overseas this year.
The civil aviation policy allows it a fleet of 20 aircraft to go overseas.
"We have done very well in terms of customer reception in India, but when we go overseas, we have to augment our delivery several notches to complete," said Vistara chief executive officer Phee Teik Yeoh.
Edited excerpts: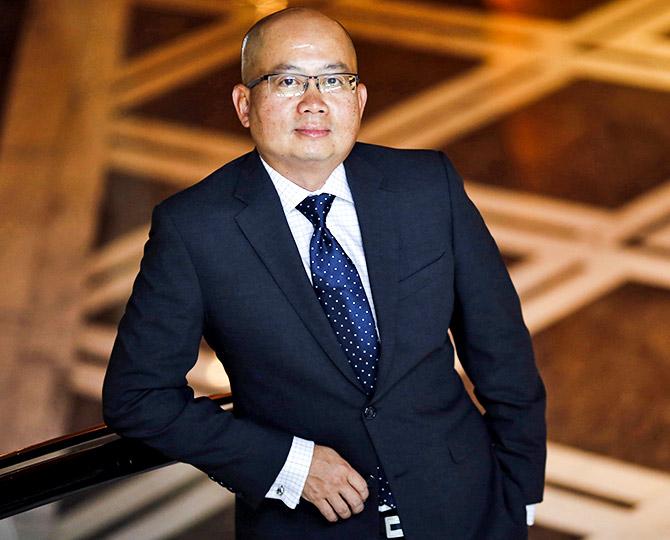 IMAGE: Phee Teik Yeoh, CEO of Vistara says many foreign airlines are keen to partner with Vistara. Photograph: Adnan Abidi/Reuters.
What are your expansion plans?
You have 18 destinations. Will you have more flights to the same destinations or add more destinations?
We just completed two years of operations in January. We have 18 flights and offer 515 services a week compared to 13 flights and 324 services per week a year ago.
Launching destinations is different from expanding frequency, because it requires setting up stations, getting check-in counters, recruiting staff, and signing contracts with handling networks.
In 2017-18, we are going to get five more aircraft. We are going to continue our fast growth in India -- at 50 per cent of capacity, by March next year. Besides increasing frequency in key routes, we will introduce two to three new points.
By June 2018, we will have a fleet of 20 aircraft before we go overseas.
Are you looking at more commercial partnerships?
We have 14 partnerships inter-line; the more recent ones are Air France, KLM and Japan Airlines.
Many foreign airlines are very keen to partner with Vistara. They have seen how this brand has grown. We are also very eager to partner with them because it allows us to widen our reach and offer destinations our customers will be travelling to.
There will be more code sharing. Hopefully, we will soon announce our code-share partnership with Singapore Airlines. We are just tying up loose ends.
It is not just about partnerships. It is about how we can grow the partnership to get more traffic in and out of Vistara flights. That is another thing that the team is working on. How we can get the foreign airlines to promote Vistara and making it the choice airline for their fleet, when they operate in India.
Will you join any airline alliance?
Not at this point of time. We have 14 of partners, from across various alliances.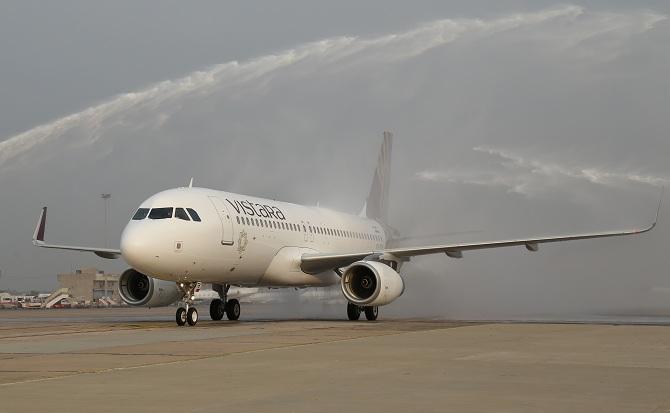 IMAGE: Vistara, a full-service joint venture of Tata Sons and SIA, took off its for a maiden flight from Delhi to Mumbai in January 2015. Photograph: Courtesy Vistara.
How is 2017 going to be? People are predicting airline losses might go up.
This year will be challenging in terms of managing costs.
Jet fuel prices – 30 per cent of the operational costs of most airlines -- have gone up from January; these are expected to stay high. The days of fuel price at $30-40 per barrel or below-$50 are gone.
Airport charges across the country have also gone up by 10 per cent.
Unless there is pricing discipline, this will be a tough year. Airlines also have to focus on costs. Unfortunately, there are many items whose costs we cannot control.
There are, however, things we can do if we look hard. Vistara is focusing on this area to have a leaner, meaner structure. We are working to bring down unit costs.
What are your international expansion plans?
We have been gearing up for international operations, and have regulatory approval to fly overseas. We are continuously refining our product and services and are aware going overseas will not be a walk in the park. Competition will be much keener than in the domestic market.
We will be competing with bigger players -- say, the gulf carriers that invest in good products and services. We must be ready in delivery of service and products. We have done very well in terms of customer reception in India, but when we go overseas, we have to augment our delivery several notches to complete.
What other plans do you have?
There is a plan to get approval on capital injection.
In June next year, we will get the 20th aircraft. Anything from the 21st aircraft, we can fly international.