'In certain sectors we want to become catalysts, in others we want to encourage.'
S D Shibulal discusses Axilor Ventures with Ayan Pramanik and Raghu Krishnan.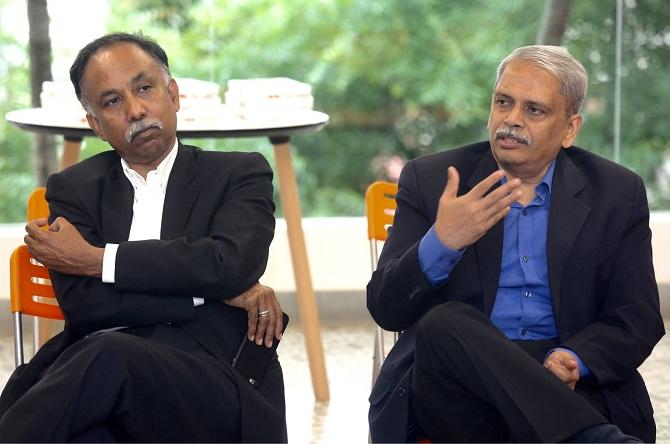 IMAGE: Along with other partners, Infosys co-founders S D Shibulal, left, and Krish Gopalakrishnan, right, set up Axilor Ventures. Photograph: Courtesy Axilor Ventures/Facebook.com.

Set up by Infosys co-founders S D Shibulal and Krish Gopalakrishnan along with other partners, Axilor Ventures mentors start-up aspirants with bold concepts. Shibulal explains how his team focuses on creating an ecosystem for health care start-ups through collaboration with laboratories, hospitals and other facilities.
Do you see start-ups focusing on science-based models?
While there is an enormous number of start-ups, science-based start-ups are few. Most start-ups are focused on e-commerce, technology, market discovery and aggregation. Once a researcher leaves the laboratory and commercialises his work, he does not have access to facilities and he cannot set up another laboratory to continue his research.
Are you planning to bridge this gap?
Axilor's focus is on technology, health and sustainability. In health care if you want to do something you need access to laboratories, hospitals, patients and doctors. We are in talks with a couple of hospitals here, the National Centre for Biological Sciences (NCBS) and others.
We did something called Healiate 2016 in which Narayana Health, the Centre for Cellular and Molecular Platforms (C-CAMP) and Axilor Ventures came together to promote innovation and entrepreneurship in health care. We had 100 applications and five were selected and provided seed money. Only one of them converted into a company.
Also, these ideas are long-drawn, it becomes more capital-intensive if you do not have access to platforms; Axilor is trying to be a catalyst.
What are your plans for this year?
Axilor is not associated with one technology or one platform. We run a programme called idea-to-pilot, where we invite applications provide a grant of Rs 2 lakh, space and other facilities. The fourth batch had 440 applications for 15 seats and we had taken 13 ideas or start-ups.
The programme is for 100 days and at the end we will down-select. During these 100 days, we put them on something called pilot-to-launch and we provide about $50,000 and help them connect with others. They are expected to leave the campus after that.
Do these start-ups solve local problems?
The health care start-up we funded will allow diagnostics in rural areas. An urban discovery start-up in health care is not very attractive, what we need is social impact. The rural unit pricing has to be reduced by 100 times.
Do start-ups face higher costs and lower returns in rural markets?
You cannot use conventional methods where the unit cost of reach is high. You cannot acquire the same customers at the same cost. It is like offering a product in a sachet; you change the unit pricing and the access is large.
Where do you see Axilor in the next three years?
We want to look at other verticals like sports and education. In health care, we will push further. In certain sectors we want to become catalysts, in others we want to encourage.
We are launching something called Axilor Transit to offer co-working space for start-ups.