'I expect a demand stimulus in the Budget."
'There has been such a shock to the economy that such a stimulus would be needed.'
Illustration: Uttam Ghosh/Rediff.com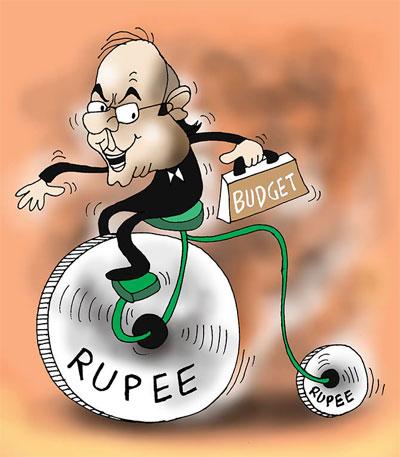 Leo Puri, managing director, UTI Mutual Fund, tells Sheetal Agarwal that the effects of demonetisation should wear out by March.
What is your outlook for 2017?
It will be a better year for the equity markets.
Though demonetisation has deferred earnings, that is a deferral of demand and not destruction.
This deferral could be priced back in the next two quarters. I see that as a positive driver in 2017.
We know much more about where the world is headed and a lot of uncertainty has been discounted.
This is not to say that there will not be some continued volatility in 2017, but there is the likelihood of a stimulus in US spending, which could act as a locomotive for the global economy.
You will have stress on global trade, but that affects India less because we are still relatively a domestic-demand story.
So if we stay focused on our own reforms, we have an opportunity to separate ourselves as a very attractive fast-growing economy.
People could once again go overweight on India from the neutral position that they have reverted to in the last few months.
I don't think debt markets will see the low to mid teen gains that we saw in 2016.
I don't anticipate the same room for rate cuts in FY18.
I think we should still see flows coming into debt and balanced products because some amount of reallocation towards security and safety is also happening.
What will be the impact of demonetisation and when will it start phasing out?
Clearly, demonetisation has impacted consumer spending, real estate and the non-bank and small bank finance sectors.
This impact should in my view be mitigated by the end of the financial year, which is three months from now.
The phasing out will depend on the speed at which cash is replaced in the economy and how quickly digital cash is adopted.
I think we will get at least 75% of the cash back in the system in the next two, three months.
Are further measures necessary to turn demonetisation into a success?
Two things often talked about are electoral funding reforms and reforms in the real estate sector.
The prime minister has alluded to the fact that there will be some consensus on election reforms.
They should move quickly on that because it will not be politically wise to drag one's feet on this.
Beyond that I expect a demand stimulus in the Budget because there has been such a shock to the economy that such a stimulus would be needed.
And later in the year I also expect an infrastructure spending stimulus.
Do you think the goods and services tax will be passed in FY18?
That's a political call. It is disappointing that some politicians are using demonetisation as a means to hold up the GST. I hope they relent on that.
But even if not, you have the process in September.
I think the Budget will assume that the GST is going to happen during FY18. I would be surprised if it made any other assumptions.
We should expect teething problems even after its implementation. It will take one or maybe two years for things to settle down.
The GST is based on the principle of value add and it will be a major dent in the whole process of inventory fudging, which has been the root cause of much of the black economy in the country.
It will be much harder to do under invoicing/over invoicing. To that extent there will be greater transparency.
What are your expectations from the Budget?
The Budget will have two elements to it.
One, there will be some demand stimulus in terms of a moderation in direct tax rates, whether that happens through a change in the threshold or a direct impact on levels of corporate and personal tax.
I also think there will be a well-defined commitment to infrastructure spending as part of the theme on economic reforms and good governance.
One other element I hope finds space is the continued focus on the financial sector, which received a lot of attention last year.
I hope we return to the task of early recapitalisation and enhancement of governance in those institutions.