From being the most valuable start-up to controversies like rape allegations against drivers, and the exit of CEO Travis Kalanick over charges of toxic and sexist work environment, Uber has seen it all.
Karan Choudhury asks Uber India president Amit Jain what the company's global problems mean for the India operations.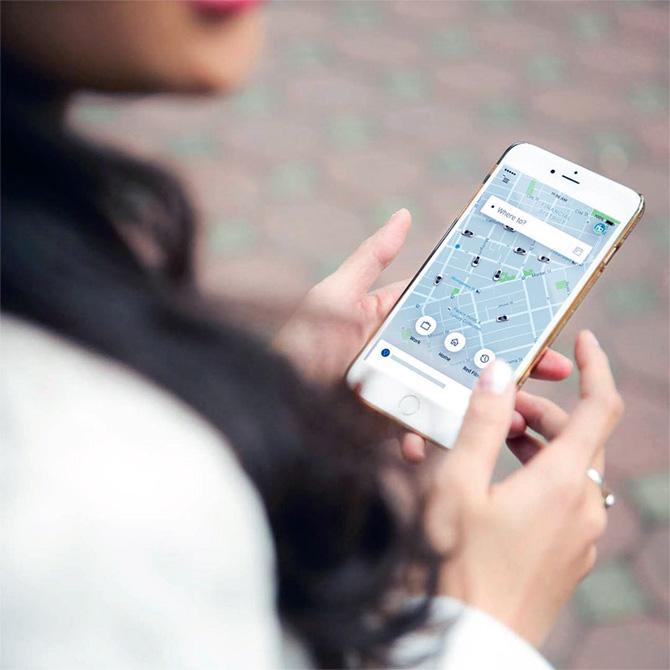 IMAGE: The Uber India president says, "There are stages of evolution, and we are moving from being a start-up to a global firm." Photograph: Kind courtesy Uber/Instagram.
For a cab aggregator, Uber Technologies' journey in the past eight years has been nothing short of a roller-coaster ride. From being the most valuable start-up to controversies such as alleged rapes by its drivers, exit of its founder chief executive officer Travis Kalanick over allegations of toxic and sexist work environment, Uber has seen it all.
In between, it wrapped up its operations in China, and more recently merged its Russian business with the taxi arm of search engine giant Yandex.
But Uber India President Amit Jain is optimistic. Shuttling between his offices in Gurugram, near New Delhi, and Silicon Valley, he is trying to make the India operation a silver lining in the company's dark present.
Jain addresses the many issues facing the company.
Edited excerpts:
You exited China last year, and now after the Didi deal, you have announced a deal with Yandex in Russia. Do you have any plans for consolidation in India?
We have no plans of consolidation in India. Competition keeps us on our toes and focused on creating the best experience for riders and drivers, and we welcome it.
We remain committed to creating reliable and affordable mobility for everyone, everywhere and we believe we have the best people, product, and service to make this possible.
Uber's commitment to India is absolute -- we have continued to grow exponentially every week since we started our journey in India almost four years back. We are very excited at the growth we are experiencing today in India, and optimistic about the future.
Did you anticipate changes that have happened in the past few weeks?
No, absolutely not.
We saw many of our leaders leave, but what that has not changed businesses, operations and day-to-day working. From India's perspective, I have absolutely the same mandate, authority and empowerment. There has been no change whatsoever.
Are you trying to say that culture globally and in India operations are different?
Not saying that they are two different animals, but there are nuances to it.
At scale, our San Francisco operations are much bigger. In India, we have got close to a 1,000 people scattered across 30 different cities.
Not commenting on anything outside India, what I am saying is that our culture in India is strong and solid. Globally, what I can comment on is that there are stages of evolution, and we are moving from being a start-up to a global firm.
As one of the top officials at Uber, do you feel there was a need for change at the global level?
My mandate is not global; it is Indian. So I can talk about what we are doing here.
Travis -- eight years back when he started the company -- had a vision. Where we stand in India, regardless of him being or not being the CEO today, is a 100 per cent commitment to his vision. We will continue that vision forward.
Who is driving the business from the global perspective?
Overall, there is an executive leadership team of 16 people.
The beauty of our business is that a lot of it is driven locally and regionally. Andrew Macdonald [regional general manager, APAC and Latin America] is the one who I report to, and that has not changed.
How much are the investors involved now?
They are involved more in things such as leadership and governance, not in day-to-day operations.
How has the culture changed in the past two years that you have been here?
For me, the culture has not changed. It has been one of transparency, hard work, no hierarchy and minimising bureaucracy.
There is always scope for improvement.
Is our organisation perfect? Absolutely not.
Can we improve in certain areas? Yes.
What is Travis's role in the board now? How active is he? What conversation did you have with him after he left?
He is an active board member, and very much part of the company. The conversations have been around the India business. He said that my mandate was to focus on the India business.
Was there any regret when he spoke to you?
It is difficult for me to comment on that.
Is Uber looking at the India business to make operations better globally?
All regions are doing well from the business perspective.
There is a lot of learning we take from each other in terms of not just business aspects, but also other processes. There are a lot of changes that may have been made across the globe that might have been done in India as well.