'Those who draw high salaries, fabulous perks when the business is good should not complain when they are asked to go when the business that they are involved in fails to add value.'
'(Arun) Jaitley should present a credible Budget.'
'Narendra Modi is smart, honest, energetic with a profound understanding of issues.'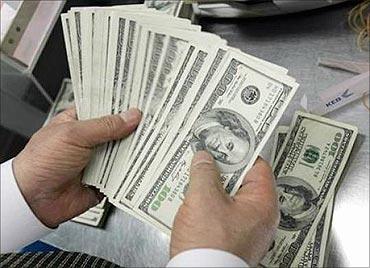 Mohandas Pai (photographed below) wants an honest and transparent Budget this year from the new government.
The chairman of Manipal Global Education Services does not mince his words when he says that the government often forgets that its prime duty is to serve the people and not some sick public sector units.
A government's job is to govern and not to run a business, Pai feels.
In a candid conversation over telephone with Indrani Roy/Rediff.com, the former chief financial officer and board member of Infosys discusses the drawbacks of the erstwhile United Progressive Alliance government, Prime Minister Narendra Modi's dynamism, the state of information technology sector in India as well as other issues.
In an interview in April last year, you had said there should be a change in Infosys leadership. Now Vishal Sikka is at the helm. Are you happy with the way he is leading Infosys?
There has been a change in leadership and I am happy about it.
The way Sikka is leading the organisation leaves no room for dissatisfaction.
However, now that I am out of Infosys, I don't think it would be proper for me to comment on the functioning of Infosys.
This has been a season of layoffs. Senior information technology professionals are getting pink slips. We would like to know your opinion on the issue.
In IT industry, more often than not, people get paid much more than they deserve.
Therefore, those who draw high salaries, fabulous perks when the business is good should not complain when they are asked to go when the business that they are involved in fails to add value.
Despite the uncertainty and the pink slips, do you think IT still remains a good career choice?
Yes, indeed!
However, there has been a change in IT's requirement pattern.
Now there is a great demand for professionals who are deft in hardcore coding.
IT companies now want to hire veterans at a large scale more than freshers.
In a recent tech summit, you said India has the potential of having 100,000 startups in the next 10 years.
Of course! But to make it happen, we need to have a great startup policy.
If we are armed with such an effective policy, India can easily earn the status of the superpower in entrepreneurship; it can assume the role of a startup hub.
Image: Mohandas Pai; Photograph: Reuters

The mobile revolution, as we all know, has been the biggest tech shift in recent times. Your comments on it?
About 15 years back, a revolution shook the world in the form of personal computers.
The latter stepped aside gradually paving the way for laptops.
In due course, laptops were replaced by iPads.
Then appeared smartphones that took the world by storm.
The mobile revolution has brought in a major change in the lives of people across the globe in recent times.
(Almost 90 crore or 900 million connections are in use at present with almost the same number of actual users.)
Most young people are using the mobile for every necessity under the sun.
In fact, the mobile revolution has transformed the e-commerce business altogether.
Great opportunities have opened up for people dealing in mobile applications.
This trend goes perfectly well with a generation that wants everything at their fingertips.
Now the mobile virtually does everything -- it calculates, takes photographs, browses the Internet and helps the present generation to stay connected at all times.
Ever since Prime Minister Modi came to power, we are hearing about his vision for a digital India. What is your opinion?
To be honest, the world at present is going digital irrespective of who is heading the government at the Centre.
There is no way one can shut oneself off from this digital transformation.
The fact that the new government under Modi's aegis is taking the initiative in this regard will certainly improve the level of competition.
What is your impression of the new government?
Since a new political party has come to power with a clear mandate, the government is bubbling with energy, has a clear vision.
I am sure the present government will be able to create more jobs and opportunities for the people.
While on the campaign trail, bringing back black money stashed away in foreign banks was one of the biggest election promises made by (Narendra) Modi. But the new government's progress in this respect has not been satisfactory, right?
Black money, if you ask me, is all about rhetoric.
It's impossible for any political party to ascertain how much black money is stashed away and where.
They are not like bank accounts -- they can't be read and calculated.
Black money, in true sense of the term, resides in real estate.
To track black money, the government should look into our realty sector.
Also, it should take proper measures to stem corruption.
What do you think needs to be done to combat corruption?
There are four kinds of corruption in India:
• Speed money or bribe that government officials ask for to do public services
• Procurement of government contracts through unfair/illegal means
• Unfair practices that clog the government policies, for eg, granting of licences etc
• Corruption that surrounds big defence deals that usually involve politicians.
To fight these, the government needs to stress on e-governance.
This is where (Narendra) Modi's vision for a digital India comes to use.
For example, ever since the government initiated e-filing of income tax returns, it has been able to curb corruption to a large extent.
Digitising government procedures is sure to bring in transparency.
You have met Prime Minister Modi twice. How was the experience?
My experiences of meeting Modi have been fantastic.
I see in him a leader who is smart, honest, energetic, with a profound understanding of issues.
No one can play fool with him.
He is a robust decision-maker with a fantastic memory.
Modi is a nationalist to the core.
He is good at heart and wants India to do well.
Since you are so impressed by the energy and dynamism of this new government, what, according to you, ailed the United progressive Alliance government?
The UPA government was unable to control the economic matters of the country and it failed to push the development agenda forward.
During its time, decision-making had almost stopped and jobs were not getting created.
Economy was in a moribund state.
Recently Modi dismantled Planning Commission and set up NITI Aayog in its place. Do you think it's the right step?
Absolutely!
The Planning Commission had become a relic of the past.
We must understand that we need strong states at present and NITI Aayog can be useful in that regard.
Any government cannot let it get fossilised, it cannot afford to allow itself to be laden with entitlements.
Our prime minister did the right thing by creating a new institution instead of the Plan Panel.
And Arvind Panagariya, who has been appointed the vice chairman of NITI Aayog, is a competent person.
I am certain he will transform NITI Aayog into a powerful tool of the government.
What are your expectations from this year's Budget?
I expect an honest, forthright Budget that would not table inflated revenue and understated subsidy figures.
The last three Budgets have been pretty disappointing.
Even while presenting the Union Budget last year, Finance Minister Arun Jaitley fell into the trap laid out by his predecessor P Chidambaram.
He only made some cosmetic changes to the old Budget.
I feel it's illogical to put forth unrealistic figures in the Budget that would ultimately call for a lot of adjustments.
While making the Budget, the government should not forget that a generous allocation has to be made for infrastructure, health and education.
As I had once said, the roads built by the government break down after the first monsoon.
This should not happen.
Also, it's time the government concretised a national health insurance plan.
I sincerely hope this year's Budget will take care of all these essential needs of the country.
I expect the finance minister to present a Budget that would be credible.
Would you like to send out a few suggestions to the finance minister?
I would like to recall what Mahatma Gandhi used to say: 'Jis desh mein sarkar vyapari hai. . .us desh mein janta bhikari hai (A country where the government behaves like a businessman, the governed are bound to be impoverished).'
A government must remember that it is for the people and not for some sick public sector units.
I fail to understand why any government should pay astronomical sums from the taxpayers' money to bail out an airline as sick as Air India.
It's ridiculous!
The government's main responsibility is to focus on developing skills of the people, improving healthcare, facilitating higher education, providing better infrastructure.
Instead of infusing huge funds into PSUs that are gasping, government should deal with issues that dog the country's progress.
If Air India is not doing well, it should be sold to the highest bidder.
Why should tax-payers' money be wasted to keep it alive?
Air India is just a case in point.
There are several other PSUs that are being constantly 'aided' by the government.
I find this entire exercise illogical!
Tell us about your life at the Manipal Global Education Services. Are you enjoying this shift from Infosys?
(Chuckles) It has been a natural shift for me.
My experience of working with Infosys is being used in totality here.
But my horizon has broadened.
I am working much harder than before and am working in tandem with industries, educational organisations, state governments, non-government organisations and the like.
I am mentoring, setting up funds, facilitating projects -- doing so many interesting things at a time.
My hands are full but I am enjoying every minute of my overly busy schedule.
Image: (Above) US dollars. Photograph: Reuters; The image is used for representational purpose only