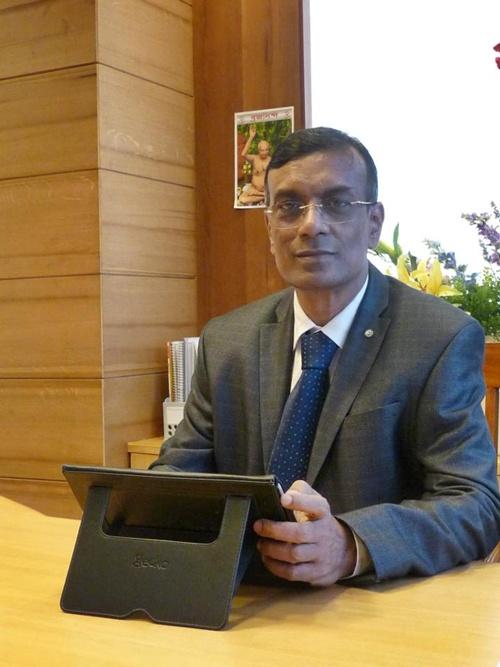 'If 99.99 per cent of these micro borrowers are good at repaying their loans, why can't we look at the SMEs and MSMEs and replicate the same model for them with our stringent risk management system,' Chandra Shekhar Ghosh, chairman and managing director of India's newest private sector bank, tells Prasanna D Zore/Rediff.com.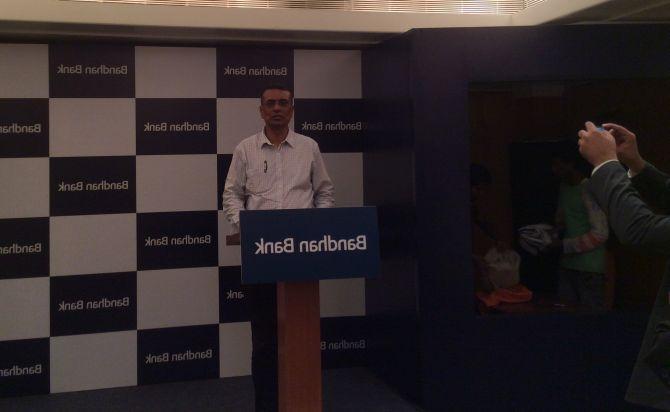 It took Chandra Shekhar Ghosh, founder of Bandhan Financial Services Limited, a micro financial institution, 14 years to notch one crore customers to who they would lend a total of as much as Rs 10,000 crore.
In the next two to three years, Ghosh's MFI, now Bandhan Bank, received the Reserve Bank of India's final approval on June 17 to run a full-fledged bank, and has set up an ambitious target to double his customer base and grow his loan book by 30 per cent.
Ghosh, who was in Mumbai to announce that Bandhan Bank (to be headquartered at Kolkata) will begin operations August 23 with 500 to 600 branches across India's metros, urban centres and rural and semi-rural areas, spoke to Prasanna D Zore/Rediff.com about his vision for India's newest, private sector bank.
Now that you will be migratign to being a full-fledged bank from a micro financial institute, could you tell us which sector will be the focus of your lending?
Our focus will be lot of small businesses that do not have access to money. There are 29.8 million small and micro small and medium enterprises (SMEs and MSMEs) in the country and only 1.8 million have access to banking. That leaves us with a potential of 28 million MSMEs to whom we can lend money.
No bank is looking at them as an opportunity to lend money. Why can't we look at them, promote them and provide them with loans?
Since you will be focusing on SMEs and MSMEs, have you looked at risks associated with lending to this sector?
There is little bit risk in lending to this sector.
But before I started lending small amounts of money to micro borrowers people told me that poor people are high risk. And no bank gives loans to them because their repayment rate is at 35 per cent. With our processes and systems at Bandhan Financial Services we proved them wrong. Our net non-performing assets are only 10 basis points (0.1 per cent; 100 basis points = one per cent) out of a total loan book of Rs 10,000 crore.
If 99.99 per cent of these micro borrowers are good at repaying their loans, why can't we look at the SMEs and MSMEs and replicate the same model for them with our stringent risk management system?
We would design our loan disbursals in such a way that we would lend only to those SMEs and MSMEs where our assessment system signals a very small rate of bad loans.
We are sure we can tap this market and let the unbanked of India enjoy the advantage of borrowing money for productive businesses.
Now that you will be running a micro financial institute as well as a bank under the Bandhan umbrella, what portion of your money will be loaned to SMEs, MSMEs and what portion will be loaned to those who want to buy homes or automobiles?
It will depend on the book size of my liabilities which will decide how much money these different borrowers can get from Bandhan Bank.
Will it not diffuse your focus on lending to micro borrowers?
No. We will continue to loan money to our micro borrowers.
What kind of challenges do you foresee when you begin your operations on August 23 with over 500 to 600 branches across India?
One of the biggest challenges of setting up bank branches in rural areas will be electricity supply. It is very erratic in rural areas along with proper internet connectivity. Both will be crucial for our operations in those areas.
The human tellers that we plan to employ will need functioning SIM cards but then not each village has all major telecom service providers offering the required connectivity.
But we are sure we will overcome these major challenges.
Why focus only on India's east and the north-eastern parts? Are you afraid of competition in the western, southern and northern parts of India or do you want to build on the strengths of Bandhan Financial Services customer base?
Both ways of looking at it is right. But the third, and a very important, point is banking penetration in these geographical areas is very low. So, why shouldn't we focus on these areas? This is my question.
Also, if you look at these areas, since these are low-banking areas, competition is automatically nil.
Do remember that all chit funds (and the scams associated with them) have been born in the eastern parts of India. So, why shouldn't we look at these people who otherwise deposit their moneys with these chit funds? Why shouldn't these people get proper, legal, regulated banking experience?
What kind of deposit base will you be looking at in the first year of Bandhan Bank's operations?
As far as getting people to deposit their moneys with us we will have to build the trust of the people wherever we set up our bank branches. If I build a trust relationship with people we will surely get future business from them.
We will be beginning with one crore customers -- those already banking with Bandhan Financial Services -- and over the next two to three years we plan to double this figure to two crore.
Bandhan Financial Services has a loan book of Rs 10,000 crore. Will that be transferred to Bandhan Bank?
Yes. From day one of our operations this Rs 10,000 crore as well as one crore customers of Bandhan Financial services will become part of Bandhan Bank. All these are mostly women customers and they want to have their accounts independent of their husbands' accounts. If their husbands too begin to bank with us we are looking at a huge depositor base.
What kind of growth do you see for Bandhan Bank in the very first year?
Thirty per cent. That will be Rs 13,000 crore.
With micro financial institutes like Bandhan transforming itself into a full-fledged bank, can India see fewer scams like Sahara and Saradha?
I feel that if these people (who deposit their moneys daily with chit funds for want of proper banking facilities) get an opportunity to deposit their money with our door to door Bandhan Bank network, and if the government and banks like Bandhan together educate the customers to not get swayed by chit funds, I hope such incidents can come down a great deal.
Will these one crore micro borrowers derive the benefits of lower interest rates (compared to what they are being charged now) by becoming account holders of Bandhan Bank, given that your cost of borrowings too will come down after you become a bank?
If you see in the last few months, the Reserve Bank of India has hinted there won't be many rate cuts coming in the banking system. They have cut repo rates but not very drastically yet. So we will have to take these and other factors into consideration (before we can pass on the benefits of lower interest rates to our customers).
Give us some time; let us begin our banking operations and determine our cost of borrowing and based on that we would like to spread the cheer among our borrowers.
But from day one these borrowers will benefit from our door-to-door banking facilities, thereby saving them time and trouble of travelling distances to deposit their moneys. Isn't that a benefit?
Finally, what is Bandhan Bank's vision statement?
We want to reach two crore customers within two to three years.
Image: Chandra Shekhar Ghosh, CMD of Bandhan.