According to estimates, 22,000 tonnes of gold or $1 trillion worth of gold, which is half the size of the Indian economy, is lying idle with households, notes Rajesh Bhayani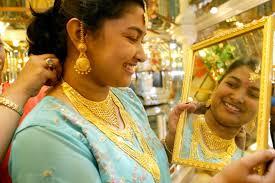 The first year of the Narendra Modi-led government has seen a liberal approach being taken towards gold. Among others, the government is taking steps to change the way Indians are holding gold.
However, one year is a short time to fully implement the agenda.
The government's liberal approach towards gold has resulted in a significant increase in imports during the past year.
During the year, international gold price came down 5.56 per cent to $1,224 an ounce, while the price in Mumbai dropped 7.39 per cent to Rs 27,550 for 10.
Premiums quoted on physical delivery in the market, which went up to $180 an ounce earlier, have almost vanished.
Import of gold, which was 638 tonnes in 2013-14, increased 50 per cent in 2014-15 to 967 tonnes and the import bill rose from $28.7 billion a year ago to $34.4 billion.
"The new government doesn't see gold with a negative mindset," said Mohit Kamboj, president of India Bullion and Jewellers Association.
The 80:20 scheme -- under which 20 per cent of imported gold has to be exported back -- has been scrapped.
According to Kamboj, while banks have been allowed to provide gold metal loans to jewellers, "banks still have negative approach towards the sector which should change.
"The gem and jewellery sector is still seen by them as a high-risk segment."
Now the finance ministry has proposed two schemes, which are aimed at the way Indians are holding gold and mobilise idle gold lying with the Indian households and temples.
The Gold Monetisation Scheme and gold sovereign bonds were proposed in the Budget and are being finalised.
Bonds are for giving gold returns without buying physical gold, while gold monetisation is to mobilise gold for productive purpose and also give good returns to those who holds it.
Both will also contain interest rates over and above gold price returns.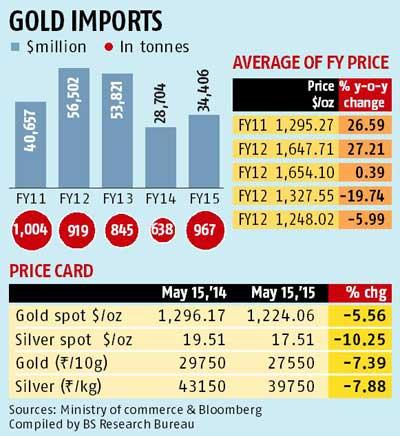 According to estimates, 22,000 tonnes of gold or $1 trillion worth of gold, which is half the size of the Indian economy, is lying idle with households.
This could reduce the need to import gold without imposing any controls on gold import.
However, the government has retained 10 per cent duty on import of the yellow metal and collected $3.4 billion as import duty in 2014-15. This is leading to smuggling and a flourishing unaccounted market.
"Due to removal of controls on imports, unofficial import is expected to come down significantly especially in lean season but that channel is still open," said Somasundaram P R, managing director, India, World Gold Council.
A veteran observer of the bullion market said on condition of anonymity: "Gold is still widely used to launder money; even today, non-standard gold and conflict gold is imported at a time when the world is moving against it."
Non-standard gold or conflict gold (mined illegally) is used for smuggling or round tripping.
"If the whole trade comes in the books, import will not pinch as tax revenues will increase for state and the Union governments," said an official.
In other words, there is a need to organise trade, which is, despite being too big, largely unorganised.
Kamboj said they were in discussion with the Maharashtra government as well as the Maharashtra Industrial Development Corporation to set up a jewellery park on the outskirts of Mumbai, where skill development and manufacturing for exports would be promoted.