Even a doomsayer like Nouriel Roubini says India is in a sweet spot. If only we'd live up to the promise, says Shekhar Gupta.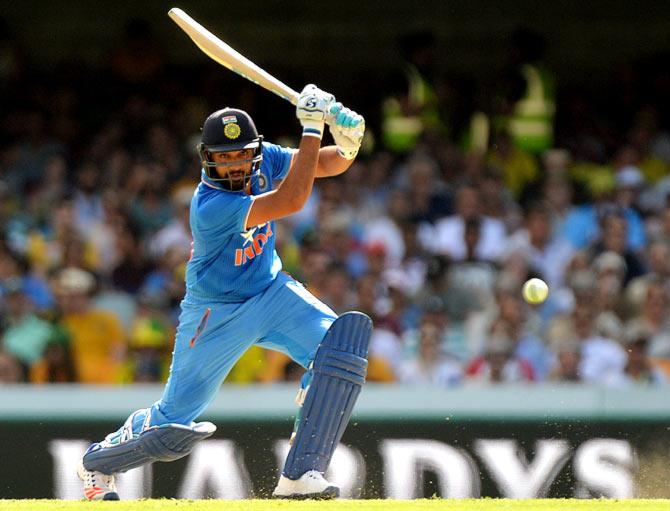 IMAGE: Rohit Sharma in full flow in an ODI against the Aussies. The talk from Davos, says Shekhar Gupta, is whether India is to the global economy what Rohit Sharma is to Test cricket.
It sounds silly to invoke cricket while reporting from the World Economic Forum at snow-bound Davos, but the talk here, for the past several years, makes you wonder if India is to the global economy what Rohit Sharma is to Test cricket.
Everybody acknowledges the talent, everybody wants him to succeed, every now and then there is a flash of brilliance, but overall there's underperformance, and the patience of both fan and selector could be running out.
India's promise has been acknowledged for more than a decade now. It was also seen to be coming out of its shell generally in the 2003-07 period. Global leaders, of nations as well as corporations, were expecting India to break out just in time to fill the void as China eventually slowed down. The latter has come to pass. But India isn't there yet.
India is still what it used to be, a nation with great potential, if only it got its act together. And that is a formidable 'if'.
How exactly is that 'if' to be defined? One succinct answer came here from the globally acknowledged, and feared, prophet of doom, economist Nouriel Roubini. In the India session built around Finance Minister Arun Jaitely, he said India, today, was in a sweet spot.
It just had to find ways and focus to make up for its capital deficit. India needed a lot more of all kinds of capital, in his words -- from physical infrastructure and skilled manpower to intellectual and regulatory capital.
It is a big ask -- to do all this fast enough to take advantage of the factors that genuinely place India in a sweet spot. The global panic is primarily because of a crash in commodity (especially oil) prices.
India, among all large economic powers, is the most significant net importer of commodities. This is benefiting India's strained fisc and trade balance.
There is a flight of foreign investors from the markets, but that may be transient, and that is where India could have moved faster to assert that vaunted position as a virtuous global exception. It still can.
But nice words apart, nobody is really convinced India will finally find its mojo. It is short-sighted to simply take home the pronouncements of well-known multi-national corporation leaders and gloat, particularly when these are made in the presence if national leaders.
For example, Cisco's John Chambers said, on the same panel, that 2016 was to be India's year, the year when India will break out. Cisco has a sizeable presence in India and is now taking over as the chair of the US-India Business Council. He has to say nice things to India. It's Nouriel Roubini's qualifications that are important.
The disappointment with India was understandable in the 2010-2014 period. The United Progressive Alliance was then seen to be losing political capital and its reformers, led by Manmohan Singh, were on the defensive.
The talk of mega scandals played conveniently into a rising anti-corporate sentiment globally. But it also left an impression, and rightly so, that India still had a huge regulatory deficit.
The old respect for India's slow, but solid, legal system also suffered with the Vodafone retrospective tax issue. The fisc and balance of trade were both out of control. All this was expected to change as Narendra Modi's National Democratic Alliance came to power with a full majority.
That optimism is now under challenge. The fact that there are no new scandals is widely acknowledged. Mr Modi is seen to be a driven -- and genuinely popular -- new leader who has travelled around the world, striking personal equations with heads of nations and corporations and generally making India's image much more energetic, and on the move.
His ideas, from Swachch Bharat to Make in India to Start Up India, are admired -- as is his ability to evangelise. But, that by itself is not enough.
Where is the delivery, or change?
This becomes a more important question because Mr Modi's rise had given the global business community the impression that he was about to unleash another round of reforms to rival Manmohan Singh's in 1991. His, if anything, was a much stronger government than Narasimha Rao's and he was also 'blessed' to inherit a real crisis in the economy, such an important pre-requisite in democracies to justify rapid reform and liberalisation.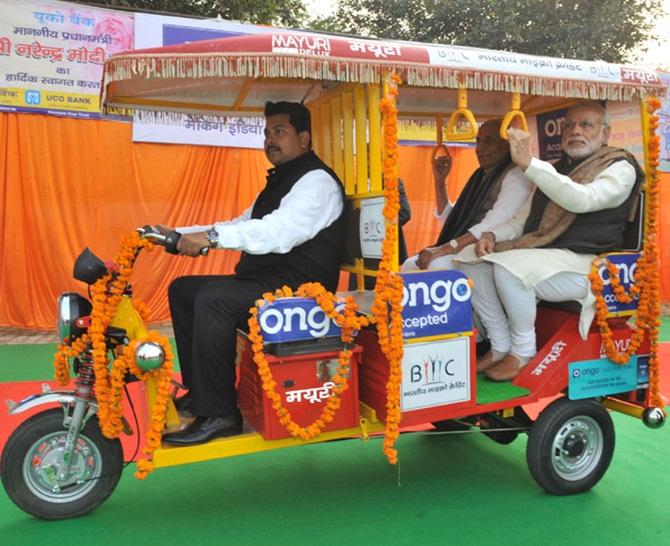 IMAGE: Where is the delivery, or change, the world wants to know from Prime Minister Modi
By now, a new assessment of Mr Modi is emerging. Simply put, Mr Modi is seen as a robust, committed reformer, but not exactly a liberaliser. How does this work?
He is seen to have greatly reformed many government processes. Auction of resources -- notably spectrum and minerals -- have fallen into a smooth and healthy pattern.
E-tendering for government projects is yet another important reform, as are the many moves made on subsidies, from a total withdrawal on diesel to progressive reduction on LPG and direct cash transfers. These are all significant steps, but entirely in the category of reform, not liberalisation.
What is the difference? The 1991 wave of reform and liberalisation included a genuine winding down of the licence-quota Raj and liberation of India's trade from the feral old mafia of 'directorates.'
In fact, I remember a point Dr Singh made while releasing P Chidambaram's book based on his column for The Indian Express, which I then edited. He said Mr Chidambaram was a real reformer as commerce minister, as he dismantled the very directorates that gave his ministry its powers. A real liberaliser should be willing to sacrifice powers in his own domain in the State.
This, it is now believed, isn't Mr Modi's method. He is an energetic and wise reformer of government processes, clearances, regulatory systems. But, he isn't a liberaliser in the sense of getting the government out of more aspects of businesses.
To that extent, he is a Chinese-style statist and his promise of less government, more governance needs to be re-read as 'more government, but better government.'
Plenty of evidence is quoted to support this argument, the latest being his getting the State involved directly in the start-up economy by putting up a fund. Or his refusal to pick up the thread from Mr Vajpayee's NDA on privatisation.
But most importantly, there is impatience with his government's approach to global trade agreements, seen as even more stridently protectionist than the UPA's.
This is denying India opportunities offered by new global and regional alliances like the Trans Pacific Pact and Apac, both of which would have been within its reach in Barack Obama's last year. But there is no movement, given that the new policy now seems to be to the left of JNU and the right of the RSS. This is sobering down global enthusiasm for India.