Where the so-called tech poster boy slipped up badly was in gauging the level of transparency and governance that is expected by a global strategic investor, says Indrajit Gupta.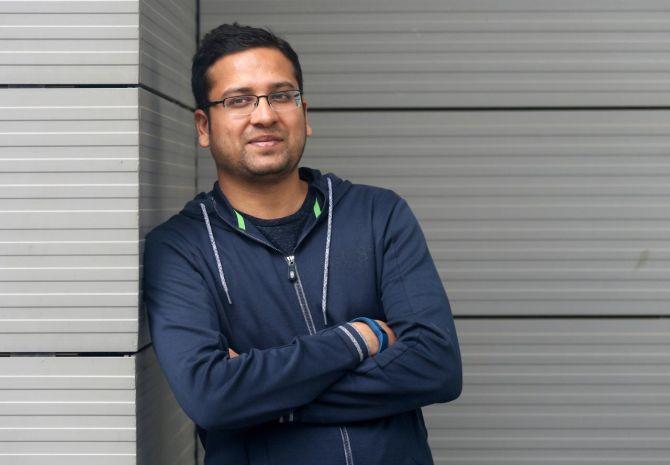 Less than six months after their momentous deal with Walmart, both co-founders Sachin Bansal and Binny Bansal are out of Flipkart.
It is a sad commentary on the hubris and the immaturity that's gripped India's high-flying tech entrepreneurs.
Binny Bansal's sudden, unceremonious exit has raised eyebrows across the entrepreneurial ecosystem in India, particularly in the tech heartland in Bengaluru.
While he may have been the lesser known of the two Bansals, yet when Walmart bought 77 per cent stake in Flipkart, India's biggest unicorn, earlier this year, they picked Binny as group CEO, and not Sachin.
Sachin ran the firm with an iron hand and was known to rub people the wrong way.
Binny, on the other hand, was affable and the hands-on operations leader. And between them, they became the poster boys of the Indian tech start-up world.
And while the $16 billion deal with Walmart ought to have catapulted them into iconic status, yet, less than six months later, both find themselves out of the company they co-founded back in 2007.
Since the full details weren't in the public domain, there have been three kinds of public reactions to Binny's exit.
One, the needle of suspicion pointed towards Walmart. That it always had plans to take full control of Flipkart - and that Binny became a necessary roadkill in that journey.
Two, the board didn't see him as a leader who could help them turnaround the operations - and stem the mounting losses - and therefore there was an insidious plot to push him out of the company on trumped up charges.
Three, a few strident swadeshi activists view this as some kind of a multinational vs desi tussle, however, misguided the thinking might sound.
So which of these versions does one believe? First, here are the facts, based on what we know so far and my own research.
Two years ago, Binny had an extra marital affair with a former employee. The relationship went sour and there were allegations of extortion and blackmail.
Binny tried to manage the situation on his own by employing a security firm. He chose not to keep the company informed, perhaps because he believed this matter was in the personal domain.
But that's not the "serious personal misconduct" that the Walmart alludes to. We'll come to that in a bit.
In July this year, the complainant sent a letter directly to Doug McMillion, the global CEO of Walmart's HQ in Bentonville, Arkansas, making allegations of sexual assault against Binny.
That prompted Walmart to ask Gibson Dunn, a global law firm to do a thorough and detailed investigation.
The investigation found that the allegations of sexual assault against Binny were unsubstantiated and that the relationship was consensual.
But it found a serious lapse: An investigator from the security firm employed by Binny had called the woman for a meeting and had tried to physically assault her, but she escaped.
When the lady informed him about the assault incident on email, in order to deal with a potential criminal case, instead of responding to her, Binny employed yet another security firm to put a lid on the matter.
The second security firm tried to hammer out a monetary compensation. But it seems the lady demanded a much higher compensation.
Why this matter resurfaced again in July this year, nearly two years after the event, remains a mystery, especially the decision to write to the Walmart global CEO.
Interestingly, a copy of the complaint was also marked to Sachin Bansal, who was apparently among the handful of people who knew about the entire chain of events.
After the Walmart takeover, the two Bansals were no longer on talking terms.
When the full report of the detailed investigation was presented to him, Binny perhaps knew the die was cast for him.
The biggest issue was that he had shown poor judgement by not disclosing the matter during the due diligence, which is usually a standard clause during such negotiations.
And for a global firm such as Walmart, this posed a grave reputational risk. And it typically treated such matters strictly by the book. And so Binny had no option but to resign.
As it is wont to do, Walmart had to put out a statement to the stock exchanges, to prevent any class action suits in future. (Later, the same day, however, Binny issued a statement expressing surprise at the allegations, claiming they were unfounded.)
At the same time, Binny appears to have been given a soft landing. Despite his so-called serious lapse of judgement, he still gets to keep his board seat.
Perhaps partly because he is legally entitled to one, commensurate with his 4 per cent stake.
Now, let's step back and consider the bigger picture.
In May this year, when Walmart made its move, there was plenty of hoopla and hype around the biggest exit in India's start up ecosystem.
Even before that, the Bansals were already seen as rockstars with numerous start up awards being conferred on them by media like confetti.
Sachin's fate was sealed immediately after the Walmart deal was signed.
He assumed that he would be given a larger role in managing the company - and also demanded that his stake, which had been significantly diluted, be restored to a higher level.
Tiger Global and the other investors responded by easing him out.
Binny, however, didn't exhibit the same kind of hubris.
But where he slipped up badly was in gauging the level of transparency and governance that is expected by a global strategic investor.
The circumstances under which the so-called tech poster boys have been eased out of the company is clearly an embarrassment that Indian entrepreneurial ecosystem could have done without.
Indrajit Gupta is co-founder, Founding Fuel
Photograph: Abhishek N Chinnappa/Reuters