'The finance ministry and public sector banks have tried to keep the names of wilful defaulters secret.'
'Secrecy and concealing information are inbred among banks and even the RBI,' observes Debashis Basu, editor, www.moneylife.in.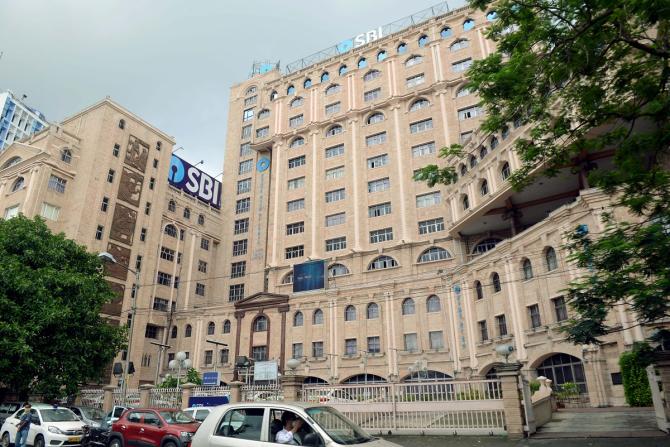 Vivek Velankar, president of the Pune-based Sajag Nagrik Manch, wanted to know the amount that State Bank of India had written off over the years as bad loans. He filed a query under the Right to Information Act. The bank refused to part with the information on laughably absurd grounds that collating the information would be a waste of resources.
The write-offs, like advances and deposit figures, should be available at a click of the mouse. But SBI, a government-controlled entity, wants to keep even basic information well-hidden from the public.
Mr Velankar then tried another tack. As he told Moneylife, 'Being a shareholder of SBI, I asked for this information... and the bank shared it.'
On July 14, Moneylife wrote an exclusive article (external link), based on the startling data that SBI gave him: During the eight years from FY13 to FY20, SBI has 'technically/prudentially written off' a massive Rs 1.23 trillion, but managed to recover only 7 per cent or Rs 8,969 crore in this period.
The question is, did SBI give him the relevant figures?
After our article was published, a banking insider pointed out to me page number 65 of SBI's 2020 annual report. That page contains a table under the section 'Stressed Asset Management', which includes two rows.
One is cash 'recoveries/upgradations' and the other is 'write-offs'. Comparing the figures of that table with what SBI shared with Mr Velankar will surprise you. The figures are widely divergent.
For example in FY19, SBI's write-off figure given to Mr Velankar was Rs 27,225 crore whereas the figure in the annual report is Rs 58,905 crores.
Recoveries were Rs 815 crore, SBI told Mr Velankar, while the figure for 'cash recoveries and upgradation' was Rs 31,512 crore in the annual report.
I am not suggesting that SBI deliberately gave different figures under the same head to Mr Velankar and in its annual report. But the divergence is too huge and invites suspicion; I certainly wouldn't be surprised if there are differences that are not easily accounted for.
The former banker who alerted me is not at all surprised. "There is inadequate and incorrect information and total lack of transparency in all aspects of banking operations, not just SBI."
"Basically, loan write-offs, bad loans, ineffective supervision, privatisation of PSBs, and customers' difficulties are all symptoms of the problems associated with the policy, structure, systems, and processes involved with Indian banking. But things don't improve because we confuse the symptoms for the disease (problems)," he said.
Unfortunately, secrecy and concealing information are inbred among banks and even the Reserve Bank of India.
They conflate confidentiality of individual accounts and aggregate data that can neither be confidential nor difficult to share in these days of computerised and inter-linked operations.
After all, it took many years and dogged fights by Shailesh Gandhi, former central information commissioner, and RTI warriors like Girish Mittal and Subhash Chandra Agrawal, who went right up to the Supreme Court to force the RBI to release the central bank's inspection reports of banks when there is no reason why these reports (at least one-year-old ones) cannot be voluntarily uploaded on the RBI Web site.
For those who had not followed this dogged fight, the RBI had for years refused to share bank inspection reports on grounds that it held them in a fiduciary capacity, and activists fought all the way to the Supreme Court.
The court ruled way back in 2015 that the banking regulator could not withhold information citing 'fiduciary relations'.
But the RBI, under then governors Raghuram Rajan and Urjit Patel, steadfastly defied the order, and even issued a new disclosure policy that restrained citizens from inspecting, supervising, and scrutinising reports of banks and other financial institutions.
The activists had to go back to the apex court. Finally in May last year, the court warned the RBI: 'Though we could have taken a serious view of RBI continuing to violate the directions issued by this Court, we give them a last opportunity to withdraw the disclosure policy...'
The RBI appeared to fall in line and released a few heavily redacted reports, but has started stalling them again.
In another example of unnecessary secrecy, the finance ministry and public sector banks have tried to keep the names of wilful defaulters secret, which incidentally the bank unions have released.
The authorities have used definitional ambiguity to call the massive bad loan provisions technical write-offs, because one would know the actual write-off only after all recovery effort is over.
But, as SBI admitted to Mr Velankar, it has recovered precious little, proving that technical write-off is the actual write-off.
From the ministry to the regulator to the banks, we need to build a culture of collating accurate information and sharing it transparently.
Unless we do that, there will not be informed debate and only a patchwork of solutions, marred by vested interests.
In a recent speech, the RBI governor talked about 'off-site surveillance, smell the distress, if any... initiate pre-emptive actions... use of market intelligence inputs'.
This is a radical move, but market intelligence is a two-way street.
The RBI will get a lot by first sharing a lot.