If we have to develop this nation, says Railway Minister Piyush Goyal, it can only happen in a public-private partnership, when you and we work together as one.
Illustration: Dominic Xavier/Rediff.com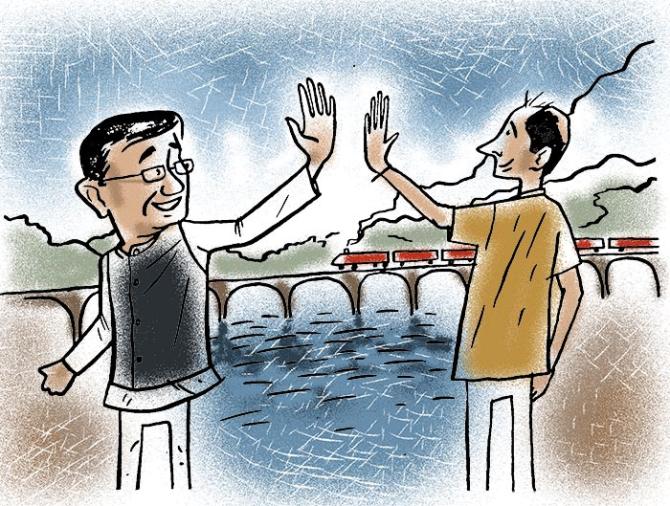 I come from Mumbai. You are aware that I have given work in Mumbai to make foot over-bridges even to the army where I found that there was a pressing urgency, a catastrophe had happened in Mumbai.
I didn't wait for the railway to work in that normal fashion. I brought in the army to do that. And I didn't give it to the army senselessly or I didn't give it to the army because my railway officials can't do it.
I gave it to the army because I thought there was a pressing need, an urgency which was going beyond the normal speed of work. And what did I do?
I asked all my zones to send their engineers to see how they are doing this work fast. Because, after all, the army is working on very adverse circumstances on the borders, they have a certain expertise.
And I got people from all zones come in to see that work, see and learn how to do it faster.
And you will be happy to know, this competitive spirit that this generated has literally speeded up the work of the railway so much that my general managers of Western Railway and Central Railway completed some foot over-bridges in less time than the army did in Mumbai.
See, there is a genuine competition how you get a benefit. And they forced the chief minister to inaugurate it on 26th January, because they wanted that inauguration to happen even before the army foot over-bridges are done.
That is the thinking of this government, how to bring speed, how to bring scale and how to execute projects skillfully.
Ultimately, if we have to develop this nation, it can only happen in a public-private partnership, when you and we work together as one.
After all, it is not my railway as somebody commented. I am not taking it in the wrong sense; somebody said 'your railway'. It's not 'my railway'. I am only a temporary phenomena over here. You all are permanent on the railways.
It is your railway. It is our railway. And when we work together as one, we can truly transform India.
After all, when the prime minister talks of Swacchta, he cannot do Swacchta sitting in Delhi. It will have to happen in the regional areas. Each one of you have to participate in the smart city project, in the Swaccha Bharat Abhiyan.
If we don't throw garbage on the street, only then India can become clean. We can't say we will throw garbage, but it is somebody else's responsibility to make it clean.
I am sure you are all aware this is the first time and the first government of India which has said that if any Indian manufacturer makes a product, even if the price of some foreign company will be less, he has an opportunity to match that and he will be given preference in the order.
That's the Government of India policy now.
So, anybody who makes products which are part of a global tender, but if he makes in India, he will have a right to match the price and provide the product made in India.
That policy, Make in India Policy, for the first time has been introduced by our government.
We have a neighbouring country which does not allow Indians to supply to them, but wants to supply all their products in India. Now, we are being very careful.
We are saying in reciprocity, if they don't allow our companies to sell in their country, we will not allow their companies to come and sell here.
If you find any product where your competition is unfair, please let us know. We will not allow those companies to participate.
If they don't allow you to sell in their country, their companies will also not be allowed to sell in India. That is the policy of Mr Modi's government.
Edited excerpts from Railway Minister Piyush Goyal's speech at to the Chamber of Commerce and Industry, Belagavi, February 11, 2018.