Apply the 'insurgent' tests on what Ambani, Ramdev and Agarwal have done of late, and you will start seeing the similarities rather than obvious differences of industry, upbringing or social station, says Shailesh Dobhal.
Illustration: Dominic Xavier/Rediff.com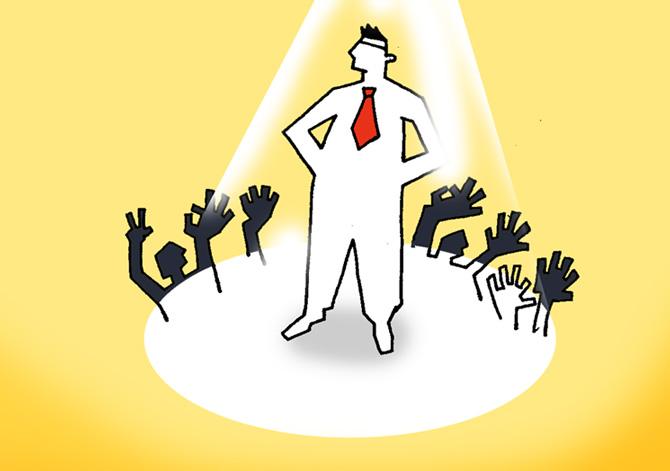 What do the country's richest man Mukesh Ambani, yoga guru-turned-ayurvedic products seller Baba Ramdev and 20-something hotel rooms aggregator Ritesh Agarwal have in common? Chalk and cheese, did you say? Right and wrong. Read on.
A recent in-depth report by management consultant Bain & Company on an exhaustive brand research it conducted in the United States -- How Insurgent Brands Are Rewriting the Growth Playbook -- got me thinking on the Indian market.
Bain defines an 'insurgent' brand as one that in relatively short time has captured "a disproportionate share of growth and, in some cases, radically disrupting profit pools".
It lists a host of American consumer products brands that have earned the moniker -- from men's razor Dollar Shave Club, e.l.f. Cosmetics to yoghurt brand Chobani.
It is not so much market share capture -- though in some cases that too has happened like in the case of Chobani which has a fifth of the market in less than a decade -- that defines 'insurgents'.
It is more about what Bain calls a founder's mentality -- an insurgent mission, a frontline obsession and an owner mindset -- that ensures these brands meet consumers' changing needs at an increasingly low cost and fast pace.
These brands have a clear vision and almost an entrepreneurial mission, according to Bain.
Though the Bain study was restricted to the American market, and specifically to consumer goods such as soaps, shampoos and the like, the parallel holds for any industry or market.
It is also important to distinguish 'insurgents' from 'challenger' brands which are aplenty.
Whilst the former works on unmet consumer needs, the latter -- much like what Pepsi was to Coke -- harps on being the 'other' and grab territory from the incumbent leader.
Apply all the above 'insurgent' tests on what Ambani, Ramdev and Agarwal have done of late, and you will start seeing the similarities rather than obvious differences of industry, upbringing or social station.
Ambani's bold Rs 2 trillion gambit with telecom service Jio has homed in on Indians' unmet need for cheap and fast data; ditto for Ramdev who saw the urge to stay close to nature with everything from face creams to flour.
And Oyo's Agarwal tapped into the burgeoning travel lust among ordinary Indians, throwing in the comfort and surety a brand provides in a market with highly erratic rooms, quality and price.
The Bain report also makes a point on why 'insurgent' brands have succeeded at this point: "A number of well-known factors have paved the way for insurgents. Digital technology, contract manufacturing and a ready pool of venture capital have lowered the barriers to entry."
Think Jio (digital tech in IP-based telecom infrastructure), Patanjali (contract manufacturing) and Oyo (dollops of venture funding, total $473 million so far).
And boy, are they successful!
Ambani's Jio accounts for close to a fifth of the market in less than two years of launch, with incumbents bleeding and forced to change their voice-driven business models.
And after the onslaught in the mobile data, Jio promises to upend the home-and-office broadband market with the launch of its GigaFibre service.
Ramdev single-handedly made the biggest players in the Rs 2 trillion Indian consumer expendables space recognise the huge potential of natural and ayurvedic-led products, and though Patanjali has slowed down of late, Ramdev created a Rs 1,000 crore firm from nowhere in the last six-seven years.
And Oyo was the first to brace the 100,000 rooms mark in the Indian hospitality market recently, just five years from its inception in 2013 and expanded to Malaysia, Nepal and China.