Six villages in Maharashtra that are within the drought affected area have remained water secure even in an extremely bad year.

A grand entry by the monsoon has raised hopes for the large number of villages in Maharashtra which have been desperately starved of water for months.
However, in many places these rains may bring only short-term relief. There is an urgent social and economic imperative to focus on creative solutions that could provide water security on a sustainable basis.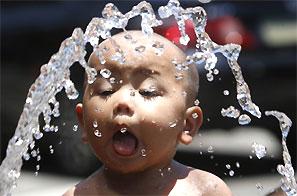 In the current five year plan Union and State governments have together set aside Rs 1.1 trillion ($20 billion) for sewage treatment, irrigation and recycling. Some of this money will have to be invested in various kinds of hardware but what is the requisite software, or social conditions, which will lead to sustained success?

One ray of hope is to be found in six villages in Maharashtra that are within the drought affected area but remained water secure even in an extremely bad year. For the year 2012-13 the state of Maharashtra declared 125 out of 358 talukas to be severely drought affected and 3,905 villages to be water scarce.

At the same time things were quite different in Thapewadi, Phalakewadi and Muthalane villages in Pune district, Randulabad in Satara district as well as Satichiwadi and Shelkewadi in Ahmednagar. People in these villages had sufficient drinking water with a regular supply and good quality. Above all, everyone in the community got an equal amount of water.

Life was not always so good in these villages. "In the drought of 2003 women had to walk two or three kilometers to fetch water from irrigation wells after the drinking water source dried up. Tankers used to come to the village and empty the water in the wells. One of the NGOs helped us recharge the borewell that supplies water to the village.
Today, we have enough drinking water even in these days of drought, while the neighbouring villages of Pimplagaon and Pabalbet get tanker water or canned water at exorbitant costs" says Sharada Ghavani from Thapewadi, in a report published by Arghyam, a foundation that works on water related issues.

This is no small feat since all these villages are on the back-facing side of the Western Ghats and therefore get lower rainfall.

Arghyam's report, published on the India Water Portal which it hosts, explains that the crux of this success lies in the villages acting as a community. In the case of those six water secure villages, two NGOs played a key role in helping people to act as a community rather than as ruthlessly competing individuals.

In step one the villagers themselves mapped their water resources. Step two was to match the quantity of natural supply of water with the various uses of water within the village – for drinking, agriculture, domestic needs, livestock , etc.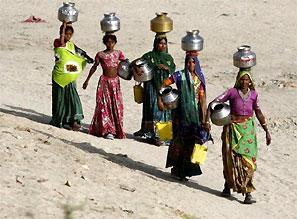 "During discussions with the community, the nature and behaviour of groundwater as a common pool resource was emphasized" says the Arghyam report. Having worked out the equation between demand and supply the next step was to ensure that the supply did not 'break' at any point. This was done by adopting a variety of measures:
The level of water in different sources was periodically monitored to prevent over-use. For example, if the water level in a particular well was running low, the community would draw proportionately less water from that source.
Crops were chosen according to the availability of water. In many parts of India, one of the main causes of severe water scarcity is heedless extraction from ground water sources for water intensive crops like sugar cane.
When there was a shortage of water the villagers saved water for the summer months by re-evaluating how much water would be used for agriculture and other purposes versus for drinking.
Water meters were installed in homes to enable people to be more conscious about their domestic water usage. "Though currently the flat fee tariff is applied the prospect of volumetric tariff made sure that people reduced the wastage of domestic water" says the Arghyam report.
None of this would have been possible without the villagers collectively and voluntarily agreeing to undertake these initiatives and understanding the benefits.
This collective action drew heavily on local wisdom. For instance, some villagers had detailed information about the direction of the winds at certain times of the year, levels of moisture in the soil, flooding-prone areas etc. The NGOs role was to combine this local knowledge with modern scientific devices, such as automated weather stations in two of the villages.
Watershed Organisation Trust (WOTR) and Advanced Center for Water Resources Development and Management (ACWADAM) – the two NGOs working in these villages – have done extensive work of this kind in other areas as well. Both NGOs were funded by Arghyam, a public charitable foundation set up by the philanthropist Rohini Nilekani.
Such successes can be replicated elsewhere – but a sense of community and kinship seems to be the necessary pre-requisite.
All it takes is a combination of general awareness, local knowledge, scientific information and most importantly, community level action. Then many side-benefits also come into play – new leaders have a chance to evolve and women have more time to be actively involved in the decision-making.
The optimum impact of that Rs 1.1 trillion allocated for water related investments might well depend on both private sector and government departments learning from such endeavors in the non-profit sector.