'The entire government-owned banking system (excluding SBI) is now in the red.'
'But worse is to come,' warns T N Ninan.
Illustration: Dominic Xavier/Rediff.com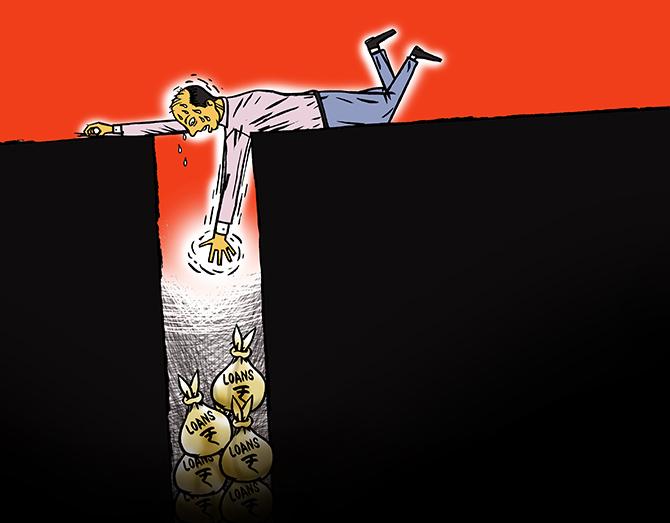 More than two years ago, the Reserve Bank declared war on what it had winked at till then: The fudging of bank balance sheets.
Since then, banks have disclosed bad loans on a previously unimagined scale.
The entire government-owned banking system (excluding the State Bank of India) is now in the red. But worse is to come.
These banks together have bad loans totalling more than Rs 7 lakh crore, but banks have provided in their books for varying fractions of the total.
Bear in mind that the government banks' collective net worth (without SBI) is only Rs 3.8 lakh crore.
Quite a few of the government banks may be, or may soon become, bankrupt.
Other than improving disclosures, nothing that the government and RBI have done these past two or three years has improved the banks' ability to function.
Setting up the ineffectual Bank Board Bureau, bringing in managers from the private sector, asking banks to restructure stressed assets, pumping capital into banks... the effect of all this has been marginal, if anything.
Lending by government banks so far this year is less than it was three years ago.
The system is in retreat.
So the war has entered a new phase.
The Reserve Bank and the government are forcing reluctant banks to take action under the Insolvency and Bankruptcy Code, enacted last year.
Bank managements are being given zero wiggle room to continue fudging.
For instance, the stock market regulator has decreed that even a one-day delay by a company in servicing a bank loan will automatically trigger default on all its bank loans.
This will cause credit rating downgrades and affect bank capital adequacy, forcing weaker banks to stop lending.
Companies will change hands -- Tata Steel and Posco reportedly want to bid for the debt-laden Essar Steel. At the end of all the disciplining of banks and businessmen, you may get a healthy credit culture.
It sounds like what the doctor ordered, but drastic correctives when the patient is so sick may mean a successful operation that leaves the patient dead.
Take the case of Synergies-Dooray Automotive, the first to be resolved under the new bankruptcy law.
Out of more than Rs 900 crore (Rs 9 billion) owed to them, creditors will get all of Rs 54 crore (Rs 540 million) -- of which less than half will be paid now, the rest after many years.
That's a 94 per cent write-off, and the defaulting company (now virtually debt-free) has been bagged in the auction by a related party!
If this is how the bankruptcy law is going to work, it won't present a pretty sight.
It is already clear that government banks can stay fully operational only if they get fresh capital.
But the government does not have the fiscal headroom to pump enough fresh capital into banks.
Banks could go to the capital market, but their share prices are so far below book value that the prospect is thoroughly unappetising, and in any case it will not deliver anywhere near the amount of money required.
The government could sell the banks to promoters with deep pockets, but there aren't too many such in India today whom you can trust with owning a bank.
You could sell banks to foreigners, but that is asking for a political blowback.
Mergers are talked about, but the State Bank of India's merger with its associates is a cautionary tale.
So there are no jhatka solutions, and the halal option will prolong the problem such that a credit-deprived economy will continue to function at sub-optimal speed.
The system may eventually find ways to bypass government banks; alternatives would be private banks, the bond market, and non-banking finance companies.
But at the moment banks are central to India's financial system, and government banks are 70 per cent of the total.
So this problem can't be got rid off as easily as Air India -- not that that is easy.
We are paying for the joys of government ownership, and the mistakes of the boom years when credit flowed into projects that should never have got bank funding.
Those loans are now torpedoing the banks, and we will all feel the ripple effects.