Evolving a common work ethic and culture will be critical so that the merged entity does not lose focus on the common enemy outside -- and instead becomes more obsessed with internal turf wars, says Indrajit Gupta.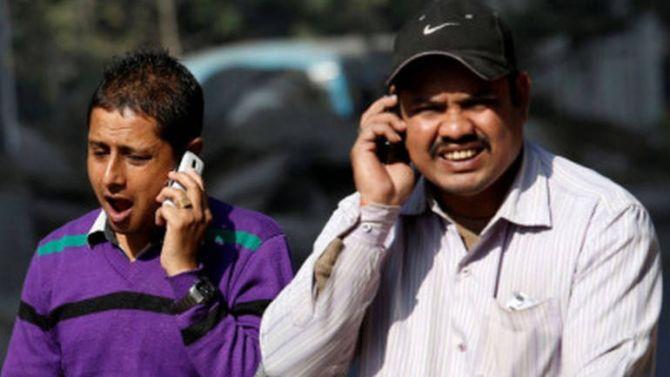 The coming together of Vodafone and Idea Cellular -- the biggest merger in Indian corporate history -- is underway.
While a few regulatory clearances are still awaited, the leadership team has been announced late last month.
Vodafone-Idea will be the largest telecom company by market share, revenue and subscriber base.
The anticipated synergies are expected to be around $10 billion over the next three years or so.
And so, it is a good time as any, to ask: Will this merger provide a moat for Vodafone-Idea to stave off the brutal attack from Reliance Jio?
By all reckoning, the answers are somewhat unclear. Let's look at the reasons why. Vodafone-Idea's revenue table is starting to come down.
From July last year, when Jio began to make deep inroads, Vodafone-Idea's combined revenues have dipped from about Rs 750 billion to Rs 65,000 crore.
It took a while to react to Jio's penetration pricing. Partly because it didn't have the capacity to manage any increase in volumes, which would have been inevitable, if it dropped prices.
In Vodafone's Mumbai circle, capacity utilisation is said to be at 150 per cent, resulting in frequent call drops. Idea has a similar problem in Pune, its lead market. In other words, they are caught in a bind.
Even Jio first went after data subscribers and gradually turned its attention to voice, and is now looking to target enterprise customers, who account for a significant part of Vodafone's revenue and profits.
By consolidating the network and freeing up spectrum, the merger will help bring huge savings.
But harmonising the network will take time.
While there are some estimates floating around, it would be reasonable to assume a lead time of at least 12 months. So Vodafone-Idea will have to fight Jio and Airtel with its hands tied behind its back, at least for another year.
What's likely to happen in that period, especially if Jio continues its assault for the next four quarters? By all reckoning, Jio has its eyes set on ramping up market share, even at the cost of profitable growth.
In a capital-intensive business like telecom, ramping up market share may be the only way that a challenger might break into the market.
That's exactly what Reliance Jio has done.
It may be hurting too, except that it possibly has the cash flows to sink in at least another $10 billion from its total estimated capex of $50 billion.
The bruising price war has already consumed the fringe players.
Telenor, Tata, Reliance Communications and Aircel have folded up.
Reliance is at almost 20 per cent market share, while Vodafone-Idea will be a little more than 37 per cent and the balance with Airtel (27 per cent) and others (like BSNL).
Any significant market share gains from Jio will now have to come from Vodafone-Idea and Airtel.
So far, Airtel has matched Jio on every front, and it has the spectrum to pick up new subscribers.
Unless Vodafone-Idea is able to continue matching Jio's tariffs across the board, it could face a run on its subscriber base.
And it won't be able to do so, unless it has the spectrum and the network in place.
Any loss of market share will mean reduced cash flows -- and that in turn will impact the ability to raise capital and shore up one's network.
Airtel has done that well. And, it is continually looking to build up its war chest.
Vodafone-Idea is hoping to put up more capital too, but how soon it can do so remains to be seen.
If Vodafone-Idea decides to not match Jio's blistering pace of investments, it would only signal that it is prepared to eventually settle down at a lower market share that it reckons it can legitimately justify.
And if Jio is able to grab at least 40 per cent revenue market share in the next couple of years, it will then look to dominate the market and look to leverage that to raise prices.
That's not all. In any merger of two large corporate entities, blending the two cultures will pose enormous challenges. As a global telecom giant, Vodafone has its own ways of working.
It is known to create large bureaucracies at the head office. Its pay scales are significantly higher.
On the other hand, the leadership team at Idea is seen as more grounded and a lot less flamboyant.
Evolving a common work ethic and culture will be critical so that the merged entity does not lose focus on the common enemy outside -- and instead becomes more obsessed with internal turf wars.
This will be a real challenge ahead, especially since the new leadership team under Balesh Sharma is largely untested in managing a venture of this scale.
Plus, there is the added challenge of combining the two brands as well, since neither player is prepared to give up theirs.
Photograph: PTI Photo.
Indrajit Gupta is co-founder at Founding Fuel.