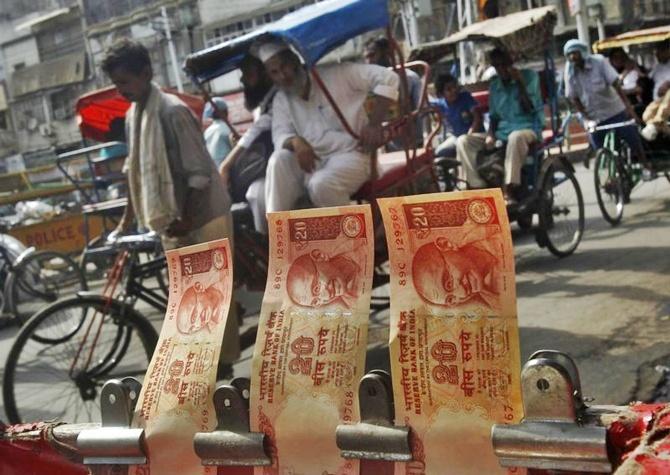 With Jaitley preferring continuity over change, good days might take a little longer to arrive, says Shankar Acharya.
By now, reams have been written on the first Budget of the new National Democratic Alliance (NDA) government, led by Narendra Modi, presented last week. There is really nothing new left to say.

But a regular columnist is duty-bound to pen his bit. So here goes. Any Union Budget is a massive and complex document. No fair comprehensive assessment is possible in a single column. So I will pick a few issues for comment.
Could it have been a "big bang" budget?
This one clearly wasn't. Contrary to widespread expectations, fuelled by the election campaign and the decisive victory, there was no paradigm shift or breakaway from the pattern of the last few Budgets.

No really major economic reforms (such as of labour and land laws) were announced. Despite the inherited fiscal mess, no surgical changes were proposed for expenditure (level or composition) or taxes.

The United Progressive Alliance government's architecture of costly and inefficient entitlement programmes and subsidies survive unscathed. And there is no radical reform of tax policy.

The excuse that 45 days were not enough to attempt bold departures does not wash. Manmohan Singh's paradigm-shifting 1991 Budget had comparable preparatory time. True, that radical Budget was presented in the midst of a balance-of-payments crisis.

But this Budget also came at a time of quasi-crisis - with industry stagnant for two years, years of high consumer inflation, depressed investment, rising unemployment and low economic growth.

What's more, this Budget was presented by the freshly mandated NDA with development (vikas) as its central plank. The time was surely ripe for bold departures. However, continuity has trumped change.
Obviously, a conscious political choice was made to present a middle-of-the-road budget as a "beginning of the journey towards sustained growth of seven-eight per cent", to quote Finance Minister Arun Jaitley, although this did not entirely square with his characterisation of "the Budget [as] the most comprehensive action plan" for the journey ahead.

The problem with this choice is that the opportunity for a "big bang" budget is unlikely to occur again. Today the blame for the current economic mess could be rightly laid at the door of the previous government's economic mismanagement to justify radical corrective steps now. By next year - perhaps earlier - the performance and problems of the economy will "belong" to the NDA, and so will the political cost of any "tough decisions". So a one-time opportunity has been foregone.
Some Budget pluses and minuses
Like all middle-of-the-road budgets, this one has its pluses and minuses. Notable among the former are the announced reforms in tax administration (especially the provisions for advance rulings and transfer pricing); the proposed increases in foreign direct investment caps to 49 per cent for insurance and defence production (though it is doubtful that foreign arms suppliers will, as investors with minority stakes, transfer the necessary technology); the focus on infrastructure sectors through various modalities; the renewed commitment to expeditiously implement the goods and services tax (GST); and the commitment (how strong?) to overhaul the major subsidies on petroleum, food and urea, which today far exceed the central government's total capital expenditure.
Amongst the negatives are the proliferation of Rs 100-crore down payments for a bewildering variety of new government projects and programmes ("the band of 29"); the extensive tinkering with customs and excise rates (the former mainly protectionist and the latter complicating the transition to unified GST rates); the enormous faith in public-private partnerships (despite their track record of widespread problems in contracting and execution); and, despite assurances, a fresh transgression of retrospective taxation for existing unitholders of debt mutual funds, most of whom are probably individuals and not corporates, as claimed in the minister's speech.
Two larger issues are elaborated below.
Fiscal stance
Mr Jaitley very deliberately committed the government to a fiscal deficit target of 4.1 per cent of gross domestic product (GDP), the same number as in his predecessor P Chidambaram's interim Budget.

This may prove unwise. The interim Budget's numbers had been widely critiqued as far too optimistic on revenue mobilisation. By adopting almost the same revenue targets, Mr Jaitley has to face the same scepticism.

How can tax revenues grow at nearly 20 per cent when GDP is assumed to grow at 13 per cent in nominal terms? How can income (non-corporate) tax revenues grow at 27 per cent and service tax revenues increase by 31 per cent? The targets for non-tax revenues also look high.

It's one thing to set challenging targets and quite another to adopt unrealistic ones. Would it not have been wiser to set more reasonable (and yet challenging) targets for revenue mobilisation, even if that meant a fiscal deficit target of 4.4 per cent or so?

Less impressive perhaps for immediate fiscal consolidation, but probably carrying more credibility for both this year and later years. After all, if the actual fiscal deficit for 2014-15 ends closer to 4.4 per cent of GDP, it not only undermines the government's fiscal credibility for the current year, but also raises doubts about future budgetary projections.
Besides, from an economic standpoint, with continued slow growth, there may well be merit in actually running a slightly higher fiscal deficit than the one copied from the interim Budget.
Whatever happened to privatisation?
If the Budget is any guide, the new NDA government (NDA-II) displays a more statist policy stance than Atal Bihari Vajpayee's (NDA-I). The latter undertook quite a few successful privatisations of public sector enterprises.

And it did so quite openly. The NDA-II seems closer to the UPA mould, hesitant even to use the word "disinvestment" in the Budget speech and seemingly uncomfortable with privatisation or strategic sales of government enterprises.
This stance is confirmed in Mr Jaitley's paragraphs relating to bank capitalisation, where public sector banks are encouraged to raise more capital through the market to help meet Basel-III norms, but subject to the condition that the "government will continue to have majority shareholding" in these banks.

This is in sharp contrast to NDA-I's tabling of legislation in Parliament to reduce the floor level of government ownership from the extant one of 51 per cent to 33 per cent. The 51 per cent constraint will make it much harder to capitalise public sector banks without heavy support from the Budget, whether this year or in future.
So what's the bottom line? Clearly, the new government has adopted an incremental, non-radical approach in budget-making, preferring continuity over change. That may (or may not) be politically astute.
It almost certainly ensures that India's economic ills will take longer to cure than if a bolder approach had been taken. "Achche din" ahead? May be, but we will have to wait longer for the revival of growth and jobs … and perhaps endure inflation and economic vulnerability for longer, too.
The writer is honorary professor at ICRIER and former chief economic advisor to the Union government. Views are his own.
Please click here for the Complete Coverage of Budget 2014 -15