Whether it's about colonising Mars or donning Net-connected apparel, 2022 is a year everyone seems to be planning for, says Nivedita Mookerji.
Illustration: Uttam Ghosh/Rediff.com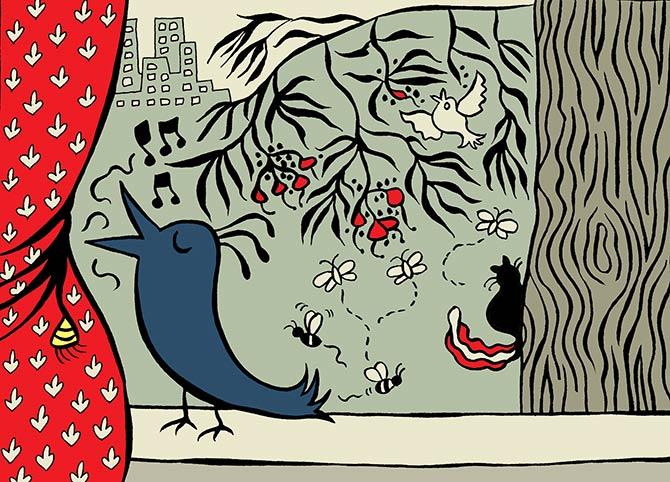 Niti Aayog CEO Amitabh Kant spelt out the all-digital plan again saying credit cards, debit cards and even ATMs would be redundant in the next four years or so as people will use their mobile phones for most financial transactions.
This is in contrast to the latest Reserve Bank of India data, which shows that the total number of ATMs has been on the rise.
In the last three years, the number has increased by 30 per cent to 223,000, as of June 2017.
While credit card swipes have come down to 30 per cent of the total PoS transactions from 43 per cent four years ago, they continue to make up for 50 per cent of the total amount swiped.
The finding is that Indians prefer to shop with debit card, as it seems more like cash in hand.
Global figures also indicate that cash, ATMs and cards are nowhere near vanishing point yet. Nor by 2022.
Take for instance, Japan. Last year, around 62 per cent of consumer transactions in Japan were in cash, according to Euromonitor, a market research firm.
In Britain, cash transactions are pegged at 22 per cent, in the US 34 per cent, in South Korea 10 per cent and in China 50 per cent.
Again, National ATM Council statistics in the US give us an idea on whether cash transactions are on their way out.
As of March 2017, the total number of ATM machines in the US was 425,000, out of three million all over the world.
Another survey conducted last year showed that as much as 68 per cent of Americans aged 65 and above had a credit card.
In the UK, there were 223 million credit card purchases as of March 2016, with a total value of £12.6 billion.
The spending volume had risen two per cent from a year ago, but in value it was one per cent lower.
On debit card, domestic spending in October 2016 was around £39.2 billion, which is less than a one per cent increase from the month before.
However, the slow growth in the UK has been attributed to Brexit vote last year resulting in decline of consumer confidence.
There's a caveat in the growth of card transactions in some of the developed countries, though: Increasingly, contactless payment systems are being used in many parts of the world.
These are cards and devices including smartphones that use radio-frequency identification or near-field communication (NFC), besides the mobile applications of banks.
It is possible that by 2022, contactless payment systems may emerge as the most popular mode of transaction even in India, leaving behind the physical plastics.
That will be a big change from how we shop and carry out our businesses now. But 2022 holds more promise, both in India and around the world.
Among the things to look forward to, India could have more than 492 million mobile phone internet users by 2022, up from around 320 million in 2016, as forecasts have shown.
Also, predictions indicate close to 60 per cent growth in digital payments in five years, taking the figure to around $700 billion.
Coinciding with the country's 75th anniversary of Independence in 2022, the government has already announced its New India mission.
Besides making it a poverty-free, dirt-free, corruption-free and terrorism-free India by 2022, the goal is also to more than double the country's renewable energy capacity in five years.
Also in the 2022 crystal ball gazing list is the number of ultra rich Indians touching 372,000 and household income in the country increasing 7.5 per cent to $7.1 trillion, according to a latest report by Credit Suisse.
Not just that, the country's food services market is projected to grow 10 per cent annually to touch Rs 5.52 lakh crore by 2022, an industry report said.
There's bad news too for 2022. While air travel in India is growing at a high speed, airports are not able to keep pace.
A report by the Centre for Asia Pacific Aviation said passenger numbers are likely to exceed airport capacity by 2022.
More job losses have been forecast, too. About 700,000 low-skilled workers in IT and BPO industry could lose their jobs to automation and artificial intelligence by 2022, according to a report by US-based research firm HfS Research.
Globally too, 2022 is a year everyone seems to be planning for, due to some reason or the other.
For instance, US automakers are looking at crash-avoidance braking by 2022.
Among other things, 10 per cent of the world's population could wear clothes connected to the internet in five years and there could be planes using sunlight for fuel regularly.
Elon Musk has already announced his plan for "colonising Mars"' by 2022.
Well, returning to the subject of mobile payments, it could grow to $3 trillion globally, a 200-fold increase from 2015.