Without the handsome receipts from the sale of government equity in PSUs and sharp increases in excise revenues from oil, Jaitley's fiscal consolidation drive would have become even more arduous, says A K Bhattacharya.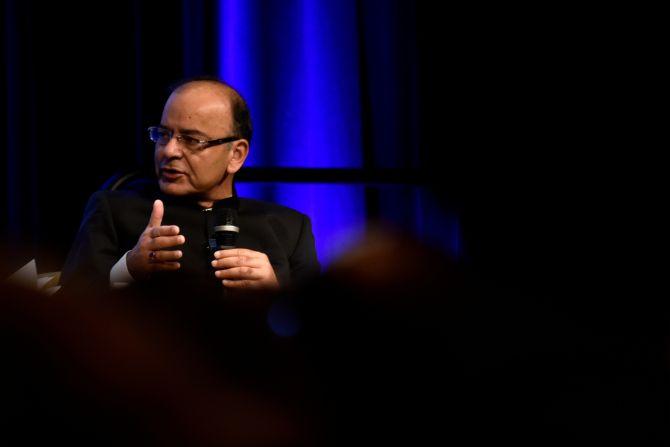 Looking back at the five Budgets that Finance Minister Arun Jaitley has presented so far, it would be fair to conclude that divestment and oil prices were the major tailwinds that hugely helped his budget-making.
Without the handsome receipts from the sale of government equity in public sector undertakings and sharp increases in excise revenues from oil, Jaitley's fiscal consolidation drive would have become even more arduous and the journey from a fiscal deficit of 4.4 per cent of gross domestic product (GDP) in 2013-14 (the last year of the Manmohan Singh government) to the budgeted 3.3 per cent in 2018-19 a little slower.
The Budget Jaitley presented on February 1 was no exception.
It was a lacklustre Budget, containing many grand schemes without the backing of sufficient financial allocation.
Complicating it further was a strong dose of protectionism that resulted in higher customs duty on over 40 categories of goods, accounting for about a fourth of India's total imports.
Unsurprisingly, both the initiatives have given rise to macroeconomic worries.
But in spite of all this and in keeping with the past trend, the finance minister has continued to press ahead with selling government stakes in PSUs and reap rich dividends from the oil sector by way of excise collections.
Indeed, the fiscal correction he proposed to achieve by the end of March 2019 would have been a bigger challenge if Jaitley had not budgeted for Rs 80,000 crore from divestment and Rs 1.3 lakh crore of excise duty collection from petrol and diesel.
With the gains from a revival in tax buoyancy somewhat neutralised by slow growth in non-tax revenues, divestment proceeds and excise on oil are expected to help the finance minister just as they did in his previous four Budgets as well.
To be sure, Jaitley's track record in divestment is quite enviable.
Of the total Rs 3.5 lakh crore of divestment proceeds between 1991-92 and 2017-18, Jaitley's mobilisation at about Rs 1.9 lakh crore accounts for about 55 per cent.
And that amount came in just four years and more than what the United Progressive Alliance achieved in a decade.
During the 10-year rule of the Manmohan Singh government, the Chidambaram-Mukherjee duo could raise about Rs 1.08 lakh crore and the Vajpayee government's Yashwant-Jaswant combination could mobilise only Rs 33,655 crore through divestment in a span of six years.
Similarly, five years of the Narasimha Rao government managed only Rs 9,961 crore and the United Front government had to show a divestment of only Rs 1,289 crore in two years.
Jaitley was also ahead of the rest in meeting the Budget targets on divestment.
He achieved about 80 per cent of his target of Rs 2.42 lakh crore in four years, while the achievement of targets for others was lower at 70 per cent under the Manmohan Singh government, 53 per cent for the Vajpayee government, 51 per cent for the Rao government and a low 13 per cent for the United Front government.
Where Jaitley could have done better is with respect to the quality of disinvestment.
The bulk of his divestments (like those of the other governments) was through the sale of minority shareholding in PSUs and only Rs 51,847 crore was effected through what is described as strategic divestment.
But these are not really cases of privatisation, but a different name for the government handing over its majority control to another PSU.
The Vajpayee government towers above all on this count.
It privatised several PSUs by handing over their management to private owners and fetched an estimated Rs 63.44 billion through privatisation.
Jaitley scores with numbers on divestment, but these are used mainly to meet the government's fiscal deficit and not for providing management autonomy to the PSUs through ownership change or by distancing them from the government.
Thus, divestment for him has remained an instrument for raising resources and not undertaking genuine public-sector reforms.
Air India's privatisation will, hopefully, set a healthy trend towards genuine reforms of the public sector.
The fear is that the aviation behemoth's privatisation should not be allowed to meet the same fate as befell the IDBI Bank, whose privatisation was announced more than a year ago, but action on that is yet to be taken.
On oil, Jaitley has moved far more decisively than on PSU privatisation.
Even as crude oil prices began falling from $107 a barrel in May 2014 to $28 a barrel by January 2016, the finance minister began raising excise duty on petrol and diesel to mop up the gains for the central exchequer.
Crude oil prices rose to $55 a barrel by September 2017, but during this period of three and a half years, Jaitley raised excise duty on petrol and diesel on as many as 11 occasions and raised it from Rs 9.48 and Rs 3.56 per litre to Rs 17.33 and Rs 21.48 per litre, respectively.
These were brought down only once, by Rs 2 a litre in November 2017, after there were some protests.
Jaitley's finances benefitted hugely from this exercise.
From excise revenues of Rs 99,184 crore from the oil sector in 2014-15, they rose to Rs 1.78 lakh crore in 2015-16 and Rs 2.43 lakh crore in 2016-17.
In the current year, they are estimated at Rs 2.4 lakh crore.
Next year, they are likely to decline to Rs 1.3 lakh crore and if international crude oil prices keep rising, the pressure to cut excise duty will increase and the government's finances can come under increased stress.
Divestments and subdued oil prices were favourable tailwinds for Jaitley.
But it is unlikely they would continue to remain so. The sooner this realisation dawns on the government, the better it would be for its finances.
Photograph: James Lawler Duggan/Reuters