India's rising GDP may have propelled the middle class to become richer, buy new cars, travel around the world and build assets, but it further pushed the economically disadvantaged and poor into poverty and drudgery, says Devanik Saha.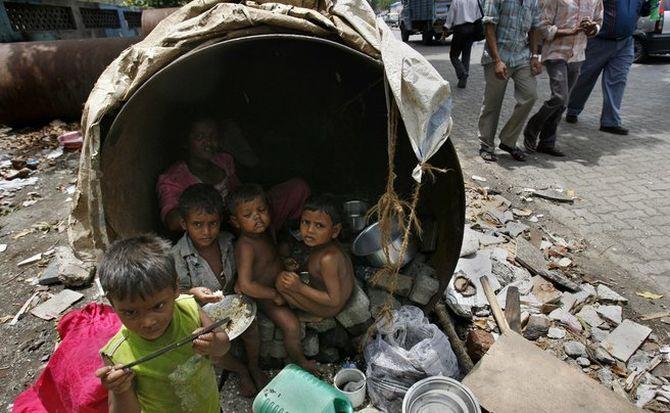 In the 2014 general elections, India gave a historic mandate to the Bharatiya Janata Party's prime ministerial candidate Narendra Modi, who came to power on the promise of development and job creation. His main electoral planks -- good governance, development and reforms -- portrayed him as a right-wing economic visionary, who wanted to shift the country's focus from the welfare model programmes made fashionable by the Congress. However, the fact that India was a major economic force to reckon with -- despite major corruption scandals under the Congress -- even before Modi came to power, must not be disregarded.
India is the world's fastest growing major economy with a GDP of $2 trillion -- ranked seventh in the world – and has been hailed as a bright spot amidst a bleak economic forecast, by the International Monetary Fund. If the last two years are anything to go by, it is clear that Modi strongly believes that development in India should be driven by free markets, rather than government interventions.
However, by launching other poor friendly schemes as Jan Dhan Yojana, Atal Bima Yojana, etc, he is treading the Left-of-Centre economic path.
The government's claimed annual growth rate of 7.5 pc has been questioned by multiple sources. The US Department of State believes that India's 7.5 pc growth rate may be "overstated", as the Modi government has been "slow" to match its rhetoric with economic reforms even as it appreciated measures taken by it in areas like bureaucracy and easing FDI restrictions. Other critics questioned the growth figures, correlating it with other economic indicators such as number of jobs created (2015 saw the lowest pace of job creation since 2009 according to official Labour Bureau data), falling exports, slowing manufacturing rates, etc.
The primary reason why this figure has been questioned is, whether or not India's fast economic growth and rising prominence as an Asian powerhouse in the past decade translated into "development" – or is translating into development currently -- for the poor.
Though there are many definitions and versions of what constitutes development, Nobel Prize winner Amartya Sen's version is the one I associate myself with. He proposed that we should regard development as freedom. Development, he suggests, involves removal of the major sources of unfreedom -- tyranny, poor economic prospects, social deprivation, inefficient public facilities, and so on. To delve a little deeper into Sen's version, let us have a look at a couple of statistics.
Poor economic prospects: The Socio-Economic and Caste Census of India released in 2015 revealed that 74.5 pc of rural households in India have a monthly income of less than Rs 5000 and only 17.34 million or 9.68 pc of rural households have members with salaried jobs -- and mostly in the government and public sector undertakings (10.95 million).
Inefficient public facilities: Inadequate public healthcare and healthcare expenses push 39 million people back into poverty in India every year according to The Lancet and more than half of India's rural population uses private healthcare, which is four times as costly as public healthcare, and can cost the poorest 20 pc of Indians more than 15 times their average monthly expenditure.
These statistics clearly portray that while India's booming economy -- which follows the model of combining capitalism and socialism -- has been hailed across the world by agencies and firms, it has not translated into Sen's version of development for a significant percentage of its citizens.
India's rising GDP may have propelled the middle class to become richer, buy new cars, travel around the world and build assets, but it further pushed the economically disadvantaged and poor into poverty and drudgery.
There are three reasons for this:
1. The existence of crony capitalism which has led corporates to accumulate unaccounted wealth, evade taxes, exploit natural resources without adequate compensation to farmers and tribals, by leveraging their political connections. The shiny side of India's development is often accompanied by a dark side of displacement and dispossession; this is the reason why economic growth has time and again produced impoverishment next to enrichment, an argument made by economic researcher Wolfgang Sachs way back in 1992.
2. Ownership of businesses and major firms in India has remained in the hands of a few families since several decades – the Ruias, Tatas, Birlas, Ambanis, Goenkas, to name only a few. Right from the 1960s, and in some cases post India's economic liberalisation in the 1990s, these families have dominated India's business landscape and their lineage continues to do so. On the contrary, the US produces a new billionaire every 10-20 years -- Warren Buffet, Bill Gates, Steve Jobs, Larry Page and Sergei Brin, Mark Zuckerberg and, more recently, WhatsApp founder Jan Koum, again to name only a few.
3. Inflation can be a key factor in winning elections and the fact that the middle class is most affected by it, is an important aspect to consider. To keep the middle class happy and win elections, the humungous task of keeping food prices low are borne by the poor farmers, whose income levels are extremely dismal. The MSP of crops are deliberately kept low to minimise inflation.
Another theory by Wolfgang Sachs mentions that the globally oriented middle classes, although they push for development in the name of greater equality, largely disregard the plight of the poor, holds significant relevance in this context
These three factors have played a role in ensuring that India's fast-paced economic growth doesn't trickle down to the masses. However, during his glamorous Lok Sabha campaign, Modi promised 'Achche Din' for all citizens, and it remains to be seen whether or not he is able to use his magic wand and translate India's fast-paced economic growth into development for all – or, to use his terminology, bring in Achche Din for all.