Some genius assumed that a 2,000 note could seamlessly replace 500s and 1000s in ordinary transactions.
If that genius had consulted an actual chaiwallah, he might have thought twice, argues Devangshu Datta.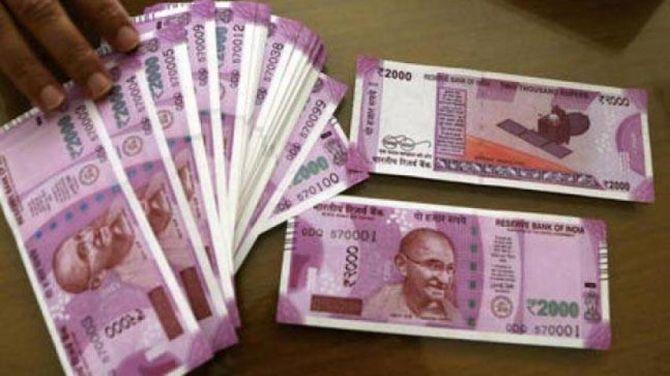 It was a cricketing axiom that a wicket-keeper was only noticed when he fumbled; a 'keeper who flawlessly received every delivery and took all chances could play out a match without comment.
That changed with coloured clothes and the 'chirping' algorithm; nowadays a 'keeper is the team's designated sledger.
Fumbles and missed chances are overlooked if he can get quick runs.
The same axiom still holds true for currency notes, however.
A good currency note will be introduced without fanfare.
It will be seamlessly integrated into transactions.
It will be durable and incorporate security features that make it hard to forge.
The Rs 2,000 note introduced during demonetisation (in November 2016) checked none of those boxes.
It was criticised from day one even as its advocates extolled the virtues of its (non- existent) chip.
It was the wrong size physically, and couldn't be dispensed from ATMs.
The colour induced seizures in epileptics.
The dye used ran upon the slightest application of moisture.
The security features were minimal and temptingly easy to copy.
It was also the wrong dimension in terms of value.
Some genius assumed that a 2,000 note could seamlessly replace 500s and 1000s in ordinary transactions.
What's more, change could be easily created for it using only the Rs 100 notes.
If that genius had consulted an actual chaiwallah, he might have thought twice.
There was a simple arithmetical absurdity.
In November 2016, 86% of the currency in circulation (CiC) was demonetised.
The largest remaining note was that of Rs 100 -- this constituted about 10% of CiC.
The Rs 2,000 note was churned out at a great pace, which is why it used shoddy dye and minimal security.
It eventually constituted 38% of CiC.
Assume a transaction of Rs 00 -- say, a couple of beef rolls in Kolkata.
Pay for it with a Rs 2,000 note.
You need 19x the number of notes in change.
Given the ratio of 100s in circulation to the number of 2000s, a severe shortage of change is guaranteed.
This was not the case either with the Rs 500 or the Rs 1,000 note -- the change ratio was much better with smaller denominations.
The lack of durability has been irritating to people who have been forced to go to their banks and argue over replacements for brand new, discoloured notes.
The lack of security has led to more fakes.
According to the Reserve Bank of India, 18,567 fakes had been detected by March 2018, when the Rs 2,000 note had been in circulation for just 17 months.
The 'insecure' old Rs 500 note, which had been in circulation since the year 2000, took 15 years to reach that mark.
Yes, higher rates of detections could be due to better technology, but that sort of differential means there are far higher numbers of fakes in circulation.
The Rs 2,000 note has also been in the news for other fumbles.
It is a good store of money for precisely the same reason why it's a bad note for small transactions.
It's physically possible to pack more money in less space.
A cynical realtor told me that the property market survived 2017 and 2018 only because the Rs 2,000 note enabled big black transactions.
Indeed, anecdotal evidence suggests that the black ratio of land deals (cash to cheque) has remained more or less constant, except for a brief 3 month period in 2016-2017 when the real estate market just froze.
Real estate is one of the two largest repositories of black money.
The other large sinkhole for black money is campaign financing.
It doesn't take a conspiracy theorist to wonder if reports -- that the Rs 2,000 note is not going to be printed anymore -- has any connection to the upcoming general election.
In that context, rumours of a sudden demonetisation of the Rs 2,000 note prior to elections are less farfetched than the events of November 8, 2016.
Fake or not, this rumour made shopkeepers reluctant to accept the Rs 2,000 notes.
This may be why the economic affairs secretary had issued a denial.
Another demonetisation would inconvenience any political party unprepared for it.
But it would also inconvenience chaiwallahs and pakoda sellers and the electorate would not deal well with it.
If it happens, the Rs 2,000 note would be the shortest-lived and most-commented upon currency note in India's history.