For maintaining sustained demand in domestic consumption and household investment, the economy must generate enough jobs in the formal sector, says Shubhashis Gangopadhyay.
Illustration: dominic Xavier/Rediff.com.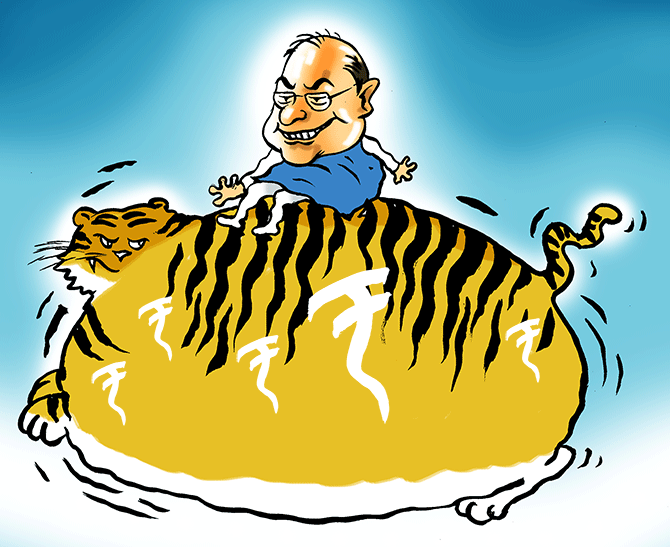 The world economy is in better shape this year and, hence, was an opportune moment for presenting what was expected to be an election-year Budget.
Much of the economic problems being faced in India at the moment are purely domestic in nature.
In addition to the secular decline in private investment, we are having to contend with the adjustment pangs of demonetisation and the crash implementation of the Goods and Services Tax (GST).
Both of the latter will have some positive implications in the long-run but the processes are yet to work themselves out.
And, in that regard, the Budget touched the right notes.
Steps towards universal health insurance has been announced in the Budget.
Some people are euphoric about this heralding universal access to health but the two are quite different.
Obamacare has shown that, as long as we depend overwhelmingly on private healthcare, universal health insurance is not necessarily a solution. It could soon become very expensive.
On the other hand, the Budget has also announced new government-run medical colleges and hospitals and this should mitigate the costs of state-provided health insurance for privately provided treatment centres.
Domestic demand will have to pick up if growth rates are to be improved and that is a must.
We are currently burdened with excess capacity and lack of private investment.
While large, or mega projects often act as catalysts for large scale increases in investment, much of the job creating investments happen in the MSME sector.
And, hence, the measures announced for this sector in the Budget are welcome.
There is a promise in the Budget of smoothening out the frictions faced by MSMEs in doing business.
This along with easier access to finance, should they be properly implemented, should, indeed, create jobs.
I say this because ultimately the implementation of these promises will not depend on the ministry of finance whose responsibility stops with allocating the money.
MSMEs connected to the global supply chain will benefit from improved ease of doing business since the world economy is looking up.
MSMEs not connected to the world economy need domestic demand to pick up.
That will happen if farm distress is addressed, employment is created, and government infrastructure expenditure picks up.
The Budget has promised all of these.
Our labour force is increasing and most of the new entrants in the labour market cannot afford to be unemployed.
Given our large informal sector and proportions of the population in self-employment, simply absorbing the new entrants into these activities will not be enough.
For maintaining sustained demand in domestic consumption and household investment, the economy must generate enough jobs in the formal sector.
In this context, it is worth remembering that every study shows that agriculture is fast becoming a non-viable means of livelihood.
This is because there are too many people in agriculture and most of them have too little land.
The Budget has promised to improve physical productivity through greater yield and nominal productivity through higher minimum support price.
However, this is not enough since the total income of the small farmer (and more than 80 per cent of our farmers are small) will continue to be insufficient since the land owned by them is a pittance.
So the plight of the farming household will depend crucially on how fast they get non-agricultural income earning opportunities. And this is where the Budget promises may slip up.
Shubhashis Gangopadhyay is research director at IDF.