'The success of the country's economic policies is affirmed by receipt of FDI of $15 billion last year, the highest in the Asia-Pacific after China and India, and well ahead of Indonesia, Australia, Singapore, Malaysia and Thailand,' notes Ambassador Talmiz Ahmad.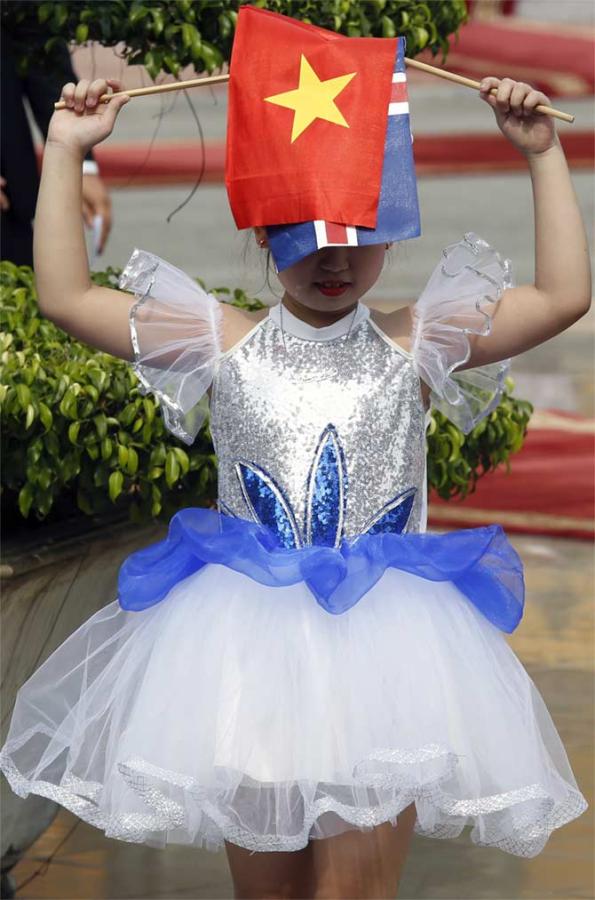 Memories of war and devastation seem very far away in modern Vietnam. Today, this country is a dynamic and vibrant nation, with cities like Hanoi, Haiphong and Saigon, once centres of death and destruction, now modern and bustling metros, exhibiting the throbbing vitality of a country committed to economic and social achievement.

Most of these dramatic changes have taken place in the last 25 years. Earlier, Vietnam, with a per capita income of about $100, was one of the poorest nations in the world; now, with a population of about 90 million, its per capita income is over $2,000, and rising.
It has had growth rates of about 5 to 6% at a time when most world economies have been struggling to show any growth at all. Industry and construction contribute 55% to the GDP, while services provide 44%.
This is a far cry from the backward agriculture-based economy this country had just thirty years ago. The country is rich in resources like oil and gas, coal and iron which constitute the basis of its emerging industrial prowess.

Vietnam now boasts of all-round development, particularly in areas such as healthcare, education, communications, gender equality and poverty alleviation. It has a young population, with average age being 30 years, with its people committed to technical and professional education.
Not surprisingly, the country has the highest Internet penetration in the Asia-Pacific region. The success of the country's economic policies is affirmed by receipt of FDI of $15 billion last year, the highest in the Asia-Pacific after China and India, and well ahead of Indonesia, Australia, Singapore, Malaysia and Thailand.

India has been an active and successful partner in Vietnam's success story: Bilateral trade is now about $13 billion, and is poised to go to $15 billion by 2020.
Indian enterprises have also had remarkable achievements in the projects sector, having won 93 projects valued at $1 billion. Tata Power were recently awarded a thermal power project valued at $1.8 billion to be set up in the Soc Trang province.

The principal focus of Vietnam's policy-makers is now on infrastructure development, particularly in the north of the country. The main projects here are the Dinh Vu Industrial Zone and the Deep C Industrial Zone in Haiphong, a hundred kilometres from Hanoi.
These industrial zones abut the Haiphong International Gateway Port, a deep sea port scheduled for completion by early 2017. The port and the industrial zones are supported by the expansion of Haiphong airport and the modern Hanoi-Haiphong highway. These developments will make Haiphong a major regional trading, logistics and manufacturing centre.

International companies have already recognised Vietnam's potential as a manufacturing giant, with investments in textiles, machinery and heavy industry, steel, automobiles, pharmaceuticals, agricultural processing and furniture-making from some of the world's major companies.
The two new industrial zones have had their space augmented with an additional 2,000 hectares of new industrial land. The zones are owned and managed by the domain expert of global standing, the Holland-based company Rent-a-Port, in association with the local government.

The industrial zones are well-served by provision of utilities, communications and safety facilities, ready-built workshops and warehouses, an excellent professionally qualified local population, and attractive tax incentives.
The zones are expected to support about 55 projects with a total investment of over $3 billion, mainly in the areas of petrochemicals, heavy industry, logistics and light industry. These factors make investing in the zones very attractive propositions.

New investors will be shareholders in the Hong Kong-based Infra Asia Investment Ltd, IAI, with IAI having a controlling stake in almost all future expansions. At present, IAI has a capital commitment of $25 million from a German government source, which will encourage German companies to do business in these zones.
The balance equity requirement for 2015 to 2017 is for $75 million. Analysts project an IRR of a minimum of 25%, with yearly profits of around $50 million.

Vietnam's development strategy for up to 2020 gives priority to human resource and infrastructure development and improving market institutions, with special attention being paid to facilitating doing business in the country in terms that are comparable to those in other ASEAN countries. Indian business can be expected to find quite lucrative opportunities in Vietnam for its investments.
Ambassador Talmiz Ahmad, who has served as India's Ambassador to Saudi Arabia, Oman and the UAE, visited Vietnam recently.
IMAGE: A Vietnamese girl awaits the arrival of Iceland's president at the Presidential Palace in Hanoi. Photograph: Kham/Reuters