'Else they will form a growing 'hospital sector' -- and the taxpayer will be asked to pick up a mounting bill,' warns T N Ninan.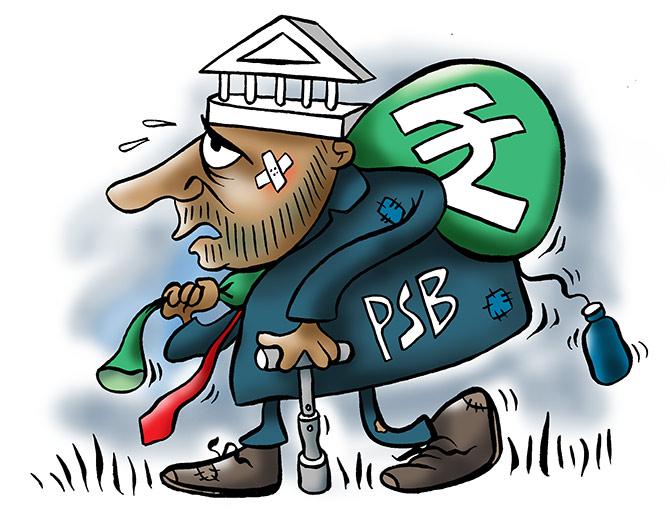 Illustration: Uttam Ghosh/Rediff.com
Privatisation in India happens at the level of markets, not enterprises.
All too few companies have been privatised, like Hindustan Zinc and the now defunct Modern Foods.
In contrast, many markets have been conquered by the private sector once it was let in through the door. And it did so almost always by besting the incumbent public sector players.
This transition has happened in quite a few businesses: Airlines, telecom, pharmaceuticals -- and education.
Almost always, the consumer has benefited from choice, and better products or service.
There is a price being paid for this approach of privatising markets rather than companies.
India remains a soft State and the government does not allow the losing public sector entity in a market to die or be sold.
Instead, like Hindustan Antibiotics, it is kept going though losses in a year are five times revenue.
The current loser in the news is Air India.
And like Air India, the erstwhile telecom monopolies (Bharat Sanchar Nigam and Mahanagar Telephone Nigam) too are being kept alive with large financial transfusions.
Between them, these three companies lose Rs 116 billion in a year.
Against this backdrop of transformed markets and failed entities, consider the future for banks.
It is safe to assume that private banks will gain a steadily larger share of the pie, from their present share of 30 per cent.
Whether they will take that up to 50 per cent in five or more years is a matter of detail.
The point is that they will steadily wean away the best banking customers, score with the adoption of new technology, and develop better ways of assessing loan risk, thereby delivering better financial results.
Such results deliver much higher valuations on the stock market (already, eight of the top nine banks in terms of market capitalisation are privately-owned), and that in turn translates into access to cheaper capital. In a capital-hungry business, that is competitive advantage.
So what if some of the government's banks become tomorrow's Air India's and MTNL's: Problem-ridden entities that have lost their markets, are short of the capital needed to grow, unable to compete effectively, and stuck with ageing, unionised employees who are out of sync with new technologies and have a poor attitude to service.
People have been debating privatisation, but that is a remote possibility.
If anything other than State Bank of India is sold, it can only be for a song -- and no government will dare do that.
The question to consider is: What then?
These banks will perennially need fresh capital, provided out of taxpayer money.
The continuing burden on the taxpayer could be equal to many Air Indias. Indeed, it already is -- and the Air India bill is not small.
Keeping the service provider going even though the customer is moving away is the scenario in another field: School education.
Here too, private entities have gained steadily on their government-run counterparts. In Mumbai, the municipal corporation has shut down schools by the dozen because they no longer have students. But can the teachers be fired?
In Delhi, the cost per student in government schools has risen to Rs 6,000 per month because the cost goes up even if (indeed, because) there are fewer students.
The cost per student has become as much as what some of the better private schools charge, and will climb because students will continue to desert the government education system.
So this runs the danger of becoming yet another sector where the service provider is paid and kept going, while the customer goes elsewhere.
In short, while the policy of privatising markets serves a purpose, in that the customer benefits, the system must accept the associated imposition of hard budgetary constraints on the public sector entities that compete in those markets.
If they don't perform, they should die or be sold.
Else they will form a growing 'hospital sector' -- and the taxpayer will be asked to pick up a mounting bill.