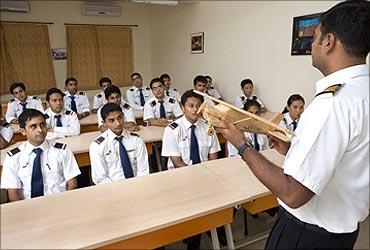 Pilot training has loopholes, but problems are not widespread
Are Indian pilots any less trained, competent and experienced than their counterparts in other countries?
Are there flying schools in the country that issue licences -- but barely train or offer enough flying hours for a pilot to qualify?
A recent report by Bloomberg News highlighted the fact that there were a number of flying clubs and pilot training academies in India that issued licences to pilots -- first officers -- that showed a higher number of flying hours on their certificates than they had actually flown.
In other words, the pilots who held these valid licences and who could in effect end up with various airlines across the country may not actually be equipped, experienced or trained well enough to fly.
Judging by the report, and by other available evidence, this is anything but a recent phenomenon.
It is not unheard of for flying clubs to over-log the flying hours, charge full money and also make money on fuel saved. In fact, there have been past instances of honest auditors in the Directorate General of Civil Aviation who highlighted such malpractices; but no one ever got punished.
The local air traffic control officers were allegedly part of this racket -- they created and endorsed fictional records of take-off and landing.
However, while such incidents may occur, they are far from being the norm.
These are often isolated examples of beginners getting duped by a flying school with a less-than-stellar reputation -- just as students often hold MBA degrees from institutions, but have learnt no management whatsoever.
Having said that, as far as airlines recruiting beginner pilots goes, their own rules are fairly stringent.
In general, airlines have adequate time and resources to assess the capability of the pilot.
The selection process is quite rigorous and the training phase that requires pilots to go through ground school, simulator and line flying training would reveal any inadequacies.
Competence is certified at each stage; so if any sub-standard pilot gets clearance to fly, then the fault lies squarely with the training captains of the airline and their training system.
They cannot just blame the DGCA even if the pilot obtained the licence fraudulently; that is a separate issue.
If someone who is found incompetent clears the system, it is probably intentional rather than accidental.
Secondly, in India currently there is absolutely no shortage -- in fact, there is an abundance -- of pilots holding a valid licence but unable to find a job.
A recent pan-India examination held by one of the leading airlines in India for their cadet pilot programme, despite strict age and other eligibility criteria, had over 2,000 candidates appearing for the test in a single day.
If at all there is a shortage, it is for experienced commanders of certain aircraft types. So, in conclusion, are Indian regulations, checks and balances lax and perhaps more malleable than many others?
Yes, they certainly are. And tightening these -- just like with a lot of other regulation issues in India -- is very desirable.
But that does not necessarily mean that the pilots in charge of the average Indian aircraft -- whether co-pilot or commander -- are incompetent or inexperienced.
Image: Chimes Aviation Academy. Photograph: Kind courtesy, Chimes Aviation Academy.
The image is used for representational purpose only