'Somehow, I don't see the Modi government shutting down Air India.'
'So, Mallya may prove to be luckier than the government; at least his financial clock has stopped ticking,' says T N Ninan.
Illustration: Dominic Xavier/Rediff.com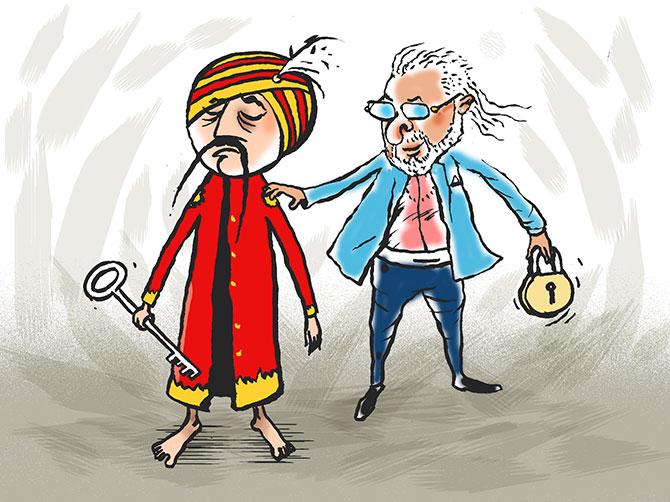 Which is the bigger scandal, Air India or Kingfisher?
In purely financial terms, that is a no-brainer.
Air India has sunk much more money, and will create a bigger hole in the books of lender banks than its erstwhile private sector competitor.
According to the airline's balance sheet of three years ago (the latest available), the government had pumped in Rs 14,345 crore (Rs 143.45 billion) as share capital, while the airline had borrowed Rs 49,869 crore (Rs 498.69 billion).
The total funds deployed: Rs 64,214 crore (Rs 642.14 billion) -- for a business with revenue then of Rs 19,000 crore (Rs 190 billion)!
The numbers have changed somewhat since, but not by much; the picture remains one of excessive debt and lack of viability.
More than half the debt is said to be on account of working capital, but what kind of business needs working capital that is more than its annual turnover?
In any case, much of the non-aircraft-related debt is not covered by assets as security (company real estate falls far short in value), and so cannot be recovered.
Meanwhile, the accumulated losses are more than Rs 30,000 crore (Rs 300 billion).
Kingfisher pales in comparison.
It was suggested to the banks that they convert some of the loans into equity.
Having burnt their fingers in a controversial conversion deal with Kingfisher, they have wisely nixed the idea.
Then the government embarked on one of its periodic 'rescue' packages, for Rs 30,000 crore.
Let's put these numbers in perspective.
The combined debt of IndiGo, Jet and SpiceJet (which between them fly five times as many domestic passengers as Air India) is barely half of Air India's.
Putting aside prosperous IndiGo, the enterprise value (equity plus debt) of Jet and SpiceJet taken together is about Rs 30,000 crores.
So what was the government thinking when it embarked on fresh financing for Air India of Rs 30,000 crore?
Did it really hope to get the money back, or was this the soft Socialist State at play with public money?
Three years into the rescue effort, the answer to that question has become blindingly obvious to even the government.
At long last it sees no percentage in throwing more good money after bad.
Privatisation has suddenly become an acceptable proposition.
But who will buy a bankrupt and unviable airline?
The government will have to pay someone to take the business off its hands -- pay the buyer something like Rs 20,000 crore (Rs 200 billion).
Unthinkable, what?
So the same idea has been dressed up differently, as a debt write-off before privatisation.
Banks, other lenders and/or the government will have to take a hit of about Rs 20,000 crore.
But, say the leftists and trade unions, if you are prepared to write off Rs 20,000 crore in order to privatise, why not write that off and keep Air India in the public sector?
With reduced debt, the airline may be a going proposition again!
But debt is not the airline's only problem.
The private airlines have employee cost that is about 10 per cent of revenue; Air India's figure is 15 per cent.
In a razor thin-margin aviation business, such a cost difference is a killer.
Anyone buying the airline will have to figure out a way to slash costs.
It won't be easy, given the near-certainty of employee resistance.
So the civil aviation minister recognises, sensibly, that in the end he may not find a buyer.
In other words, it may be too late in the day to privatise.
If you don't want to run Air India as a sarkari airline, and can't privatise, the only option is to shut it down.
Financially, that may make the most sense because the company can encash its landing and parking rights as well as its international route rights -- all of them valuable in a booming aviation market.
There will still be a net loss to write off, but less than otherwise.
Somehow, though, I don't see the Modi government shutting down Air India.
So, in the end, Mr Mallya may prove to be luckier than the government; at least his financial clock has stopped ticking.