Balgopal Athavale* was startled that the day after his new business was registered, he was flooded with offers from various service providers.
'How did they know what only my wife and I knew?' he asks.
Illustration: Dominic Xavier/Rediff.com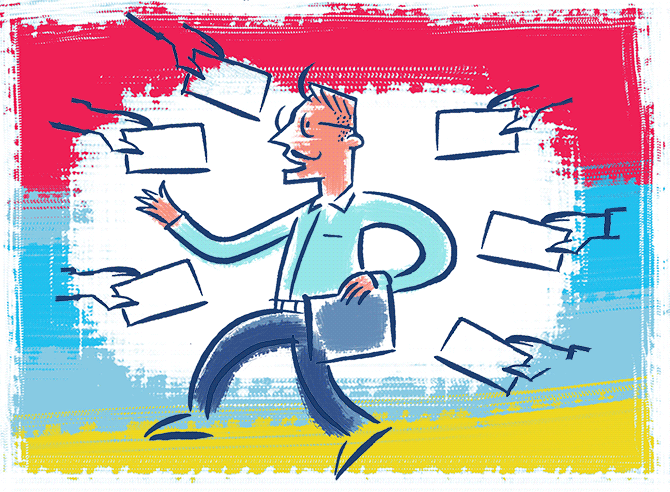 The phone rang while I was eating my dinner.
The company secretary who I had appointed for company registration work was on the line.
"Congrats, your company is registered as an OPC private company. Wish you all the best."
I felt very good. I would be working towards building my own company.
My wife Pallavi and I had a mini celebration, ending the meal with a bowl of ice cream.
As there were no meetings planned the next day, I thought of starting my day a little late. It must have been around 9 am when the house phone rang. The security guard at the gate (we have a decent security system where people are not allowed inside the premises before checking with the house owner) said there was someone from Kotak Bank to meet me.
??????
I was trying hard to think if I gave the bank an appointment, but nope! Nevertheless, I thought of having a quick word with this guy named "Ganesh"
"Congrats sir, wishing you all success with the new company you have just launched."
"Thanks, but I am curious, how did you know about it?" I asked.
The line went silent for a moment.
"I am here to show you the best plan we have for opening a current account." Ganesh tried to steer the conversation in his direction.
"Leave whatever you have with the security person, I will look at it later." I forced the conversation to a close, feeling amused at the telephonic encpunter.
Pallavi and I mulled about what had just happened: How did news of my new company reach Kotak Bank?
As I began my work day, I started checking my inbox.
I was shocked to see the number of mails congratulating me on my new venture and offering their services.
To list a few:
Mail from IndusInd Bank offering a zero balance account.
Mail from legistify giving legal and accounting expertise.
Deutsche Bank with partners across the world for seamless business.
IDFC with their record run for the last 21 years. Three different people sent 3 different IDFC offers.
Another mail from Deutsche Bank offering a relationship manager and services.
Mail from OboxHR offering their HR and labour services.
Mail from HSBC offering various services and funds management.
Mail from Amral Infotech offering logo and Web site design services.
Mail from TM Guru offering brand and trademark registration services.
Mail from Kotak Bank giving a dedicated manager and better funds management.
By now, I was in a state of shock. How did so many people know of something that only my wife and I did???
My logical mind took over and started thinking about how the hell this could have happened.
Should I call what I confronted a service or an encroachment, proactive assistance or a privacy concern?
I made a few quick calls and figured out what had happened and how.
PROBE42.in: This is the engine behind all the 'amazing' services being offered to me.
People can subscribe to its services for fees ranging from Rs 10,000 to Rs 20,000 a month and keep tabs on new companies which are being registered in a particular pincode.
The lead generation agents are then sent directions in person or approached via calls or mail to make sure they offer 'timely' services to the new man on the stand.
The day after my brand new company was registered I already knew a dozen people (rather, they know me). I have access to anything and everything that I need to start and go forward :-)
I am assuming that in the coming days I might get mails about:
Office Furniture on rent/sale
Payroll services
Travel booking services
Corporate telecom plans
Food delivery services
And the list will just keep growing along with my business.
As someone said the future of business is not B2C, but C2B where every consumer like me will contribute back to business in some way.
The bottomline: I wanted to share my experience to demonstrate to what level we have reached in lead management and business development set-up.
For those who have experienced this before, the article will provide a reason how they were flooded with offers.
For those who are still clueless, it will act as a shock absorber.
For everyone else, I hope it was a fun read.
Cheers, and a happy business to all of you!
Balgopal Athavale* is not this entrepreneur's real name. For obvious reasons, he wants to stay anonymous for now.