Available evidence suggests that we are on the way to a very costly failure of the current demonetisation scheme, says M R Narayana.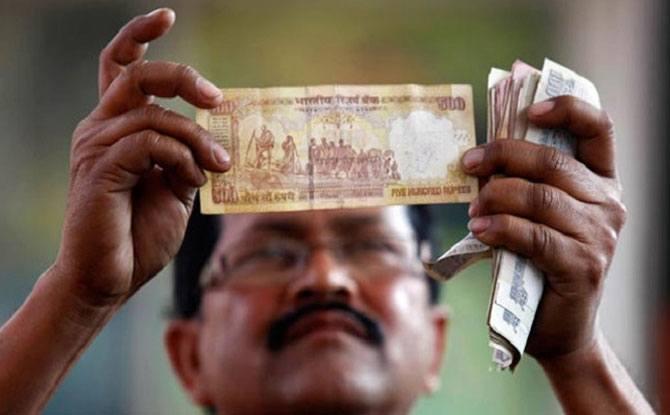 The Government of India knew the negligible share of non-demonetised currency (in total currency) in circulation on November 8, 2016: Rs 100 (9.61 per cent), Rs 50 (1.18 per cent) and others (2.83 per cent).
Further, the government knew its capacity constraints on total remonetisation in a short time and the unpreparedness of the banking system to meet with after-demonetisation demand for cash by all sectors of the economy and all sections of society.
Nevertheless, the government went ahead with its ambitious demonetisation scheme with the main objective to unearthing unaccounted cash money by about Rs 4.5 lakh crore.
This money is the expected outcome and constitutes about 31.74 per cent of the total value of demonetised currency.
However, demonetisation will be a total failure if this outcome is not fully realised and there will be economic and non-economic costs associated with such a failure.
Unfortunately, available evidence suggests that we are on the way to a very costly failure of the current demonetisation scheme.
Available evidence
Unearthing the total unaccounted cash money (or currency notes in circulation) from November 8 to December 30 is determined by the total exchange of demonetised currency in banks up to November 24, total deposits in demonetised currency up to December 30 and amount of cash in demonetised currencies with the financial institutions up to November 8, 2016.
In addition, demonetised notes were officially declared acceptable for 18 specified government-based transactions up to December 15, 2016. Their value is now a part of the total deposits.
Cumulative total exchange and deposits have increased from Rs 8.45 lakh crore (or 64 per cent of demonetised currency) on November 27 to Rs 12.44 lakh crore (or 92 per cent of demonetised currency) on December 10.
Of this amount, the share of deposits is 97 per cent. Assuming that 86 per cent of cash with banks was in demonetised currency, total unaccounted cash yet to be unearthed as of December 17 was equal to Rs 1.16 lakh crore or about eight per cent of total value of demonetised currency.
Consequently, further deposits closer to Rs 1.16 lakh crore up to December 30 would indicate a move towards a high failure of demonetisation scheme because of a wrong estimate of unaccounted cash money.
Since the start of demonetisation, schemes for voluntary disclosures of black money at varying tax rates have been announced.
The Pradhan Mantri Garib Kalyan Deposit Scheme 2016 is the latest addition to that list.
Income tax raids have been conducted on tax dodgers, corrupt people and black money hoarders.
Enquiries on sources of income of high amount deposits to the general public, especially people holding below poverty line card or Jan Dhan accounts have been going on.
All success of these measures may help the government to defend its efforts to drive out black money, but cannot attribute that success solely to the demonetisation scheme.
Cost of failure
The Centre for Monitoring Indian Economy or CMIE's preliminary estimate of costs of demonetisation from November 8 to December 30 is Rs 1.28 lakh crore.
Of this total cost, the largest share goes to industry (48 per cent) due to the liquidity crisis that has hit the supply chain of goods and services.
This is followed by the share of (a) banks and other financial institutions (27 per cent) due to additional cost of staff time, overheads and ATM recalibration, (b) government and the Reserve Bank of India (13 per cent) due to printing and transporting new notes, and highway toll losses, and (c) households (12 per cent) for work loss due to standing in queue for exchange of notes.
The above estimated cost is about 29 per cent of original targeted unaccounted money (Rs 4.5 lakh crore).
At present, the cost is 110 per cent of the expected outcome (Rs 1.16 lakh crore). This means that the cost of unearthing every rupee of unaccounted money is more than one rupee.
Final results on outcomes and costs of demonetisation will be known only in due course of time.
In the meanwhile, cost and benefit estimates may be revised and refined.
First, many transaction costs of demonetisation for households are non-monetary and non-wage related.
For instance, unintentionally, current demonetisation has imposed a rationing of money by uses and limits during the direct exchange (November 9-24) period, and limits on the withdrawal for the entire period (November 9 to December 30).
The negative effects of rationing need to be accounted for costs on households and industry in both rural and urban areas.
Second, the winter session of Parliament witnessed an intense debate on effects of demonetisation on the common man. The time and monetary cost of these parliamentary debates need to be added to the government's cost of demonetisation.
Third, tax on unaccounted money will attract varying income taxes. Such tax revenues should be a part of benefits of demonetisation for the government.
Way forward
About 93 per cent of 40 million construction workers in India depend on weekly or daily wages in cash. About 30 per cent of them are illiterates and 68 per cent work in rural areas. Nearly 42 per cent of them belong to SC and ST categories.
Now, the government wishes everyone, including them, in society to be a member of cashless transactions society.
Unfortunately, such a transformation to a cashless society cannot be costless and cannot happen over a few months.
Consequently, the cost demonetisation will not end soon for all, especially for the common man, the unorganised or informal workers, the small businessmen, the retail traders, and the small and micro industrialists.
These costs may eventually result in a very costly failure of demonetisation.
This pessimism is regrettable but will be inevitable due to its stark reality.
The writer is professor of Economics at the Institute for Social and Economic Change, Bengaluru.