Stepped up public expenditure must be accompanied by focused policies, advises Vinayak Chatterjee.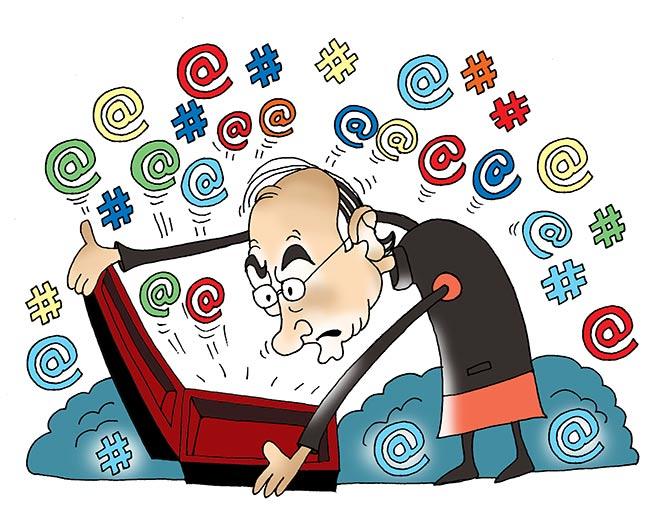 Illustration: Uttam Ghosh/Rediff.com
Finance Minister Arun Jaitley has let it known that in the forthcoming Union Budget, the government will further boost spending on infrastructure and use it as the key driver of economic growth and recovery.
This is clearly welcome, though it has to be recognised that this is a necessary, but not a sufficient condition. It has to be accompanied by a bouquet of supporting policies.
Here are nine suggestions:
Implement the Kelkar Committee report to revive PPP
Investments in infrastructure Gross Capital Formation in Infra was expected to rise to 9% of Gross Domestic Product in the terminal year of the 12th Plan -- 2017. Instead, it is hovering around 5.5%.
Clearly, this 'Infrastructure Deficit' is largely on account of Public Private Partnerships (PPP) disappearing; even whilst public expenditure keeps the show going.
This deficit has to be made up. And there's no better way to reviving PPP other than following the Kelkar Committee recommendations on 'Revisiting and Revitalising the PPP Model of Infrastructure Development.' This committee, incidentally, was set up by the NDA government.
And to support building institutional capacity for PPP, Mr Jaitley may recall his own announcement in his maiden Budget in 2014 where he set aside Rs 5 billion for setting up '3P India.'
Formalise an asset recycling strategy
The fear associated with stepped-up public expenditure is the breaching of fiscal deficit targets.
The system has to look for funding sources outside the regular format of the Budget; and no better strategy than monetising State-owned operating utilities.
There is huge investor appetite for such brown-field assets and a welcome beginning has already been made with the TOT (Toll Operate Transfer) bids of the National Highways Authority of India.
A large number of opportunities exist beyond the road sector.
Set up a Land Bank Corporation
The central and state governments are sitting on huge banks of unused land.
These could first be inventoried, agglomerated and then monetised for economic development.
A new generation of central and state-level land bank corporations should be created.
Such LBCs could have the power to raise more finance on the strength of their land-bank inventories.
They could greatly ease land-acquisition related bottlenecks by making available unencumbered land quickly.
Create a National Power Procurement and Distribution Company
India needs a NPPDC as it will not only be an effective alternative to the drag of power discoms but also create a national price-point for power purchase and tariff.
The NPPDC should be in a position to guarantee regular off-take for stranded capacities, make payments in time and overall provide a confident anchorage towards market-making in the fragmented power sector.
Implement Coastal Economic Zones
This was one of the impactful ideas propagated by Dr Arvind Panagariya when he headed the NITI Aayog.
Basically, the proposed CEZs -- which would be of much bigger size than Special Economic Zones -- are to be targeted to labour-intensive export-oriented industries like clothing, footwear, electronics, light engineering, leather etc.
The shipping ministry has identified 14 CEZs along the coastline under the national perspective plan of the Sagarmala programme.
With a facilitative regime, these could transform India's export competitiveness and could well hope to emulate the Chinese success.
Impose 5% GST in the power sector
Whilst GST is strictly not a Budget issue, the prevailing ambiguity and discomfort on electricity being kept outside the purview of GST is dysfunctional for the power sector as a whole and needs a policy convergence.
The suggestion is to impose 5% GST on generation, transmission and distribution.
Charging tax on output would allow power companies to claim input credit on equipment, capital goods, operational expenses and other business expenses which ultimately would result in lowering the cost of electricity.
Make IIFCL a committed DFI for infra sector
The government-owned India Infrastructure Finance Company Limited should be allowed the status of a DFI (Development Financial Institution) for the sector.
Whilst commercial banks move away from long-term financing of projects, alternative market instruments like bonds, InvITs, REITs and debt funds have still not reached the levels of full maturity.
So, private domestic financing is left in suspended animation and long-term developmental objectives are also not being addressed.
Push PPP in government hospitals
The NITI Aayog and the Union ministry for health and family welfare have proposed a model concession agreement to increase the role of private hospitals.
The agreement, which has been shared with states for their comments, allows private hospitals to bid for 30-year leases over parts of district hospital buildings and land to set up centres.
Announce major procurement policy for new generation freight wagons from the private sector
The Indian Railways is grossly under provided on freight wagons.
A comprehensive revamp is needed, both in terms of replenishing the stock of obsolescent wagons as well as a substantial addition of modern industry-specific wagons.
Against a stock of 220,000 wagons today, an additional 500,000 could be announced for procurement from the private sector across the next 5 years.
This will support growing industrial needs, breathe life into railway logistics and hugely energise the wagon-building industry.
Private ownership and operations will also free up railway finances for track modernisation and enhancement.
Vinayak Chatterjee is Chairman, Feedback Infra.