The classic Third Year or Mid-Term Problem has afflicted all but two prime ministers who have lasted a full term, give or take a few months this way or that, points out T C A Srinivasa-Raghavan.
Illustration: Uttam Ghosh/Rediff.com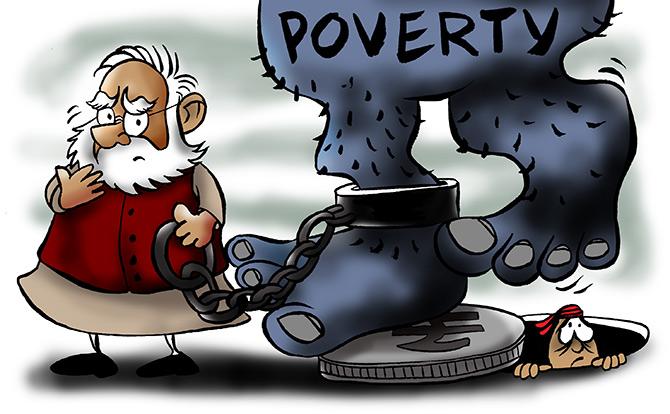 The prime minister has come up with a spirited defence of his government's record of managing the economy. He even held what seemed to be an unscheduled meeting with the party president and the finance minister.
The fiscal deficit, the current account deficit and inflation are all low, said the PM. True. Good.
He defended demonetisation -- that it had lowered the cash to gross domestic product ratio from 12 to 9 per cent etc -- and goods and services tax, which he said was a 'good and simple tax'. Not quite true but okay, let's not quibble, at least about the latter.
He also trotted out statistics to show that there is nothing really wrong with the economy. One bad quarter does not a recession make, he said. True.
But he did not distinguish between an increase in sales and increase in industrial production. The former could simply have been the de-stocking effect of GST.
Perhaps he confused between a shift along the demand curve and a shift of the demand curve. He should ask his brand new advisory council to find out which of these two effects the economy is witnessing.
Nor did he say very much about the heart attack that domestic industrial investment is having. He assumed that it would revive. Sure, but when?
The increase in foreign direct investment is a clear indication that things are fine, he said, because foreigners have confidence. Hmmm....
He said people were buying things like cars, which meant consumption demand was doing fine. But, Sir, that too could be the effect of pre-GST discounted sell-offs. We have to wait and see.
And he pointed to all the sector-level reforms his government had done. True. There's been quite a lot of that and not enough credit assigned.
About banks not lending enough, he said companies were raising money from other sources like initial public offerings. He didn't, however, tell us how his government was going to fix the problem of so many banks being broke.
If I may suggest, Sir, you can do what China did 12 years ago. It used its reserves, $45 billion of it, to recapitalise the banks. Modi may well be right. The economy, at least as measured by GDP growth rates, will get better.
But a change of mood is essential for that and it will be interesting to see how he brings that about in the next six months.
Modi it seems has run into the classic Third Year or Mid-Term Problem.
It has afflicted all but two Indian prime ministers who have lasted a full term, give or take a few months this way or that.
The exceptions were Atal Bihari Vajpayee and Manmohan Singh in his first term.
Jawaharlal Nehru ran into it in 1955 and, under pressure from the Congress that the economy was not growing fast enough, he chose the 'Socialist Pattern of Society' at the Avadi Congress.
He ran into it again in 1960. He had come up with an ambitious investment plan for the Second Plan. But both domestic and foreign resources ran out. Had it happened now he would have been called a 'feku'.
Nehru won again in 1962, but was not PM in 1965. Still, the Congress was in power and, once again, the economy ran firmly aground after a massive drought and a war with Pakistan. India was told to eat less of cereals.
Indira Gandhi ran into it in 1969 -- she had become PM in 1966 -- and again in 1974 after her victory in 1971. As always high inflation and low growth were the problems. It happened to her again in 1983, but on a smaller scale.
Rajiv Gandhi bumped into the Third Year bug in 1987, a full year ahead of his tryst with destiny. A terrible drought and high inflation laid the economy low.
P V Narasimha Rao avoided the problem, but he had started off with a gigantic problem in 1991. He couldn't have gone much beyond that. Politically, however, he ran into a major crisis in 1993 and 1994 with that Harshad Mehta affair.
Vajpayee started batting on a very bad wicket in 1998. So despite the Kargil war, things only got better for him. He was like Rao in that respect.
Singh also avoided the problem in his first term. But he ran into it in his second term.
In 2012 the economy was in real and deep trouble.