'Let us hope that with Nandan, like Cincinnatus back on his farm, taking over the reins, Infosys will not only regain its vigour and momentum, but vastly improve upon its achievements as a global player,' says B S Raghavan, the distinguished civil servant.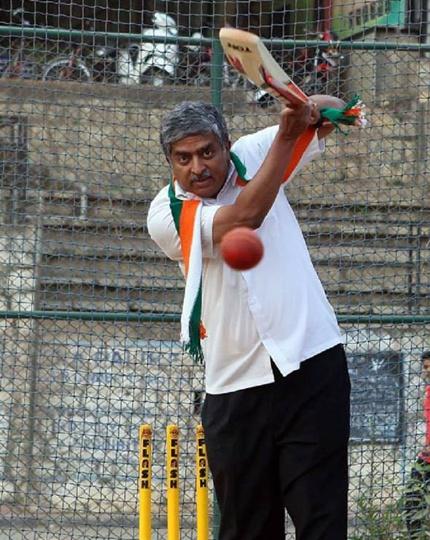 There is no need to bemoan overly the spate of recriminations and counter-recriminations spewing out of Infosys.
It is basically a strong company, anchored in healthy traditions and sound value systems, and there's no chance of its floundering. Especially so, now that Nandan Nilekani has come forward to take a hand in giving it a fresh start.
Nandan has a triple advantage: Being one of its founding fathers, he has been associated with, and has contributed to, its growth from scratch and knows all about where it helps and hurts.
The DNA of Infosys runs in him. He enjoys good personal rapport with fellow founders, and, most of all, the trust and confidence of one -- N R Narayana Murthy -- who symbolises all that the company is today.
Secondly, in the eyes of both domestic and foreign investors and other stakeholders, and the people at large, he has built up a solid reputation of a helmsman of superlative calibre with hands-on experience of successfully dealing with complex macro- and micro-issues of corporate governance.
The spontaneous groundswell of opinion among them that he should come back and take to the oars again is evidence enough of that.
And, thirdly, his outstanding accomplishment of launching Aadhaar on a continental scale covering a population of 1.2 billion as the chairman of the Unique Identification Authority of India is nothing short of a feat of extraordinary magnitude, considering that he was new to the government's way of thinking and style of working.
It speaks volumes for his dynamism and capacity to straddle two entirely unrelated worlds -- the private corporate sector and the behemoth of government -- with ease.
In his second coming, he should be able to draw upon all the networks he had built during his tenure.
It is good that Nandan has demanded, and is going to get, a clean slate to write on, with the current directors on the board offering to quit.
It is as well, for none of them, beginning from the chairman himself, who was a misfit in any case, inspires confidence as being capable of out-of-the-box thinking.
The only exception, as I see, is John W Etchemendy, professor in the school of humanities and sciences at Stanford University.
All the others are hardened prototypes of obscurantism, steeped in the rigid dogmas hamstringing India's corporate sector and incapable of learning the lessons from all the hectic happenings of the recent past.
Yet, in order that Infosys does not stumble again, and as a cautionary tale for other Indian corporates, those lessons must be learnt.
The very first, and the foremost among them, is that corporate governance should not be regarded as an insulated, isolated, desiccated, dehydrated and dehumanised activity, but as something inextricably interwoven with the cultural dimensions of the setting in which the enterprise is situated derived alike from its record of growth and the country's overall cultural heritage and traits.
While globalisation has had some beneficial fallout, it has also led to the more susceptible among Indian managers being brainwashed by some of the glib nostrums of the industrial nations of the West, with the US originating a lion's share of them.
Generally Indians educated in those countries have unfortunately been brought up with little familiarity with the cultural complexities of managing corporate enterprises in India.
There is a danger that thereby they will thoroughly distort management practices and introduce perversities capable of doing lasting harm to corporates.
Let me enumerate the more untenable of those beliefs being unquestioningly imported into India, and indeed, every unsuspecting developing country.
Such beliefs stem from a kind of supremacist attitude which need not pertain only to notions of racial superiority.
Many of them are by-products of the obsession with science and technology and the convictions formed from the performance of Western business enterprises in their own special cultural setting.
Take, as light-hearted illustrations, the statements that two plus two makes four, or that the shortest distance between two points is a straight line.
Yes, they are scientifically proven and correct, but in complex millennia old cultures and civilisations such as those of China and India, they may end up making 22 or even more!
In certain situations, following a straight line may result in falling into a precipice, with a detour, however wide, turning out to be the only safe option.
Or, more seriously, take the assumption that Western nations, particularly the US, are unable to shake off: One size fits all.
This was once reflected in the concoction accepted as axiomatic in the US: What is good for General Motors is good for the US, and what is good for the US is good for the entire world.
These and similar approaches inevitably lead to looking down upon local talents and practices if they do not conform to what the Western and Western-bred managers take as revealed wisdom.
And, therefore, the moment any of the foreign, or foreign-bred, honchos are brought in to occupy top slots in corporates outside their own countries, he, in the manner of Vishal Sikka, fills critical positions in the company with like-minded executives they had worked with previously in the West, thereby accentuating the cultural dichotomies and creating inter-personal problems in the bargain.
Another common weakness of Western, and Western-bred, corporate denizens is their exaltation of market forces as the final arbiter in corporate decision making, whether it be in regard to compensation packages, pricing, products and services, investment choices, marketing techniques, induction of technology, or production and manufacturing strategies.
It will be futile as well as foolish to downplay the impact of market forces for they do count in ensuring the viability and profitability of an enterprise; they, after all, constitute its raison d'etre.
But what the run-of-the-mill corporate entities fail to note is that any consideration given to market forces should not be to the subordination, leave alone exclusion, of cultural norms and eternal verities, including equity and ethics.
Most corporate players come through as being deficient in sensitivity to fairness and propriety, prudence and probity, empathy for the feelings and expectations of employees, a sense of social responsibility and concern for the protection of environment, all of which should weigh equally in gauging the quality of corporate governance.
Finally, the doctrine that running a company is solely and exclusively the preserve and prerogative of the board and shareholders.
The applicability of such a doctrine even to the individualistic autonomy oriented Western culture is questionable; it certainly cannot be a paradigm governing the working of business enterprises in cultures such as India's, whose core value has from times immemorial been 'each for all, and all for each'.
Just as no person is an island unto himself or herself, no company exists except as an integral part of the social and cultural milieu, and in terms of the good it does to society.
Corporate decisions in any context need to conform to the demands and expectations of society and cannot be regarded as a matter to be disposed of entirely as between the board and shareholders.
Let us hope that with Nandan, like Cincinnatus back on his farm, taking over the reins, Infosys will not only regain its vigour and momentum, but vastly improve upon its achievements as a global player.
B S Raghavan was a member of the Indian Administrative Service, who was the commerce and industry secretary of West Bengal, chief secretary of Tripura, and the chief executive of four major public sector enterprises, and adviser to the Indian subsidiary of a well-known German industrial firm.
He was also the chairman of three UN Committees, involved in negotiations in the United Nations Conference on Trade and Development, UNCTAD.