Amber Dubey decodes what 100 per cent FDI in airlines really means and why India needs to stop blocking competition if it ever wants to become the top aviation market.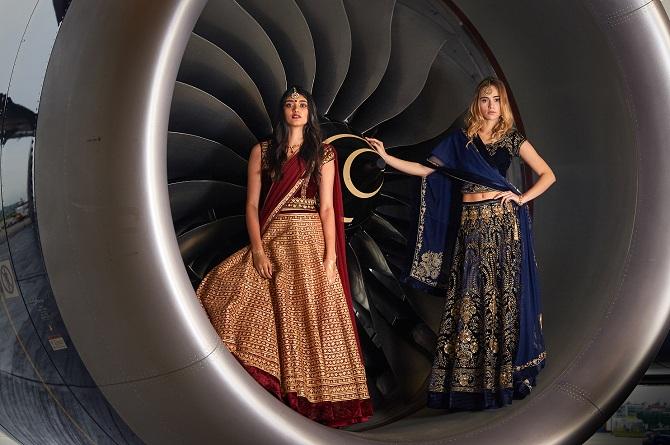 IMAGE: M

arking the launch of flights by the British Airways Boeing 787-9 Dreamliner from London to New Delhi at Heathrow Airport in 2015

. India suffers from poor global air connectivity and it is self-inflicted. While leading airports provide connections to over 200 global destinations, India's largest airport, Delhi, connects only around 70, mostly in Asia. Photograph:

Eamonn M McCormack/Getty Images

.
Qatar Airways' mercurial chief executive officer Akbar Al Baker set the cat among the pigeons recently when he expressed his desire to set up an Indian subsidiary along with Qatar Investment Authority. What Al Baker perhaps missed out on was that the Foreign Direct Investment Circular of June 7, 2016, allows 100 per cent FDI only if there's no investment by a foreign airline. If a foreign airline is involved the FDI limit is 49 per cent.
This is akin to saying we'll allow 100 per cent FDI in telecom as long as there's no investment by any global telecom company!
The circular also states that substantial ownership and effective control of an airline has to be vested in Indian nationals.
The gazette notification of November 28, 2016, proposed to do away with the Indian ownership clause, but the final decision is yet to be received. An airline cannot have 100 per cent FDI and Indian ownership at the same time.
It's bizarre.
India has opened up sensitive sectors like defence, telecom and banking for 100 per cent FDI. Ditto for aviation sub-sectors like airports, cargo, ground handling, aircraft maintenance. In no sector that has been opened up do we see global brands decimating Indian ones.
There are enough safeguards in anti-competition laws in India that can be used to discourage foreign carriers from "dumping" capacity in India at dirt-cheap airfares.
Some belittle the success of certain Gulf carriers by alleging heavy state subsidies. If subsidies could help create world-class airlines, there are far richer countries that could have become world leaders in aviation.
With the crash in crude oil prices, the ability of Gulf nations to subsidise their carriers is further challenged. The security risk in the Gulf is worsening as has been seen in the case of the e-gadget ban.
This is an opportunity for India to leapfrog.
India suffers from poor global air connectivity and it is self-inflicted.While leading airports provide connections to over 200 global destinations, India's largest airport, Delhi, connects only around 70, most of them in Asia.
India's largest international carrier, Air India, flies to a mere 37 international destinations as compared to over 150 by Emirates and Qatar Airways.
Gulf and Asean carriers cannot increase flights to India as many of them have exhausted their quota.
Long-haul carriers from the US and EU are not expanding their capacity on Indian routes given the extreme competition and price sensitivity.
Indian carriers, especially low-cost carriers, have announced no major plans for long-haul routes.
It's a classic Mexican stand-off and doesn't bode well for India.
Many assert that no country allows FDI in airlines. That's wrong.
What is also conveniently left unsaid is that most leading countries allow "open-skies", despite severe opposition from their own domestic airline lobby. For instance, the USA and European Union, the key architects of Chicago Convention, 1944, junked the bilateral quota system and signed the open-skies agreement in April 2007.
India's National Civil Aviation Policy (NCAP 2016) allows "open skies" in India for countries beyond 5,000 km.
Between "open skies" and 100 per cent FDI, the latter has a better impact on investments and jobs and, hence, should be the preferred option. The interests of tourism and associated sectors like airports, cargo, maintenance and ground handling etc are far larger than that of the airlines.
---
Also read: The trouble with Indian aviation
---
There's a fear that 100 per cent subsidiaries of foreign airlines would become feeders to their own hubs. This is alarmist and oversimplified.
India allowed 49 per cent FDI in airlines way back in September 2012. Nothing stopped a foreign airline from taking a minority stake in an Indian airline and making it a feeder airline.
On the contrary, Gulf carriers may use Indian airports to launch east-bound flights and Asean carriers may do the same on west-bound flights.
Indian carriers like Air India have the advantage that they offer non-stop flights to the US, EU and Far East, which many corporate travellers prefer.
There's a canard being spread that foreign carriers will "steal" our traffic. Passengers are not sheep that can be stolen.
Tourism is a two-way traffic. Per capita income in developed countries is 25-30 times that of India. India's inbound foreign tourist traffic, therefore, can be several multiples of Indian tourists going abroad.
India has unparalleled tourist attractions to offer -- natural, historical, cultural and religious. Despite this, India's foreign tourist arrivals in 2015 were a mere 8 million as compared to Thailand (30 million) and China (57 million).
Blocking global airlines to prevent "stealing" of Indian passengers has been a self-goal. Ironically, some of us overplay the "swadeshi" card and then happily flaunt our iPhones, Rolex and BMWs.
When all else fails, some bring up the bogey of "national security".
Effective security comes from robust intelligence gathering and inter-agency coordination, not by blocking FDI. Security risks can come through airports, cargo, maintenance and ground handling, too, all of which are allowed 100 per cent FDI. Allowing 100 per cent FDI will bring greater investments, competition, tourists and jobs.
Even on international flights from India, many of the pilots, cabin crew, engineers and ground handling staff come from India and not just from the home country of the foreign carrier.
India aspires to become the largest aviation market by 2030, from number four currently. It has the economy, demographics and tourism attractions to get there. The only way we can get there is by shunning old mindsets and welcoming the world's best airlines to invest in India. The choice is ours.
The author is India head of Aerospace and Defence, KPMG. S Vasudevan, director, Aerospace and Defence, KPMG India, contributed to the article.