If Modi wants to be a man of history, he must make hard choices that will pay off down the road, says T N Ninan.
Illustration: Uttam Ghosh/Rediff.com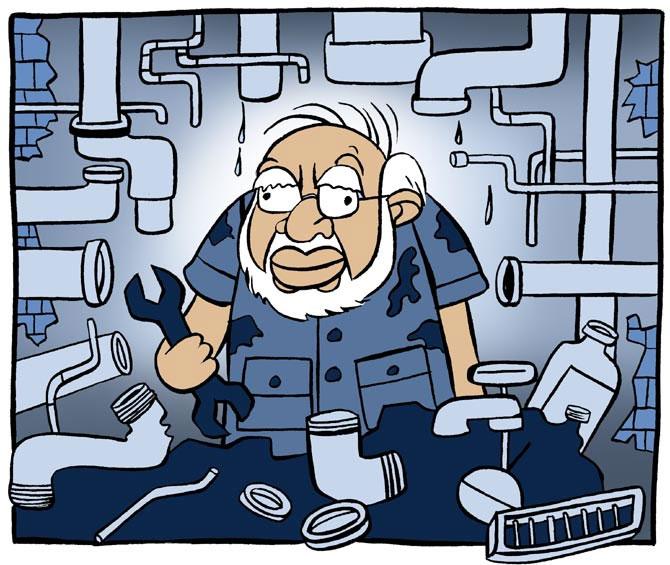 Narendra Modi is a polarising figure on whom his critics and admirers would never agree.
One set sees him as a communal-minded self-promoter who makes promises that he does not intend to keep, and then over-claims achievements.
The other sees him as a man of history who is transforming the Indian economy and society, promoting the civilisational rise of India and its emergence as a global power.
Let us accept that there is some truth to both sets of assertions, and take the argument to the next step.
And we start with the assumption that in the foreseeable future India is unlikely to get another political leader like Mr Modi with comparable popularity and power, and therefore the political space to deliver on his programme.
In addition, there is probably none who combines his understanding of ground-level administration following more than a decade as state chief minister, his obsession with performance on programmes and projects, his embrace and harnessing of technology, and his desire for transformational change (examples being the quantum leap in financial inclusion, and the quintupling of targets for solar energy).
In addition, he is unlikely to succumb to the temptation that has consumed so many others, to dip his hand into the public till.
To be sure, there are qualities that he lacks, like a relative lack of interest in what makes for good policy, and this prevents him from being an instinctive reformer.
As a commentator observed, he is more a manager than reformer.
Still, after discounting for such minuses, most people would agree that Mr Modi is uniquely placed to deliver on India's goals with regard to development and economic growth.
And therein lies the disappointment as we survey his record.
Through the last three years, Mr Modi has shown a singular disinclination to risk political capital in order to achieve difficult but necessary change.
The sole exception is demonetisation last November, a decision that is easy to explain in terms of grand objective (clean up the system) but hard to justify as the appropriate tool.
One result of the disinclination to take the really hard decisions is the still festering problem of bad debts confronting banks.
The consistent search for soft options leaves the situation in 2017 no better than in 2014, other than having achieved a more transparent recognition of the problem.
Arguably, the steady fall in investment numbers, in relation to gross domestic product, is to some degree a fall-out of this failure.
Another example of not risking political capital in pursuit of an eminently desirable goal is the refusal to frontally tackle India's absurdly restrictive and counter-productive labour laws, leading to the evident lack of progress on the Make in India programme and therefore in providing jobs to the young voters whom he had enthused with his campaign promises.
To come up short on investment, manufacturing and jobs when the man in power is uniquely placed to deliver clouds the country's future and scars any mid-term assessment.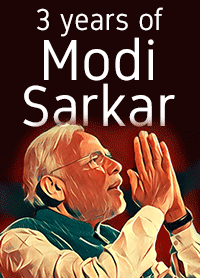 The underlying problem, one suspects, is that Mr Modi;s primary objective has been political, not economic: To win dominance for his Bharatiya Janata Party, and to do nothing on the policy or economic front that will come in the way of this goal.
With someone like Mr Modi in charge, the country should not have a report card that says 'good but not good enough.'
While 7 per cent or 7.5 per cent economic growth is creditable in an unhelpful global environment, it is not enough when one looks at the jobs requirement.
It is well short of the 10 per cent that Modi government spokesmen had repeatedly held out, short of what some East Asian economies achieved during their years of rapid growth, and certainly not enough to gain the heft required to prevent China from establishing strategic dominance and hemming India in.
Time is not on India's side for another reason, as the demographic dividend passes us by.
If Mr Modi truly wants to be a man of history, he has to start making the hard choices that will pay off down the road.