'In 1991 the right rhetoric was backed by major policy change driven by a committed team of reformers.
'We need that combination again today,' says Naushad Forbes.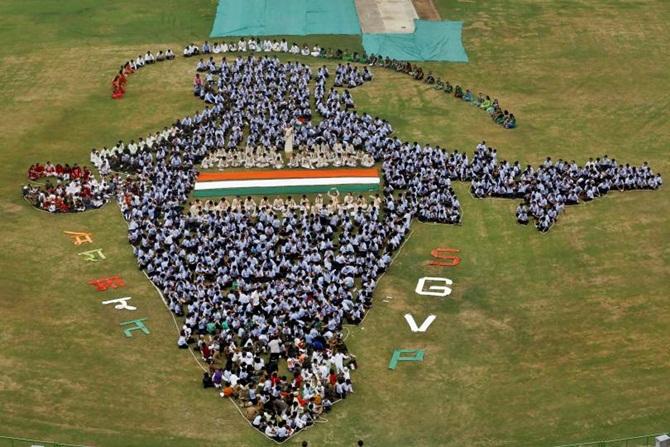 In Part 1 of this column, I argued that 1991 holds many lessons on reviving animal spirits.
The reality today is far better, yet, in 1991, within 100 days, the government had set the country on a new path, and animal spirits were soaring.
The right rhetoric was backed by major policy change driven by a committed team of reformers.
We need that combination again today.
Changing the rhetoric
An essential change since 1991 has been faith in industry and encouragement of private enterprise.
Manmohan Singh's 1991 Budget speech said that "our entrepreneurs are second to none".
Chidambaram brought down corporate taxes.
Jaswant Singh in 2003 drastically reduced the discretionary powers of tax officials, as T N Ninan pointed out.
In the new Company Law in 2012, companies were mandated to spend 2 per cent of net profits on CSR, and if they didn't, to explain why in their annual report.
The message was one of trust, the expectation one of responsibility.
Finally, in 2015, Arun Jaitley removed wealth tax.
Over the last three years, several strands have emerged which add up to a change in the rhetoric.
While the PM's concern about black money is appreciated, that concern has been used by bureaucrats to legitimise what the PM himself calls tax terrorism.
In November 2016, a little-noticed change increased the powers of lower level tax inspectors.
When GST came into force, the GST Council set up an anti-profiteering authority -- the name itself a throwback to Indira Gandhi -- instead of relying on competition to control firms.
The consequences have been dire.
The chairman of Bank of Maharashtra spends a month in jail after a Pune builder goes bust -- and is then released without ever having been charged.
A businessman in Mumbai is arrested for a Rs 14 lakh customs claim (the claim is fine, the arrest is not).
Dozens of such stories make the headlines and circulate over our social media.
Instead of business failure being seen as a consequence of risk-taking, it is portrayed as evidence of criminality.
And finally, the change in the CSR law recently holds officers of a company culpable for not meeting the 2 per cent of profit norm.
Against this, Finance Minister Nirmala Sitharaman's comment on Siddhartha's tragic death is welcome: "Business failures in the country should not be tabooed or looked down.
"On the contrary, we should give an honourable exit or resolution to the problem in the letter and spirit of the IBC."
This must be translated into policy, and in the formal and legal reduction of tax authority powers -- a mere assurance they won't be misused will not do.
In the last few weeks, I've been escaping our grim economic reality by rereading R K Laxman's cartoons.
Although Laxman produced a cartoon every day for over 50 years, his heyday was in the '70s and '80s.
Under Indira Gandhi, our ministers and bureaucrats made for wonderful cartoons.
In one such cartoon, a dejected-looking fellow in a suit is walking away from the industry minister's desk: 'Did you see how depressed and miserable that businessman looked? That shows our industrial policy is working.'
Another has a bureaucrat in discussion with a businessman: 'Patience, gentlemen, patience. We announced our policy just a few days ago. Give us some time to understand it.'
In the third, a minister in a palatial home is saying: 'Of course I believe in socialism. But we promised it to the people, and we must give it to them first.'
These gems will still be funny a hundred years from now.
We should worry that they again bite as canny observation of the present.
So the first change we need is in the rhetoric.
Let comments about business not be about penal provisions, look-out notices, and criminal penalties, and let them be replaced by comments about trust, enterprise, expansion, and respect.
And -- I know I'm stretching things here -- let us all speak out without being trolled on social media, with personal abuse substituting for ideas and rational argument.
In brief, let's have the rhetoric and public debate worthy of one of the world's leading countries, with the broadness of shoulder to toss off slights.
Changing the reality
As in 1991, a change in rhetoric must be accompanied by a change in reality.
The recent tax increases can be understood if they indeed provided a major source of revenue.
But the super-rich tax will raise a tiny amount, with all tax surcharges raising Rs 12,000 crore.
Compared with the Budget, this is a tiny sum: 0.06 per cent of GDP, almost lost in the round-off error.
The bigger concern is calling it a super-rich tax.
One is giving the sense that wealth is bad.
Wealth is neither bad nor good, how you use it can be bad or good.
So let's have a road map for the reduction of personal income tax back to the 30 per cent rate that we had.
And fulfill the commitment Arun Jaitley made in 2015 of reducing corporate taxes for all companies to 25 per cent.
Second, let us use the imminent Direct Tax Code to comprehensively address the powers of tax inspectors, removing all penal provisions for economic offences.
Ensure that an arrest can only follow criminality proven in a court of law.
Third, let's act as an open and engaged India.
Let us reduce tariffs (instead of increasing them), address our over-valued rupee, and let exporters stand for the future of Indian industry instead of importers.
And fourth, let's get down to the hard work of addressing those major policy reforms -- in land, labour and finance.
Hiring reformers
To a new rhetoric and major policy changes, we must add the third and indispensable element: reformers.
Reform happens because people make it happen.
In 1991, Manmohan Singh could not have been effective without the support of Prime Minister PV Narasimha Rao, and a few other ministers like P Chidambaram (as commerce minister).
But even more critical was a team of reformers who made things happen: Montek Singh Ahluwalia, Ashok Desai and N K Singh in the finance ministry, Rakesh Mohan in industry and A N Verma in the PMO constituted a dream team of reformers, of international calibre.
We must eagerly seek out and attract the world's best economists and scientists to make India their home.
We need the intellect of the world's leading institutions to point our hard work in the right direction.
Reviving animal spirits requires this comprehensive package -- the right rhetoric that assumes honesty in industry, the right policies that reward enterprise and entrepreneurs, and the right reformers to set us on a growth trajectory for the next 25 years.
Naushad Forbes is co-chairman of Forbes Marshall, past president of CII, and chairman of the Centre for Technology, Innovation and Economic Research.