'In the long run, the boost to farmers' incomes must come from technological breakthroughs,' says Pratap S Birthal and Digvijay S Negi.
Illustration: Uttam Ghosh/Rediff.com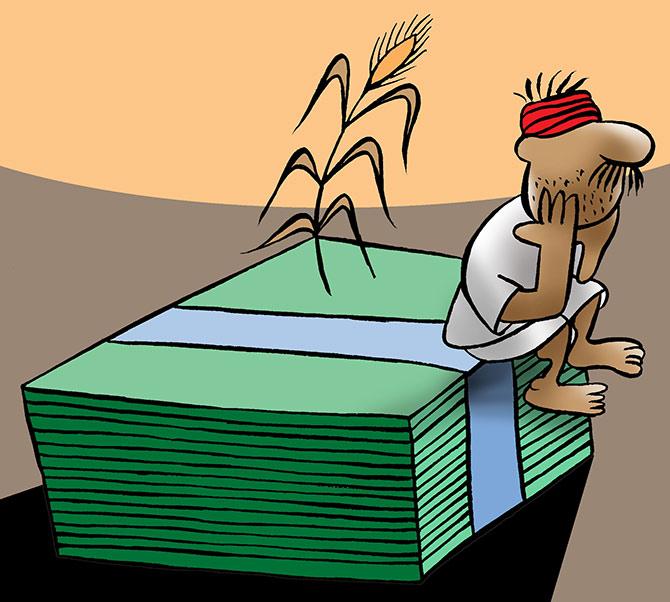 Despite being the custodian of the country's food security, Indian farmers are stuck in a low-income syndrome.
Their per capita income in 2012-2013 was about Rs 15,000, just one-fifth the national average.
The Union government in its Budget of 2016-2017 set a target of doubling farmers' income by 2022. Towards this end, several measures have been initiated, but the extent to which these help in achieving the goal would depend on whom these target and where.
About 70 per cent farmers are marginal farmers (owning less than one hectare), and 77 per cent of them earn a meagre Rs 6,067 per capita a year.
Their distribution is widespread, but they are concentrated in Uttar Pradesh (27.4 per cent), Bihar (11.4 per cent), West Bengal (9.9 per cent), Odisha (6.3 per cent), Rajasthan (5.8 per cent), Madhya Pradesh (5.3 per cent), Maharashtra (4.9 per cent), Assam (3.9 per cent) and Jharkhand (3.2 per cent).
Most of these states are agricultural laggards and also lack the infrastructure essential for income growth.
Thus, these states need to be at the forefront of any income growth strategy.
Low income is associated with small landholdings.
Nonetheless, about seven per cent of marginal farmers earn more than Rs 50,000 per capita per year. Over 60 per cent of their income comes from non-farm sources.
Also, they are more engaged in animal husbandry and horticulture; and more efficient in production than their counterparts in the lowest income class.
Given the limits on landholding, income growth must be achieved by raising cropping intensity, improving resource-use efficiency and diversification.
Expansion in agriculture needs to exploit intensive cultivation, as only 40 per cent of crop land is cultivated more than once.
This can be enhanced by improving farmers' access to quality seeds of short-duration high-yielding crops and reliable irrigation sources in conjunction with micro-irrigation technologies, to improve irrigation efficiency and reduce costs of production.
The focus should also be on diversification into high-value crops and animal husbandry.
Demand for these commodities is growing fast, and there is considerable potential for value addition. These enterprises have, however, not received much policy focus.
For example, animal husbandry receives just five per cent of the total public investment and institutional credit to the agricultural sector.
More resources need to be allocated to sustain the growth of these enterprises and develop value chains.
An important strategy to augment farmers' incomes relates to provision of information.
The information needs of farmers are exploding, but information is accessible to only 45 per cent of farmers, mostly through informal sources.
The penetration of mobile phones and the internet is quite extensive in rural areas; their potential for dissemination of agriculture-related information remains under-exploited.
Given the limited outreach of the public extension system, policy should emphasise the use of these tools for dissemination of information.
In the long run, the boost to farmers' incomes must come from technological breakthroughs that raise yields and resource-use efficiency, reduce costs of production and improve the resilience of agriculture to climate change.
India spends barely 0.6 per cent of its agricultural gross domestic product on R&D, much less than many developed and developing countries. This calls for more resources for R&D to address the emerging challenges in agriculture.
Further, there is a need to create different types of infrastructure, focusing on improving complementarities among these, as lack of any of these may restrict farmers from capturing the benefits of investment in others.
A typical case is that of Bihar and Uttar Pradesh, where despite improvements in the road network, farmers have not benefited much owing to poor electricity supply for irrigation.
Finally, there is an urgent need to reduce employment pressure on agriculture and enhance the role of the rural non-farm sector.
There is scope for rural industrialisation.
Agriculture generates a considerable surplus -- enough to attract investment in agro-processing and ancillary industries. Towards this end, availability of trained manpower is important.
If the constraint of ubiquitous smallholdings on income growth is to be mitigated, a strategy for rural industrialisation is a must.
Pratap Birthal is ICAR National Professor, National Institute of Agricultural Economics and Policy Research, New Delhi. Digvijay S Negi is a doctoral student at the Indian Statistical Institute, New Delhi.